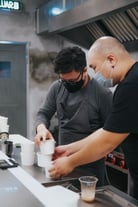 The pandemic hasn't just shifted the focus to takeout and delivery; it's driven foodservice down a road of constant twists and turns, with no path back to business as usual. A vaccine is on the horizon, but COVID-19 has forced approximately 17% of U.S. restaurants to close,1 and concerns over its spread continue to have a negative impact on the bottom line. While the holiday season is normally a time when operators can expect a business boost, in 2020 eat, drink and be merry became eat, drink ... and be very careful.
According to the National Restaurant Association, 10,000 restaurants have closed either for the foreseeable future or for good, and California's stay-at-home order has made restaurants return to off-premises-only service.1
At the time of this writing, New York City is also prohibiting indoor dining, with no timeline for reopening, as COVID-19 hospitalization rates climb in the city and state.2 In a statement, the New York City Hospitality Alliance—a nonprofit organization of restaurants, bars, lounges, hotels and suppliers—decried the move as "the last straw for countless more restaurants and jobs."2 The national crisis has generated renewed interest in federal support for restaurant loan guarantees.1
It will take time for mass vaccinations to turn the tide, and even when they do, consumers will have become accustomed to the ease and convenience of well-developed off-premises and digital models. What's more, a heightened awareness of the critical importance of safety and the public's lingering concern over the pandemic will likely extend the ramifications of the COVID-19 era.
With 56% of operators cutting staff positions and 58% paring down menus,3 new approaches are taking hold in the quest to do more with less and manage margins with optimal efficiency.

Adapt and Achieve: Foodservice Digs in for Long Haul
Technology remains at the forefront of foodservice's transformation, having morphed from a nice-to-have asset to an operational necessity for feeding the bottom line. "The pandemic and its residual effects have fast-tracked the adoption of new technologies for many operators," reports The Food Group, the full-service marketing and culinary agency, in a special, COVID-19-specific edition of its annual tfgTouchpoints™ report. "Mobile ordering for delivery and pickup played a pivotal role in helping restaurants stay open when dine-in was prohibited, while social media was a crucial vehicle for promoting specials."4
Virtual events for training, collaboration with suppliers, education and networking are gaining popularity. Thirty-six percent of operators surveyed say they've attended at least one of these events in the past six months.4
So, what are today's most pressing topics of interest for foodservice operators? Front- and back-of-house food safety tops the list (56%), followed by culinary trends (55%) and menu optimizations (49%).4
Like other areas of the business, menu strategy is adapting to meet the changing needs of the consumer. After extensive testing, the Mediterranean fast casual Roti is steering customers away from its fully customizable menu and toward chef-curated dishes to help those seeking quicker, easier options that they can order in store from new digital menu boards or with a click on the brand's app.5
Roti's roster of curated items includes I Dream of Tahini (chicken, watermelon radishes, marinated cabbage, microgreens and honey-tahini vinaigrette on hummus) and California Sunset (chili-tahini cauliflower on mixed greens with tomato and cucumber, marinated cabbage, dill cucumbers, pickled onions and red pepper sauce with feta crumbles and pita chips). Designed to drive dinner sales and address consumer demand for heartier and more comforting fare, the curated items are personalized with the customer's choice of finishing sauces.5
During the COVID-19 era and beyond, Mondelēz International Foodservice has the culinary creativity and trusted brand ingredients to help your foodservice operation serve up sales and adapt to the ever-changing competitive landscape. Looking for delivery-friendly menu solutions? Innovative limited time offers that boost social buzz? Share your operation's needs and challenges below.
1 NRN Staff, "Trending this week: About 17% of U.S. restaurants have closed due to COVID," Nation's Restaurant News, Dec. 10, 2020
2 Fantozzi, Joanna, "New York City shuts down indoor dining indefinitely as COVID-19 hospitalization rates top 5,000,"Nation's Restaurant News, Dec. 11, 2020
3 tfgTouchpoints™ Special Edition: What Commercial Foodservice Operators Want in the COVID-19 Era (The Food Group, 2020), p. 4
4 The Food Group, p. 5
5 Lalley, Heather, "How One Fast Casual Is Rethinking Its Menu for the COVID Era," Restaurant Business, Dec. 4, 2020