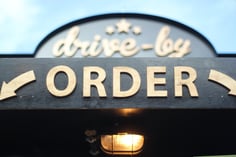 The pandemic-propelled shift to off-premises is reshaping the restaurant landscape, literally, as smaller-footprint stores designed for digital and drive-thru orders emerge. In August 2020, the Mexican food chain Taco Bell served up the hot news of its new store format, Taco Bell Go Mobile, which will cater to customers hungry for the speed and convenience of double drive-thrus, contactless curbside pickup and digital integration.
Scheduled to debut in the first quarter of 2021, the brand's inaugural Go Mobile restaurant will feature an array of digital enhancements within 1,325 square feet—in contrast to the typical 2,500-square-foot Taco Bell location.1
In addition to a traditional drive-thru lane, a new priority pickup lane for customers who order through the Taco Bell app will integrate with smart-kitchen technology for an end-to-end digital ordering experience. Tablet ordering at drive-thrus and curbside pickup operated by a concierge-style staff known as "bellhops" will streamline service even further.1
"With demand for our drive-thru at an all-time high, we know adapting to meet our consumers' rapidly changing needs has never been more important," explained Mike Grams, Taco Bell's president and global chief operating officer. "The Taco Bell Go Mobile restaurant concept is not only an evolved physical footprint, but [also] a completely synchronized digital experience centered around streamlining guest access points. For the first time, our guests will have the ability to choose the pickup experience that best fits their needs, all while never leaving the comfort of their cars."1
Fast-Casual Brands Accelerate to Meet Off-Premises Demand
Drive-thru and curbside convenience is a growing expectation among fast casual customers. According to the market research firm Technomic, 38% of fast-casual consumers surveyed say they expect—but don't require—drive-thru service.2 Twenty percent say they'll go elsewhere if a drive-thru isn't available.2
Technomic cites Shake Shack as an example of a major fast-casual brand that's adapting to the trend with makeshift drive-thrus, curbside service and the chain's Shack Track"initiative to streamline pickup of digital orders.2
Now, bakery/café chain la Madeleine and Mexican chicken chain El Pollo Loco have announced new format stores for frictionless and contactless ordering.3 El Pollo Loco has unveiled two new designs. One version will have no dining room and will instead shift the focus to a takeout window, dual drive-thru and curbside pickup. The second concept will feature a smaller-than-usual indoor area and a large patio area with garage-like doors that open for a seamless flow between indoor and outdoor dining.
Planned to debut this year in Dallas, la Madeleine's petite bakery will be its first location with drive-thru service. The concept will feature indoor seating, a covered patio, and new grab-and-go menu items, including snacks and charcuterie.3
"Our new design is tailored to today's consumer preferences and caters to all of our guests' needs," said Sheryl Fox, La Madeleine's chief operating officer.3
For travel-friendly snacks, desserts and main dishes that can help drive sales at your foodservice establishment during the COVID-19 outbreak and beyond, Mondelēz International Foodservice brings you exceptional culinary creativity and beloved brand ingredients. Browse our Culinary Center for inspired ideas and leave us a message below to learn about customized menu solutions for your operation.
1 Taco Bell Continues to Redefine the QSR Experience and Announces Plans for a New Restaurant Concept, Aug. 20, 2020
2 Future of LSR: Fast Food & Fast Casual Consumer Trend Report (Technomic, 2020), p. 31
3 Luna, Nancy, "El Pollo Loco and La Madeleine reveal new prototype stores geared for off-premise orders," Nation's Restaurant News, Dec. 2, 2020