Posted in Technology on July 26, 2022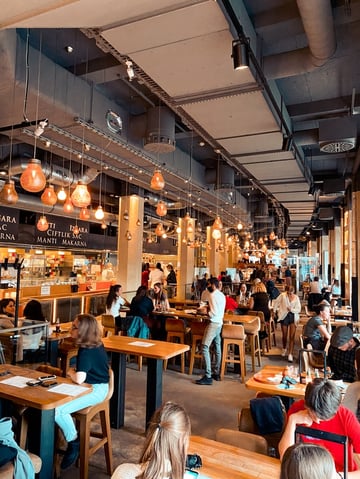 Consumers have built up quite the appetite for indoor dining during the pandemic, according to the crowd-sourced review platform and table reservation service Yelp.
In the first quarter of 2022, even as COVID-19 variants drove infection rates high through February, year-over-year searches for reservations on Yelp surged 107%.1 Restaurant operations that feature a standout experience saw particularly high search rates. Searches for conveyor-belt sushi netted 500% more year-over-year searches, and supper clubs served up over 200% more.
1
Stir-crazy consumers catapulted search activity for indoor dining through the roof, with 6,360% more searches than the same period last year.1 Yelp reserved tables for 13 million diners in Q1 — a year-over-year boost of 48%.1
While concerning, mentions of persistent problems like long wait times (up 23% year over year) and staff shortages (up 229%) don't seem to be putting a damper on the hot market for returning foot traffic.1 Neither are higher menu prices, though mentions of them have risen 25% year over year.1 In fact, searches are up for higher-priced restaurants–a sign that customers are willing to pay more to dine out, especially for premium experiences.1
Repeat Order: Takeout Takes a Hit—But Remains a Hit
Given the feeding frenzy of Yelp searches related to in-store traffic, it may come as no surprise that searches for takeout dropped 31% in Q1. That said, this year's takeout search rate has far exceeded those of previous years—up 107% compared with 2020 and 144% versus 2019.1 And in a reflection of takeout's continuing popularity, over 3,000 restaurants on Yelp have tagged themselves as a ghost kitchen designed exclusively for delivery or pickup.1
Now fast-casual juggernaut Panera Bread has debuted its prototype "Panera To Go" restaurant in Chicago, the first of three test locations slated to introduce the innovative off-premise option. The format features "a reduced front of house where guests and delivery drivers can easily pick up orders from Rapid PickUp® and Delivery shelves," according to a press release.2 The concept was created to optimize delivery and pickup service in urban areas with dense populations and tight operational space, where a full-scale dine-in bakery cafe is not feasible.2
As Panera Bread's Chief Digital Office George Hanson explained: "Panera To Go is another way we can make our guests' lives easier through digital convenience, which is always at the heart of what we do. We are already leaders in providing our guest with an exceptional digital experience and adapted our digital channels to provide our guest even more options in the Panera To Go format."2
Meanwhile, Chipotle Mexican Grill is also cooking up a new format to streamline pickup orders. Not only is the fast-casual chain accelerating the integration of drive-thru Chipotlanes at its restaurants, but now it plans to test walk-up windows at locations where configuring a drive-thru lane isn't an option.
"Generally, those units in an urban environment are spaces that are physically smaller, longer or with narrower storefronts," said Tabassum Zalotrawala, Chipotle's chief development officer.3 "So we thought what if we added walk-up windows, like a human lane, if you will, so if you were a customer that used the app and ordered ahead, you had no reason to go inside the restaurant, particularly those smaller footprints where you might find some congestion."3
At Mondelēz Foodservice, our acclaimed chefs are always busy creating innovative dishes, desserts and drinks to help operations like yours achieve the right menu mix to maximize in-store and off-premise sales. Browse our Culinary Center for inspired menu ideas and contact us below to learn about custom solutions to meet your operation's unique needs in a rapidly changing market.
1 Guszkowski, Ron, "Customers Are Dining Out More and Getting Less Takeout," Restaurant Business, June 16, 2022
2 Panera Bread, "Panera Opens First 'Panera to Go' Digital-Only Restaurant for Off-Premise Dining," June 10, 2022
3 Jennings, Lisa, "Chipotle Mexican Grill tests adding walk-up windows to existing locations," Nation's Restaurant News, June 15, 2022