Posted in Trends on October 27, 2020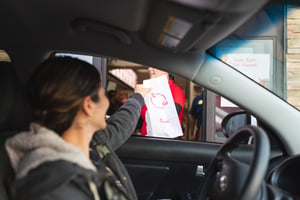 Months into the pandemic, drive-thrus have become reliable revenue engines that offer consumers a coveted combination of convenience and safety. According to the location technology company Bluedot, 74% of people have used drive-thrus the same amount or more often than usual since the onset of COVID-19—a 43% increase from April.1
As it picks up speed, the drive-thru trend is also accelerating demand for efficiency. Eighty-one percent of survey respondents consider a drive-thru wait time of over 10 minutes too long.1 No wonder, then, that the average speed of drive-thru service is 4 minutes and 15 seconds.1 "That equates to only 2 cars completing the drive-thru before it becomes frustrating to the consumer," Bluedot reports.1 The shorter the wait times, the more sales drive-thrus can generate to help offset declines in foot traffic.
Andrew Charles, an analyst for investment banking company Cowen, forecasts that the fast-casual Mexican chain Chipotle will expand its drive-thru presence from 100 stores to 1,000 by 2025, which would result in drive-thru sales accounting for 33% of operating profits.2 Charles cited Chipotle's enhanced profitability, expedited throughput and richer data collection as factors in its growth.2
"Chipotle is uniquely positioned to benefit with this new format given digital sales that were an impressive 20% of sales pre-COVID-19, while the concept does not have any traditional/legacy drive-thru operations that would require customer behavior to be altered," Charles explained.2
Drive-Thrus Fuel Menu Innovation and More
A streamlined menu and the nationwide rollout of Dynamic Yield digital menu boards helped McDonald's increase speed of service at its drive-thrus by nearly 30 seconds, according to a 2020 drive-thru report by the market research and mystery shopping services provider SeeLevel HX.3
McDonald's achieved a leaner menu by eliminating All-Day Breakfast at the onset of the pandemic and reducing the number of late-night menu items available. Installed at more than 11,000 of the burger giant's 14,000 locations, the Dynamic Yield boards helped expedite the order process with automated upselling and contributed to higher check averages.3
McDonald's also has enjoyed improved customer satisfaction scores, faster drive-thru service and greater order accuracy across major markets.3
SeeLevel survey data revealed that overall speed of service at 10 quick service chains accelerated by nearly 30 seconds compared with 2019.3 Order accuracy, meanwhile, rose to 87% after a slight decline to 84.4% in 2019—an important statistic since inaccurate orders cost $94,232 per store each year.4
SeeLevel ranked McDonald's second among QSRs for order accuracy4 and sixth for speed.3 Chick-fil-A flew away with top honors in accuracy, customer service and taste.4 Survey data was compiled from respondents in various parts of the country from the end of June to early August, so it provides perspective on how business held up during the pandemic.
Mondelēz International Foodservice offers deep culinary expertise and trusted brand ingredients to help your foodservice operation develop a menu to match the needs of today's market. What menu challenges are you facing? Interested in swapping out current items for more drive-thru-friendly options? Share your thoughts below.
1 Bluedot, The State of What Feeds Us II, August 2020, p. 4

2 Klein, Danny, "Fueled by COVID, Restaurants Race to the Drive-Thru," QSR Magazine, August 2020
3 Luna, Nancy, "McDonald's drive-thru lanes are nearly 30 seconds faster thanks to limited menu, 11,000 Dynamic Yield menu boards," Nation's Restaurant News, Oct. 2, 2020
4 Luna, Nancy, "QSR Drive-Thru Study: Here's how quick-service brands like McDonald's and Taco Bell ranked on accuracy," Nation's Restaurant News, Oct. 1, 2020