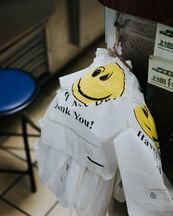 The rollback of dining room reopenings due to the resurgence of COVID-19 in many states has been capturing a lot of attention. But equally compelling is the rise of off-premises models as mainstays, regardless of whether or not dine-in service is available.
Take Chipotle Mexican Grill. Despite the fact that 85% of its dining rooms, including some patio seating, have reopened, the vast majority of customers are still eating their meals from the fast-casual chain off-premises.1 While Chipotle has regained about 40% to 50% of its dining room business, delivery sales have skyrocketed—up 125% compared with pre-pandemic, thanks in part to partnerships with third-party delivery platforms such as Grubhub and UberEats.1 Meanwhile, same-store sales have slumped by 10%.1
Chipotle's CEO Brian Niccol sees the return of dining room customers as a gradual development. "Every week goes by, I think the consumer psyche starts to build with the idea of going back into the dining room," he said during the company's second-quarter earnings call.1
Consumer fear of infection may slow the return of customers to dining rooms, or government-mandated closures could stop dine-in completely. Regardless, Chipotle's variety of digital ordering options has served it well during the outbreak: "Our digital platform has been a big beneficiary of the current environment," Niccol said.1
Digital sales increased 216% and accounted for 60% of sales for the quarter ended June 30. That amounted to $829 million, which broke the prior quarter's record of $372 million.1 Chipotle's app now has nearly 15 million loyalty members—and because DoorDash fulfills orders through the chain's app, Chipotle pays a smaller commission fee.1

Chipotle plans to leverage the feast of data accumulated through its app to tailor promotions that encourage customers to order for pickup or direct delivery and bypass third-party platform fees altogether.1 "We will continue to leverage our data over the second half of this year," Niccol said, "and expect loyalty to become a bigger tailwind over time."1
Digital Gets It Done: Connecting with Coronavirus-Concerned Consumers
As the pandemic continues to transform the foodservice landscape, dine-in is taking a back seat to delivery and takeout thanks to digital innovation. For example, through a partnership with Amazon, Sonic Drive-In customers can ask their Amazon Echo and Alexa virtual assistant devices to find nearby locations and new menu items.
Sonic's integration into Alexa's voice-activated artificial intelligence technology reflects the fast-casual chain's commitment to leveraging tech innovation to serve customers better, according to Kim Lewis, vice president of digital strategies.2 "Hungry consumers make choices quickly, and asking Alexa on their mobile device to find nearby Sonic locations and discover new menu items removes friction from the process," Lewis says.2 "In the future, we plan to build on our new custom skill, adding great features to make it even easier for our guests and fans."2
Other chains leveraging Alexa include Chipotle, which started to use the AI technology to let customers reorder their favorite meals last fall.2 Wingstop, Domino's and Denny's are available on Alexa for ordering food and finding locations nearby.
What challenges are you facing as you strive to maximize sales while maintaining the highest level of safety, on- and off-premises? At Mondelēz International Foodservice, we offer the culinary expertise and trusted brands to optimize your menu. Reach out below and learn how we can help feed the bottom line, no matter how lean the times.
1 Luna, Nancy, "85% of Chipotle Mexican Grill dining rooms are open, but most consumers still carrying food out the door," Nation's Restaurant News, July 22, 2020
2 Fantozzi, Joanna, "Sonic Drive-In now allows customers to find locations and menu items with new Amazon Alexa skill," Nation's Restaurant News, July 23, 2020