Posted in Casual Dining Restaurant on June 14, 2022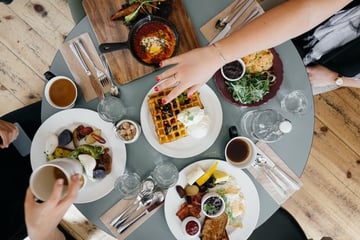 Challenges may linger and storm clouds reemerge, but with all the improvements since the onset of the pandemic, it's fair to say the sun is rising on a new dawn for the foodservice industry.
Case in point: the breakfast segment. Sizzling prior to the pandemic, the segment fizzled during the outbreak as consumers abandoned their offices and retreated to remote work. But breakfast has become a symbol of the bounce back. In fact, research from the market data firm Black Box intelligence shows that thanks to the steady return of morning traffic, the breakfast daypart enjoyed the speediest recovery in sales growth year over year in April.
1
As explored in "Sunny-Side Up: Breakfast Rises and Shines to Meet Growing Demand for Delivery," the segment was just starting to integrate delivery as a nice to-have for sales growth shortly before the pandemic took hold. Now returning traffic has made it possible for emerging brands to take a crack at expansion.
With the breakfast business sunny side up again, the Canadian full-service breakfast concept OEB Breakfast Co. is expanding stateside and launched its second U.S. location in Newport Beach, California in early May (the brand's inaugural store opened in Scottsdale, Arizona in 2018).1 The chain currently operates 12 restaurants in Canada and plans to expand to 16 by end of year, with additional plans to grow its presence across California and offer franchise opportunities.1
At 2,700 square feet with seating for up to 100, with another 25 on the wrap-around patio,1 the Newport Beach location of OEB is a testament to the return of in-store traffic since the lifting of restrictions, advances in safety measures and the rise in vaccination rates.
The concept offers a casual dining experience with innovative twists of breakfast fare. A focus on premium ingredients ensures palate-pleasing flavor profiles that make the brand stand out from the competition. The menu is an eclectic mix and includes higher-end dishes like Hog & Scallop—a hearty feast consisting of poached eggs, herb potatoes fried in duck fat, local cheese curds, seared scallops, slow-cooked bacon lardons and brown-butter hollandaise.1
And as founder Chef Mauro Martina put it: "You don't walk into a Denny's and see a Hog & Scallop."
Denny

'

s Acquires Keke

'

s in Scramble for Higher-End Breakfast Market
Not to be outdone, Denny's Inc. has announced plans to branch out into the higher-end breakfast market with the acquisition of the Keke's Breakfast Cafe chain. In what executives describe as a "Lexus-Camry" franchising strategy, Denny's revealed May 3 that it would acquire 52-unit Keke's for $82.5 million.2
According to Denny's CEO John Miller, the Keke's brand is especially popular with millennial and Gen Z families in households with children and income levels above $75,000.2 And because prices for Keke's entrees tend to be 20% higher than Denny's, the two brands serve different demographics, with little risk of competing with each other.2
"This is an exciting opportunity to participate in the fast-growing A.M. eatery segment through a complementary brand that we believe our experienced team can develop across multiple states with the goal of becoming the A.M. eatery franchisor of choice," said Miller.2
To make the most of the breakfast boom, today's foodservice operations need the right balance of time-honored favorites and innovative twists. The acclaimed chefs at Mondelēz Foodservice combine culinary ingenuity with beloved brand ingredients to create concepts that provide fresh takes on breakfast classics, like our recipe for Waffles on a Stick made with Chunky CHIPS AHOY! Cookie Pieces.
Browse our Culinary Center for inspired ideas to help maximize sales with every daypart. Whatever challenges you may have on your plate, we're here to help. Reach out below to learn about the many ways we can help feed your bottom line.
1 Jennings, Lisa, "OEB Breakfast Co. brings a more premium offering to the morning daypart," Nation's Restaurant News, May 11, 2022
2 Ruggless, Ron, "Denny's sees Keke's giving it a foothold in the expanding A.M. eatery market," Nation's Restaurant News, May 9, 2022