Posted in Menu on November 16, 2021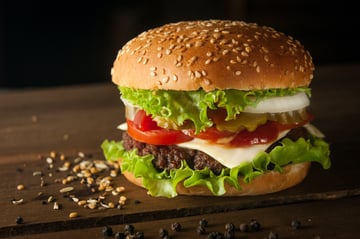 As America's most-ordered meal at restaurants, burgers bite off a huge chunk of market share. For the year ending June 2021, burgers gobbled up 7.6 billion sales—far more than any other menu item.1 A versatile and reliable business booster, the classic burger is a cash cow that restaurant brands refresh and reinvent with endless culinary ingenuity.
With so much sales potential on the table, competition for the burger market is heating up—at restaurants and in consumers' homes. While restaurant sales remain robust, at-home preparation of burgers is growing, with 72% of consumers surveyed making their own burgers at least once a month, compared with 66% in 2019, according to the market research firm Technomic.2
Nearly half said making burgers at home is more affordable2—all the more reason for restaurant chains to offer specialty burgers exclusive to their menus. And in a sign of young consumers' hunger for burger variety, 20% of survey participants between the ages of 18 and 34 said they expect to order burgers from different restaurants as the pandemic fades.2
Technomic research shows the growing appetite for plant-based alternatives. Thirty-two percent of younger consumers surveyed expect restaurants to offer at least one plant-based burger option.2 Another 32% want a wider variety of veggie and plant-based patties.2
Major Restaurant Brands Flip for Plant-Based Burgers
In response to flourishing demand for plant-based burger varieties, McDonald's plans to introduce its new McPlant burger as a limited-time offer in eight U.S. cities across California, Louisiana and Texas, starting Nov. 3. Already successfully tested in international markets, including Sweden, Austria, the Netherlands and the United Kingdom,3 the McPlant features a patty made with peas, rice and potatoes exclusively for McDonald's by Beyond Meat Inc.
The look, taste and price of the McPlant is intended to be consistent with such famously flavorful McDonald's burgers as the Quarter Pounder and Big Mac. "The patty is served on a sesame seed bun with tomato, lettuce, pickles, onions, mayonnaise, ketchup, mustard and a slice of American cheese," McDonald's said in a statement. "It has the iconic taste of a McDonald's burger, because it is one."4
In June, Wendy's added a meatless burger to its "Made to Crave" menu in U.S. test markets. Made with a spicy black bean patty for differentiation in the increasingly crowded plant-based burger market, the chipotle sauce-slathered patty features a blend of spices. Toppings included tomatoes, onion slices, romaine lettuce, and chipotle jalapeños.
As a Wendy's spokesperson explained to VegNews magazine: "Demand for plant-based proteins has exploded during the past 10 years. As a company striving to meet our fans where they are and deliver incredible taste and flavor, we identified a culinary opportunity to craft a plant-based protein in a uniquely Wendy's way."5
While plant-based burgers have certainly taken root, beef is still the patty of choice for consumers (83%), according to Technomic.2 No wonder Burger King upped its beef patty game with the introduction of two limited-time "Gourmet Kings" burgers in the U.K. on October 11.6
"Our new Gourmet Kings collection has been in development for over a year," said Katie Evans, chief marketing office for Burger King U.K. "We took the time to create and source the perfect ingredients to complement and elevate our flame-grilled, 100% Aberdeen Angus beef. With oak smoked British and Irish cheddar and layers of fresh ingredients, we're delighted to finally serve the Gourmet Kings range to customers across our restaurants and via delivery."6
At Mondelēz International Foodservice, our signature combination of acclaimed culinary expertise and trusted brand ingredients helps commercial and noncommercial foodservice operations thrive. Check out a few of the innovative plant-based burger concepts in our Culinary Center. Contact us below for custom menu solutions for your operation.
1 Thorn, Bret, "Burgers across America: Chain restaurants innovate around the nation's favorite entrée," Nation's Restaurant News, Sept. 16, 2021
2 Technomic, Burger: 2021 Consumer Trend Reports
3 Ruggless, Ron, "McDonald's to test McPlant in 8 U.S. restaurants, starting Nov. 3," Nation's Restaurant News, Oct. 14, 2021
4 Heater, McDonald's will serve Beyond Meat McPlant burgers in select U.S. locations next month, Brian, Techcrunch+, Oct. 14, 2021
5 Starostinetskaya, Anna, "Wendy's Is Officially Testing a Spicy Meatless Black Bean Burger. Here's Where to Find It," VegNews, June 25, 2021
6 Brian, Eric, "Burger King's 'Gourmet Kings' Range Will Elevate Your Takeout Order," Hypebeast, Oct. 9, 2022