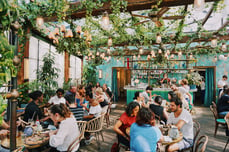 The restaurant industry has been slowly innovating its way out of the dark alley caused by the coronavirus outbreak. Bright spots have emerged along the way:
Shifting full throttle to delivery, takeout and curbside pickup
Selling inventory stockpiled for dine-in services as groceries
Creating large family meal deals to accommodate quarantined families and budget-focused consumers in a struggling economy
According to Kelli Valade, president and CEO of Black Box Intelligence, a restaurant data analysis firm, these innovations and other factors have formed
the foundation for a recovery
. Since hitting bottom in March, business has been on an upward arc.1
While sales nosedived by 66.3% in the second half of March, they slowly began to pick up again—thanks, in part, to infusions of household cash from government stimulus checks and the reopening of restaurants in states such as Texas and Georgia.1 In those states, sales regained some lost ground—down by 32.8%, though dining room capacity was limited to 25%.1
Despite a projected loss of $240 billion for the year and the shedding of 8 million jobs, per the National Restaurant Association,2 some segments saw positive sales figures. Black Box data reveals that pizza chains, already proficient at delivery, took a large share of the profit pie, with a 15% increase in same-store sales in May. Chicken chains took wing with a 4% rise, while burger chains beefed up sales by 2%.1
Quick service and fast casual chains have been faring better than much of the industry. Drive-thru windows were a factor, as were meal bundles, which resulted in a higher check average. Takeout sales have climbed steadily, up 66.8% in April and 96.4% in May.1

Delivery Expected to Continue to Drive Sales
Given the momentum off-premises dining had pre-coronavirus and its acceleration and expansion during the outbreak, the patterns of consumer behavior seem set. Delivery through digital ordering has arrived—and it's here to stay, according to David Portalatin, national food and beverage analyst for The NPD Group.3
Meals consumed at home were up 45% in March.3 In April, digital ordering from restaurants soared 106% over a year ago. Almost 20% of all orders are now digital. "Once we condition ourselves to these behaviors," Portalatin told Nation's Restaurant News, consumers "will not go back to previous norms. It's reasonable to assume these behaviors will remain at higher levels."3
Third-party delivery orders continue to pick up speed, rising 204% in April compared to last year.3 During the same period, restaurant app and website orders were up 72%.3
Safety First: Putting COVID-19 Prevention Center of Plate
While consumers are hungry for a return to dining at restaurants—as asserted by 87% of Black Box survey participants1—safety concerns that were heightened during the COVID-19 outbreak are expected to continue post-outbreak as well.
"Safety beats everything right now," said Jack Li, founder of menu research firm Datassential, during a recent Restaurants Rise digital conference.4 "We've gone from a place of helplessness with fear to a place of caution."4 Li stressed the connection between safety and relaxation, and the importance of ensuring that dining out is a relaxing experience for consumers. Pent-up demand may drive consumers to linger longer and spend more money, he pointed out.4
Li also emphasized the need for menus to accommodate consumers' appetite for popular fare they may have been unlikely or unable to prepare at home under quarantine, such as Mexican and Asian foods.4
At Mondelēz International Foodservice, our combination of extensive culinary expertise and trusted brands equips us to help you ensure success and growth in today's challenging environment. Browse our Culinary Center for ideas and inspiration, and reach out below to learn about the custom menu solutions we can develop for your foodservice operation.
1 Thorn, Bret, Restaurants Rise: Kelli Valade of Black Box says devastated industry will come back, Nation's Restaurant News, June 4, 2020
2 National Restaurant Association, COVID-19 Update: The Restaurant Industry Impact Survey, April 20, 2020
3 Glazer, Fern, Restaurant consumers may favor delivery and carryout even as dining rooms reopen, Nation's Restaurant News, June 4, 2020
4 Luna, Nancy, Consumers are excited to return to restaurants, but they want a safe and relaxing experience, Datassential says, Nation's Restaurant News, June 5, 2020