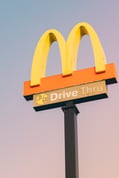 Downsized menus are a must for many operators re-orienting their businesses for less dine-in and more off premise sales. Major chains have been at the forefront of shrinking menus to achieve more manageable margins during the pandemic.
Taco Bell, which eliminated a dozen offerings in August, has announced that it will trim its menu further this November. Mexican Pizza, Shredded Chicken Soft Taco, Shredded Chicken Burrito, Shredded Chicken Quesadilla Melt and pico de gallo will no longer be offered. With the removal of these dishes, the Mexican quick service restaurant will have reduced more than 25 items and ingredients from its menu since it started downsizing its menu last year.1
The latest round of reductions will make way for two new menu items—a $1 Chicken Chipotle Melt and a Dragonfruit Freeze beverage—set to debut later this year.1
"We're constantly evaluating ways to provide a more efficient restaurant experience and have already begun to see progress from streamlining our menu," according to Mike Grams, Taco Bell's brand president and global chief operating officer. "While we know fans may be understandably sad to see some of their favorites go, this evolution of our menu truly paves the way for fresh new ideas."1
The company's strategy of streamlining its menu enables Taco Bell to explore greater culinary innovation, resulting in "new fan favorites, continued progress in categories such as plant-based diets, and even opportunities for the return of some classics on a limited time basis," the company said in a statement.2
Spicy Heat Meets Cool and Sweet at McDonald's
Available September 16 for a limited time, two menu items on opposite sides of the flavor spectrum tantalized tastebuds at McDonald's.
Spicy Chicken McNuggets heated up the classic McNugget lineup. Coated with both cayenne and chili peppers, these breaded and dippable delights burst with spicy flavor. Customers had the chance to turn up the heat even higher with the chain's new Mighty Hot Sauce made of a potent mix of crushed red peppers and spicy chilis. It's McDonald's first new sauce in years and the hottest one the brand offers.3
"If our customers truly can't get enough, there's always a chance we'll bring limited-time menu items back in the future," McDonald's said in a statement. "You never know, you might just see some of these fan-favorites again soon..."4
If customers wanted a cool treat after the heat of their Spicy Chicken McNuggets, they could enjoy the new CHIPS AHOY!® McFlurry®. Available in snack regular sizes for a limited time at participating locations,3 this cool creation consisted of vanilla soft-serve, caramel topping and CHIPS AHOY!® cookie pieces. The McFlurry® is also available year-round in McDonald's classic OREO® flavor.
New Menu Items Take Flight at Chick-fil-A
While other quick-service brands are whittling down their menus, Chick-fil-A is flying in the face of the trend with three new nationwide menu items—a Chocolate Fudge Brownie, a new coffee blend and a Mocha Cream Cold Brew.5
Available individually wrapped or by the tray, the Chocolate Fudge Brownie is Chick-fil-A's newest dessert item, made with sweet chocolate and fudge chunks. Positive consumer feedback from test markets last year spurred the chain to add the dessert to the menu.5
Blended with sweetened cream and chocolate flavored syrup, the Mocha Cream Cold Brew perked up interest when it tested last year, resulting in a limited-time rollout.
Chick-fil-A's new specialty coffee blend, THRIVE Farmers Hot Coffee is made from coffee beans grown in Central and South America and features a smooth caramel flavor profile with a nutty finish.
The timing of the offerings is strategic, according to Leslie Neslage, Chick-fil-A's director of menu and packaging. "We are always looking to add fun and flavorful offerings to our menu, and these new dessert and snack options make perfect additions as we enter the fall season," said Neslage."5
Mondelēz International Foodservice offers the ideal mix of culinary ingenuity and brand equity to help ensure your menu can serve up optimal sales during challenging times. Contact us for menu solutions that can help you manage margins and maximize growth.
What new menu items would you like to explore? Let us know below.
1 Luna, Nancy, "More Taco Bell menu trimmings coming in November," Nation's Restaurant News, Sept. 3, 2020
2 Taco Bell, Taco Bell is revamping its menu, July 17, 2020
3 McDonald's Newsroom, McDonald's® Bringing First-Ever Spicy Spin to Classic Fan Favorite This September, Aug. 25, 2020
4 Tayor, Kate, "McDonald's spicy nuggets and hot sauce are selling out across America just two weeks after their debut," Business Insider, Sept. 30, 2020
5 Luna, Nancy, "Forget menu trimming—Chick-fil-A adds new items , including two coffee drinks," Nation's Restaurant News, Sept. 3, 2020