Posted in Millennials on December 22, 2022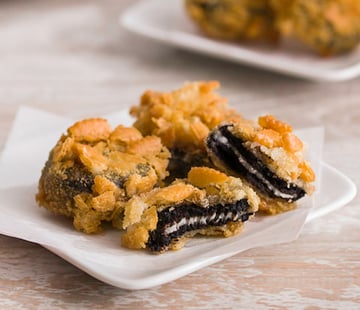 Consumers have been eating more frequently throughout the day; 64% regularly replace at least one meal with a snack, according to Mondelēz International's annual State of Snacking™ report.
Nearly half (47%) of consumers say they enjoy snacks that are recognizable, yet feature a twist.1
As a result, operators may be able to increase sales by serving a variety of hardy, small portion items and desserts that feature unique formats and flavors, said Arlene Spiegel, president of restaurant and hospitality consulting firm Arlene Spiegel and Associates, in an interview with Mondelēz Foodservice.
"Snacks have become a really important part of the mainstream diet," Spiegel says. "There's an opportunity to have more people come in during the slow times, if they have a compelling appetizer or small plates menu—[such as] from 2:30 until 4:30, there's great charcuterie platters, or a hot chocolate beverage bar. Even doing a snack and wine pairing could bring people in at different dayparts than the traditional lunch and dinner."
Shack Shack, for example, introduced a weekday afternoon happy hour between 2 and 5 pm, promoting a buy-one-get-one-free deal on shakes.2
Infusing familiar dishes with appealing elements—such as an array of flavored marshmallows to add to hot cocoa—can help build excitement and, in turn, attract customers. Here are four ways operators can elevate offerings and capitalize on snacking occasions.
Adding Global Touches
The interest in trying new globally based foods and beverages has grown in recent years; 27% of consumers are now eating those items more than they did two years ago.3
A third—particularly Gen Z members and millennials, which Spiegel describes as "an audience hungry for adventure"—feel snacks are a stellar way to sample cuisines from other countries. Some, such as African, Jamaican and Indian cuisine, were included more frequently on menus between 2018 and 2021.1
Authentic street fare, too, can resonate with customers. With Mexican food ranked as the top international cuisine consumers would like to try in a snack flavor format, restaurants may find there's interest in items like elote, corn traditionally sold by street vendors that's topped with savory items like a mayo-based sauce, cotija cheese, lime juice, chili powder and cilantro.
Dishes that are inspired by certain components in specific types of international cuisine—such as sesame, miso and nori, often found in Japanese street food items—may also intrigue customers.1
"They're looking for a Korean barbecue flavor on top of their mashed potatoes, instead of just regular gravy," Spiegel says. "They're looking for a kimchi that would be used instead of coleslaw to enhance a sandwich. It's taking the ordinary and then literally elevating it."
Tapping Into New Seasoning Tastes
Bold flavor could potentially draw some of the 43% of consumers who say they'd be interested in trying a spiced snack—particularly within younger age groups, which have shown the most interest in extreme flavor profiles.1
Items may also sell well if they combine sweet and spicy flavors such as chili lime, which 60% of Gen Z members and 67% of millennials either have tried or would like to. Consider desserts that feature spice, like these Spiced Mango Whip Sundaes made with SOUR PATCH KIDS Bitz, which combine sour, sweet, spicy and smooth flavors.
Other popular spice additions include sea salt, turmeric, smoked paprika, and black pepper.1 Black pepper cocktails, in fact, are one of 50 emerging menu trends Technomic identified for the coming business quarter.4
Including Upscale Aspects
Operators may also want to take a look at some of the classic comfort foods they offer, which could be a good candidate for premium ingredients.
In addition to a peanut butter and jelly sandwich made with almond butter, mixed berry compote and maple-bourbon honey, Chicago's PB&J, for example, serves a $350 Golden Goose sandwich that contains high-end ingredients like manuka honey and Maison Dutriez jelly.
Branded ingredients, which 31% of consumers say would make them more inclined to purchase menu items, can be another attractive aspect to include in desserts and snacks.5
Consider elevating nostalgic dishes by featuring them in smaller, snack-sized formats with branded inclusions, like these BBQ Pork Mac & Cheese Bites made with RITZ Crackers or Cracker Coated Cookies made with OREO and RITZ Crushed Crackers.
Incorporating emerging flavors that are on currently the verge of becoming more widely used, such as meyer lemon, hibiscus and fig, into cake, ice cream and other commonly served desserts may also help boost interest in those items.6,7
For more information about offering new takes on familiar favorites, contact us today.
1 Trending Flavors and Ingredients: Snacks, T. Hasegawa, 2022
2 Get a Free Shake on Weekday Afternoons at Shake Shack's New Happy Hour, Thrillist, July 14, 2022
2 Novel Menu Trends to Drive Business and Delight Guests, Technomic, 2022
3 50 Menu Trends to Watch, Technomic, 2022
4 "3 Premium Ingredients Consumers Will Pay More For," Restaurant Business, May 31, 2018
5 Dessert Flavors: Menu Adoption Cycle, Datassential, September 2022
6 Dessert Varieties: Menu Adoption Cycle, Datassential, September 2022