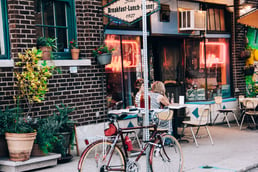 To serve up sales and mitigate the shortfall during the COVID-19 outbreak, foodservice operators have had to think outside of the box. Now, many are thinking outside—as in al fresco—in states and cities where dine-in remains prohibited. And even where dine-in restrictions have eased, al fresco dining still offers a breath of fresh air for consumers eager to dine out—and an opportunity for sales-hungry operators to feed the bottom line.
As news circulated that coronavirus may be less likely to be transmitted outdoors in the open air and with appropriate spacing between people, many states and municipalities seemed to become receptive to the idea of allowing restaurant operations to ease back into on-premises dining with outdoor seating. As of this writing, Illinois, Minnesota, Maryland, New Hampshire, Ohio and Rhode Island and New Hampshire are among the states that have restricted restaurants to al fresco dining or advocated for them to include it in their reopening plans.1
While cities may lift zoning restrictions to allow restaurants to extend their dining services outside in parking lots and on sidewalks and streets (e.g., San Francisco's "Shared Spaces" Program), limited seating and six-foot spacing between tables are required.
According to the Centers for Disease Control and Prevention, minimizing human interactions remains the cornerstone of safety guidelines that restaurants should follow during the pandemic. "The more an individual interacts with others, and the longer that interaction, the higher the risk of COVID-19 spread," the CDC reports.2
As a result, drive-thru, delivery, curbside pickup and takeout carry the lowest risk, with limited outdoor dining presenting a bridge solution for full-service restaurants to cautiously reintroduce on-premises dining services. Al fresco servers are typically required to wear face masks, as are customers when not eating.
As a safety precaution, consumers may opt for outdoor dining even in areas where inside dining rooms have reopened, as Ted Lescher, general manager of Lucky's Burger and Brew in Roswell, Georgia, discovered. The restaurant—part of a three-unit chain in the state—has an outdoor patio and converted a large yard into a dining area with widely spaced picnic tables. "The outside dining is what people are going for," Lescher told Nation's Restaurant News. "Normally, people fill up the inside, then they go outside. Now it's just the opposite."1
Off-Premises Business Continues to Deliver Sales
Meanwhile, in a sign that off-premise channels will continue to fuel sales as dining rooms reopen, the restaurant analytics firm Black Box Intelligence found that consumer sentiments toward off-premises business picked up in May.3
Third-party delivery platforms continue to show strength and resiliency, with particular growth among younger consumers since the pandemic began. More than 14% of Gen Z used third-party delivery to order from a restaurant since March 15.3
And while growth in average spending per customer stalled for full-service restaurants, limited-service restaurants saw growth in average check spending continue to rise.3
Popeyes' same-store sales rose more than 40% in the third week of May this year. According to a statement from Restaurant Brands International, which also owns the Burger King and Tim Hortons chains: "Sequential improvement in comparable sales in our home markets has primarily been driven by the continued strength of our safe and convenient drive-thrus; the acceleration of our digital platforms, particularly in home delivery; growth in group orders and family bundles as an attractive and affordable dining option; and an overall improvement in guest perception of how our restaurant brands have positively responded to this crisis."4
Reach out below to learn how our culinary expertise and diverse brands can help your operation ease back into on-premise dining, manage your margins more effectively, and maximize sales.
1 Hamstra, Mark, "Al fresco dining becomes solution for full-service restaurants," Nation's Restaurant News, May 29, 2020
2 Thorn, Brett, "CDC updates guidelines for reopening restaurant dining rooms and bars," Nation's Restaurant News, May 21, 2020
3 Ruggless, Ron, "Guest sentiment toward off-premise recovers in late May, Black Box says," Nation's Restaurant News, May 28, 2020
4 Ruggless, Ron, "Popeyes' same-store sales up more than 40% in third week of May," Nation's Restaurant News, May 28, 2020