Posted in Desserts on December 4, 2018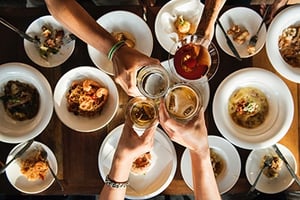 In the endless blur of restaurant concepts vying for market share among millennial dining enthusiasts, bringing meaty differentiating factors to the table is a must.
A widespread hunger for menu novelty and differentiation is clear. According to the foodservice-focused market research firm Technomic, half of millennials surveyed expect restaurants to offer signature flavors1 and 37% of consumers across the board strongly agree that new favors make them more likely to visit a restaurant.2
What's more, restaurant operations that hanker for a higher check average (and who doesn't?) should note that 33% of consumers surveyed also strongly agree that they are willing to pay higher prices for meals that feature new flavors.2
No wonder Technomic's survey data reveals that 47% of restaurant operations make a point of unveiling new flavors, including new menu items and limited-time offers, at least once a month.1 Exciting new flavor experiences always seem to find favor with consumers, especially when it comes to younger survey respondents, 43% of whom say they want restaurants to offer more flavor combinations and multi-cuisine fusions.3
Profitable Restaurant Operations Gorge on Growth
Flavor-packed menu innovation and other key differentiating factors fuel success for the select group that made the cut this year as Nation's Restaurant News' next-generation restaurants to watch. Tracked as part of the restaurant industry publication's Top 200 research, this rollcall of trailblazers, from quick-service pretzel chain to fine-casual dining seafood house, averages 15.3% domestic sales growth and 12.1% unit growth.4
While those numbers weren't enough to put these establishments in the Top 200, whose benchmark is $170.9 million in U.S. systemwide sales,4 their growth rates and sales potential make them especially noteworthy. NRN's Next Generation includes:
Wetzel's Pretzels, the largest brand selected for Next Gen status, adds a special twist, coming within Top 200 range with system-wide sales of $162.2 million.4 The national snack chain serves fresh-baked pretzels in a wide variety of inventive formats, from wrapped around a hot dog to topped with melted cheese and pepperoni. While consumers relish the menu innovation, franchisees appreciate how easy the shop is to open and operate, with a low initial investment and a smooth onboarding process for new hires. Prototype kiosks, premium mall outposts and inline stores in Walmart and outlets are on the horizon for the company, which is projected to open 30 new locations by the end of the year.5


True Food Kitchen, a casual-dining chain that specializes in better-for-you fare, posted the greatest growth: an estimated 46.5% boost in systemwide sales and a 31.3% jump in units.6 What's more, with a 6.9% increase in estimated sales per unit, the company has the highest growth rate.4 Oprah Winfrey's equity investment has simultaneously filled the company coffers and raised the brand's profile. With plans to double unit count over the next three years and a national partnership with DoorDash set to launch online ordering this year, True Food Kitchen seems poised for exponential sales growth.6
Eddie V's Prime Seafood, while the smallest of group, still hooked $114.8 million in sales.4 Targeted to metropolitan areas, the contemporary fine-dining and oyster-bar concept tailors menus and wine lists to regional tastes and pricing. With live music, high-touch customer service (including in-house preparation of signature dishes) and unique decor for each location, the luxury brand garners an average guest spend of $98.

7
To review Nation's Restaurant News' full list of Next Gen restaurants, read their report's introduction. To learn how our brands can help you expand your menu and increase sales, visit our Your Business page or reach out below.
1 Technomic, Flavor Consumer Trend Report, 2017, p. 77
2 Technomic, Flavor Consumer Trend Report, 2017, p. 75
3 Technomic, Flavor Consumer Trend Report, 2017, p. 80