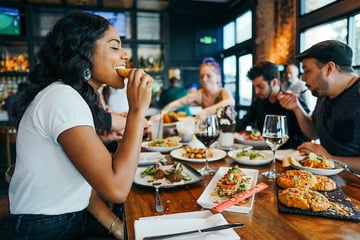 Just when it seemed economic challenges might put growth on the back burner, the restaurant industry managed to serve up a fresh batch of optimism, with an interesting mix of results—in real life and in the metaverse.
For starters, sales went on a hot streak in August as rising consumer confidence helped boost business, according to the restaurant analytics and data firm Black Box Intelligence.
1
Sales spiked 5.3%, a 4.6% jump over July's growth rate and the highest since March.
1
Traffic may have slowed, but large check growth at higher price points revved up revenue.
So what factors fueled the growth engine? Black Box Intelligence cites an uptick in consumer confidence as a key catalyst.1 The Consumer Confidence Index, a monthly survey of the economic landscape from the global economy experts of The Conference Board, increased in August after three consecutive months of decline.1 Other factors include a drop in gas prices and a boost in the short-term prospects for income, business and employment.1
What's more, the jump in sales wasn't limited to one restaurant sector but consistent across all—with full-service segments seeing the largest and fastest increases.1 The pandemic-propelled increase in takeout and delivery continues to be a factor and off-premises dining has demonstrated its staying power. But while consumers opt for them more often, Q2 net sentiment for off-premises options was negative across segments.1
Off-premises food received a 2.9 average star rating (compared with 4.0 for on premises), and words like "cold" and "wait" were frequently used as reflections of negative sentiments in consumer reviews.1 And while on-premises dining received more favorable ratings, restaurants continue to operate at lower staff levels than before the pandemic. Only 5% claimed to be fully staffed with enough hourly front-of-house employees during the first six months of the year.1
Making Money—and Making Moves in the Metaverse
While economic uncertainty could mean more fluctuations are on the horizon, August sales figures show real year-over-year growth. Just as sales have been rising for the industry, so has its presence in the metaverse, where it continues to show strong virtual growth.
In another example of restaurant brands expanding into the new frontier of virtual reality, Chipotle launched a menu item, the Garlic Guajillo Steak, in the metaverse. The item's September debut on Roblox, a global gaming-focused metaverse platform, is part of the brand's strategy to broaden its reach into the digital native Gen Z market.2
As Chipotle Chief Marketing Officer Chris Brandt explained: "By launching Garlic Guajillo Steak in the metaverse, we are able to share our culinary traditions and real food proposition with Gen Z. For the first time, fans can discover our latest menu innovation from our head chef with an immersive experience that blends the best of Chipotle's digital and physical worlds."2
The Chipotle Grill Simulator in the chain's virtual restaurant on Roblox enables visitors to cook and "taste" the menu innovation with the guidance of head chef Nevielle Pathaky. Over the course of two days, Chipotle awarded 100,000 free entree codes to visitors who used the simulator to cook their own Garlic Guajillo Steak.
Chipotle joins Wendy's, Starbucks, Jimmy John's, Pizza Hut and others on a growing A-list of restaurant chains to explore the potential of the metaverse, which McKinsey projects will have a value of $5 trillion by 2030.3 Check out the post "Metaverse Measures Up, Major Restaurant Brands Dig In," for more on metaverse mania.
On-premises and off, online and in real life, Mondelēz Foodservice is here with world-class culinary expertise and trusted brand ingredients to take your business to the next level. Our acclaimed chefs specialize in creating custom menu solutions for foodservice operations across segments. From beverages to breakfast, dinner to dessert, sandwiches to snacks, we're ready to help optimize all aspects of your menu. To learn more, contact us below.
1 Black Box Intelligence, "Restaurant sales growth rebounds, posting best month since late March," Nation's Restaurant News, September 16, 2022
2 Chipotle Mexican Grill, "Chipotle Introduces New Garlic Guajillo Steak Across the U.S., Canada and the Metaverse," September 13, 2022
3 Marketing Dive, "Metaverse madness: What brands are doing to cut through the noise,"June 24, 2022