Posted in Technology on July 19, 2022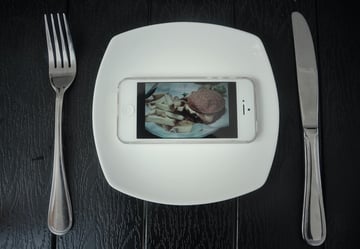 The metaverse is mega-trending, and food and beverage brands are eager to get a taste of it. The buzz has been mixed with disbelief, but one thing is for sure: The idea of an immersive virtual universe for digital commerce has provided plenty of food for thought--and a plateful of potential.
Projected to be worth $5 trillion by 2030,1 the metaverse is an evolving treasure trove of experiential marketing. "The metaverse is about creating worlds and experiences that you want to go to, that you're drawn to," explained Ginny Ziegler, North America chief marketing officer for Accenture, an information technology services and consulting company.1 "What's really going to make the metaverse real is the adoption of the experiences that it enables and the propositions that it brings to life."
1
While some may consider the metaverse pie in the sky, others are exploring it as a feast of promotional possibilities.
The sandwich chain Jimmy John's set up shop on the digital marketplace Decentraland, where visitors could get creative with custom virtual sandwiches ("Metasandwiches") and submit them for a chance to be chosen as the winning concept. The winner was made available in real life at select locations in Nashville and Chicago and for delivery to the first 100 people who ordered it from May 31 to June 3.1 The Decentraland restaurant also served up Jimmy John's promo codes and merchandise.1
Pizza Hut made its first foray into the metaverse with the digital commerce destination ComplexLand. The pizza chain hosted a virtual shopping event on the platform, complete with Pizza Hut delivery trucks and drivers created by metaverse multimedia artist Rob Shields, an NFT gallery curated by influencer Lil Miquela, exclusive product drops and a chance to win a year of free pizza.1
Young and Hungry: Gen Z Eats Up Metaverse Experiences
A study by Vice Media Group showing that Gen Zers spend two times more time socializing in the metaverse than in real life whetted Pizza Hut's appetite for the metaverse as the secret sauce for reaching young consumers.1
What's more, in another testament to the appeal of metaverse experiences, Wendy's "Wendyverse" virtual restaurant was visited by 52 million users in Horizon Worlds, the virtual reality platform from Meta.1
That said, as Reddit cofounder Alexis Ohanian has pointed out, the metaverse will need a major wow factor to be a truly transformational technological breakthrough.
"A lot of the pitches around this are just lazy reinterpretations of the physical world that aren't really better," Ohanian opined. "You have to make sure you're bringing an experience to the table that's 10 times better. For example, no one's thinking, 'Oh gosh, it was so nice to be able to see your maps and where you're going on Mapquest.'"2
Or maybe the virtual experience doesn't have to be better than what exists in the real world—just expand it. "Marketers should think of the metaverse as an enhanced experience of reality that's packed with opportunity," said Scott Leatherman, chief marketing officer for the artificial intelligence tech company Veritone. "We can use it to reach beyond what is possible in the physical world and should take the chance to be bold and inventive and push the boundaries of what it means to engage with your audience, whether physically or virtually."3
So while it may not replace the real world, the metaverse will continue to enhance it with promotions like those described here and others that offer tangible benefits.
Whether you're eying the metaverse or navigating the shifts in the competitive landscape, your foodservice operation needs the right menu mix. The acclaimed chefs at Mondelēz International Foodservice combine culinary excellence with beloved brand ingredients to create the dishes, desserts and drinks that help boost business.
Share your thoughts below on the metaverse or request information about our custom menu solutions for a bold new era in the foodservice industry.
1 Marketing Dive, "Metaverse madness: What brands are doing to cut through the noise,"June 24, 2022
2 Fantozzi, Joanna, "The metaverse needs to be wow-worthy to survive, says Reddit cofounder Alexis Ohanian," Nation's Restaurant News, May 23, 2022
3 Leatherman, Scott, "Why Metaverse Marketing Should Go Beyond Direct to Avatar," Forbes, June 21, 2022