Posted in Millennials on March 16, 2023
After working at home for years, many employees long for the social connections that are part of the workplace. Employers are anxious to see greater employee engagement and collaboration, which has been missing since working from home became so popular. As the office space continues to evolve, the breakroom has become the go-to place for social connection and business collaboration.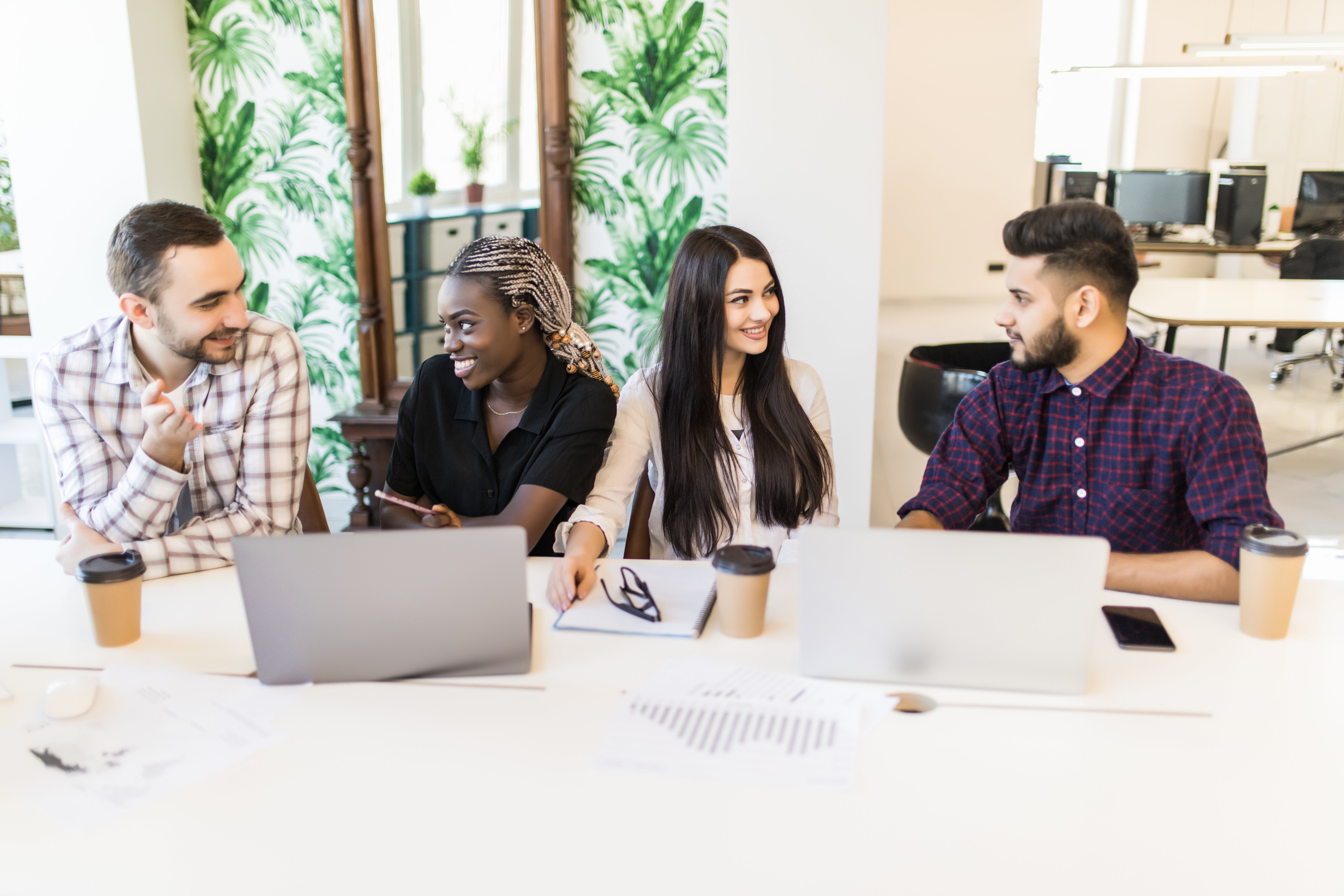 Photo credit: Photo 148362255 © Dan Grytsku | Dreamstime.com
What Employees Want: Connection
The one resounding thing employees are willing to come back to the office for is socialization and human connection.
A recent article in Harvard Business Review supports the case that "connecting with people is the most compelling reason to come back to the office.
When asked what would motivate them to come into the office, employees had a resounding answer: social time with coworkers:
85% of employees would be motivated to go into the office to rebuild team bonds.

84% of employees would be motivated to go into the office if they could socialize with coworkers.

74% of employees would go to the office more frequently if they knew their "work friends" were there.

73% of employees would go to the office more frequently if they knew their direct team members would be there.
Creating a Collaborative Workspace
In a 2022 CNBC interview, Scott Dussault, the CFO of HR tech company Workhuman, said he sees the office becoming what he calls a "collaboration destination," part of a hybrid environment where you might work from home on days where you're catching up on work or emails. The office can serve as a space that is "all about connection," he said in the interview. "You're going to see a lot more open spaces, collaboration spaces, conference rooms, meeting rooms, break areas where people can sit and get together. It's going to be focused on connection which I think frankly is positive and it is evolution – it's going to be about making those connections more meaningful."
The JLL 2022 Future of Work Survey explored the trending priorities of office environment tenants. One of the most frequently mentioned areas of importance was the concept of promoting engagement and collaboration in the office. The survey notes that when corporate real estate executives were asked about their budget allocation to support workplace resilience and portfolio strategy, 46% of respondents said they were committed to investing in workplace design and fit-out, specifically on workplace design projects that are intended to improve employee engagement and wellbeing. In addition:
72% have planned or are planning to make all office spaces open and collaborative, with no dedicated desk spaces.

45% consider collaborative working to be one of the primary purposes of office space.

35% intend to expand investment in dedicated rest and recharge spaces for employees to rest and recharge.
The JLL Report concluded: "The office has a new purpose and a new role to play in the work ecosystem. Quality space is the employees' clarion call for employers to take action. For the office to be the best place to work and provide an outstanding human experience, the workplace needs to be reimagined to meet talent preferences and aspirations."
The Breakroom: A Natural Social Hub
Steve Orlando, co-founder of Fixturelite, a Phoenix-based company that specializes in providing products for unattended retail spaces, spends a lot of his time these days working with operators and facility managers to design breakrooms that promote one important concept – employee engagement. "Employers today want a breakroom that is a destination – a place where employees will feel comfortable – a place where they can engage and collaborate," said Orlando.
William Mandile, director of customer experience at Marché, a New York City micro market and pantry service operator, is hearing a clear message from clients about the importance of today's breakrooms. "Based on the feedback I am getting, the breakroom has greater significance than ever before," said Mandile. "Office managers want exceptional breakrooms, not just to promote business-related engagement and collaboration but also to provide employees with the social connections that they miss so much, after working from home for so long."
Mandile points to how the typical office environment has changed today. "You don't have cubicles and individual offices as we had in the past. It's all collaborative space. Business conversations are being conducted in the breakroom as often as they happen in a conference room," he said. "The breakroom gatherings are usually conducted around snacks and beverages – more like a get-together at a Starbucks, so there is a definite social connection going on as well."
Snacks Inspire Socialization
Speaking of snacks and beverages, one great way to ensure the breakroom will become an area for activity is having the right snacks.
Convenience services operators are being tasked with the job of delivering exceptional snacks to employee breakrooms to enhance the quality of the traditional employee breakroom. "Employers want to create an environment that will foster people coming in and having that great breakroom experience to get people back into the office, which has been a challenge over the past couple of years," said Paul Tullio, regional director of refreshment services for the Atlanta region at Five Star Food Service. "They are looking to us to bring in new and innovative options, whether it be dietary options such as keto items, or gluten-free options, lower sodium options – anything that will improve the breakroom experience, where employees can get together – which employers see as an increasingly important part of the office experience."
In the fourth annual State of Snacking Report, a 2022 global consumer trends study by Mondelēz International, The Harris Poll and Ipsos, data points to the importance of snacking in today's workforce. "Snacking offers routine moments of togetherness," the study reported. Eight in ten (79%) snack to connect with others, with seven in ten (71%) believing, "sharing snacks with others is my love language," a statement that millennials particularly resonate with (79%).
Justin Kleinman, a national operator of convenience services, including pantry service, likes to draw the analogy of the breakroom, to what happens when he has a party at his house. "No matter how beautiful your living room is, where do people gather?" asked Kleinman. "In the kitchen, around the food. Everyone ends up sitting around and socializing around the food. That is exactly what happens in the office. That socialization in the office promotes well-being and that is what a lot of people miss after working at home since 2020."
A Commitment to Engagement
According to Orlando, because of the current corporate commitment to engagement through collaborative spaces, if operators also show a commitment to providing an exceptional breakroom design, combined with a compelling selection of snacks, food and beverages, corporate real estate executives are becoming increasingly motivated to invest in the space, making it even more of a destination.
"When a breakroom is a destination, employees want to spend more time there – which is always a positive for micro market and pantry service operators," Orlando added.
Learn more about creating the right snacking mix for your office in this guide from Mondelēz Foodservice.