Posted in Desserts on October 24, 2016
Among snacking trends, candy is giving the industry a lot to chew on, both as a profit engine and an evolving market.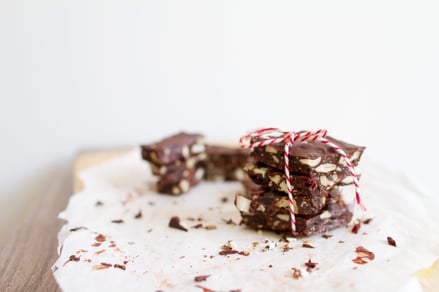 As e-commerce continues to trend as a growing marketing channel for the foodservice industry, candy and snacks have surged to be included in 77% of online grocery orders.1 In fact, as a category they rank fifth in popularity after dairy, produce, beverages and frozen foods, and matched the 15% growth of e-commerce sales in general for 2015.1
Even better, growth of online purchases in candy and snacks exceeds growth of grocery purchases overall,1 providing opportunities for foodservice operations with e-commerce capabilities to influence consumer behavior online, at the point of sale. As the first generation raised in the e-commerce era, millennials are predisposed to make online purchases, opening new horizons for candy sales. Fifty four percent of millennial purchases were made online during the first few months of 2016, and 22% of millennials have used a grocery app from a large retailer within the last year.2
The snacking trends that drove confectionery growth in 2015 include chewy candy, which has hit high single-digit growth and, in some cases, reached double-digit growth to lead non-chocolate gains over the past several years.3 Mints, the old favorite that still fits the spicy and flavorful profile that millennials favor, have also seen consistent dollar growth, hovering around 4% to 5%.3
Going Cuckoo for Cocoa, Bananas for Fruit, Nuts for Nuts
Chocolate remains a strong force, consuming 69% of candy sales online and growing 15% from 2014 to 2015. In keeping with millennial demand for broader snack options, dark chocolate (often considered healthier than traditional milk chocolate) saw 32% online sales growth, but chocolate-covered fruit takes the cake with a whopping 322% growth, underscoring the power of fruit to transform sugary treats into snacks with delicious flavor and higher pereceived nutritional value.1
Among 1,400 shoppers surveyed by the National Confectionary Association (NCA), 41% opted for chocolate with fruits and nuts as snacks they considered healthier.3 These preferences are validated by market performance, with sales of chocolate containing hazelnuts up 9% and dried fruits (a smaller but growing segment) up 56%.3
Chocolate with almonds seems a match made in millennial heaven, combining delicious flavor with high protein and fiber. Harbinder Maan, senior marketing manager for the Almond Board of California, cites survey results from the 2015 Consumer AAU from Sterling-Rice Group and shares: "As an ingredient, chocolate was one of the most popular products that respondents frequently consumed with almonds, with 47 percent of those surveyed selecting that they eat almonds in chocolate several times a month or more." Chocolate was the top pick that respondents would pair with almonds to make the ideal snack.4
Stuck on Gum
As an enormous market, with sales exceeding $3 billion per year,5 chewing gum is an offering that consumers, manufacturers and operators stick with year after year. Driven by the better-for-you foodservice trend, sugar-free varieties account for more than 80% of the category.5 Last year, 76% of gum launches were sugar free, with heavy publicity behind non-sugar sweeteners.5 New sugar-free flavor innovations included red velvet cupcake, birthday cake, breath-freshening varieties with green tea, and oral care concepts.5
As Tyler Merrick, founder and CEO of Project 7, explained, "mint-flavored gum is still king but as consumers are looking for an innovative chewing experience they want options."6 The dazzling array of inventive gum varieties in market includes twin packs that allow the consumer to experiment with flavor combinations, and a 100% natural gum base whose main ingredient is a tree sap sustainably sourced from the Central American rainforest.6 Experimentation with new gum bases is paving the way for new textures that could enhance the fun of blowing bubbles. New gum forms, texture experiences, flavors and sustainable ingredients and packaging have the potential to not only meet millennial demand, but help expand the category.
Do you think organic, non-GMO candies and gums will eat up more of the market? What confectionery delights are sweetening sales for you? Treat us to your thoughts below.
1 Watt, Abigail, "Report: eCommerce a growing channel for candy and snack sales," Candy Industry, June 29, 2016,
http://www.candyindustry.com/articles/87307-report-ecommerce-a-growing-channel-for-candy-and-snack-sales
2 "Most of millennials purchases take place online," Business Insider, Jun. 10, 2016,
http://www.businessinsider.com/most-of-millennials-purchases-take-place-online-2016-6
3 "7 Candy Trends That Sweetened 2015," CSP, Jan. 8, 2016,
http://www.cspdailynews.com/category-news/snacks-candy/articles/7-candy-trends-sweetened-2015
4 Watt, Abigail, "2016 Fruit and Nut trends in the confectionery industry," Candy Industry, Feb. 24, 2016,
http://www.candyindustry.com/articles/87155-fruit-and-nut-trends-in-the-confectionery-industry
5 Williams, LuAnn, "Sweet Snack Trends: New products keep chocolates, sugar confections and gum in the snacking spotlight," Prepared Foods Nutra Solutions, Apr. 11, 2016
http://www.preparedfoods.com/articles/117986-sweet-snack-trends
6 Watt, Abigail, "Gum on: 2016 Gum trends," Candy Industry, July 21, 2016,
http://www.candyindustry.com/articles/87341-gum-on-2016-gum-trends