Posted in Desserts on September 19, 2016
As the millennial obsession with shifting snacks from guilty pleasures to healthy treats causes food operators to reassess and reinvent old favorites, chocolate sales have been bittersweet. Still a hugely popular snacking staple, chocolate generated $18 billion in 20151 and sales are projected to reach $25 billion in 2019.2 But an array of healthy snack options, including nutritional bars, nuts and chips, is eating into the chocolate market.
UBS analyst Steven Strycula told CNBC that there is "a lot more snacking alternatives or substitutable occasions that is taking people away from traditional sugar confection and also that everyday kind of chocolate purchase."1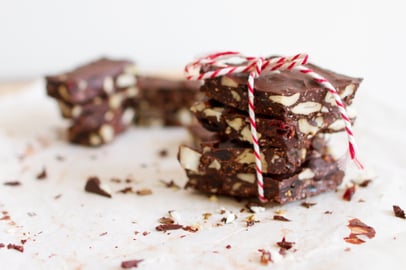 While chocolate sales may still seem strong, research shows that chocolate consumption peaked in 2005-2006 and has declined at a 3% annual compound rate over the past decade.1 In fact, the amount of chocolate consumed per person dropped from 12.6 pounds in 2006 to 9.5 pounds last year.1
Chocolate's sweet spot seems to be dark chocolate, which is widely considered a healthier indulgence. Dark chocolate sales growth surpassed overall chocolate sales growth, 6.8% versus 2.8% in 2015.1
Old Meets New Meets Good for You
Dark chocolate is tough to beat because it combines old-fashioned snacking decadence with higher nutritional value. Because it tends to have a higher cocoa content and more moderate amounts of sugar than milk chocolate, it's viewed as a healthy millennial snack that has been praised as a source of nutrients and antioxidants, with the potential to improve blood flow, lower blood pressure and cholesterol, and have many other positive effects.3 Health benefits aside, the richer and less sugary taste of pure dark chocolate may appeal to a more refined segment of the market.
Accounting for 37% of all chocolate launched in the U.S. last year,1 dark chocolate is poised for even greater growth as major chocolate brands expand their offerings in the category to meet rising demand for clean label snacks. Dark chocolate has become the cornerstone of innovation in the chocolate market as chocolate companies build on its popularity by combining it with other healthy snacking favorites like fruit and nuts.
While adverse global economic factors have slowed chocolate sales overall, the market's appetite for chocolate as a perennial favorite primes it for successful twists and innovations. As a top executive pointed out to CNBC, "[w]hat we find is whether times are good or times are bad, consumers still want to treat themselves." He went on to underscore the balancing act between old and new that helps ensure success: "Innovation is critical for this industry because consumers like to try new things. But they always go back to their old favorites …"1 Foodservice operators may want to consider offering dark chocolate versions of best-selling items and tout their premium quality and appeal as healthy alternatives.
Dark Chocolate Shows Off
This year's Winter Fancy Food Show in San Francisco was a testament to dark chocolate as the light at the end of the tunnel for a chocolate market in search of millennial snack options. Even among the 80,000 specialty foods and beverages on display vying for the attention of 20,000 attendees, the abundance of dark chocolate stood out. Driven by the health and wellness segment and its effect on snacking trends, the prevalence of dark chocolate at the event was in response to popular demand for chocolate indulgence with less refined sugar and more health benefits. And the darker the chocolate, the better. According to the National Confectioner's Association (NCA), 57% of shoppers said that they will trade up to higher cocoa content when shopping for healthier alternatives.4
Among the bright ideas for dark chocolate on display at the Winter Fancy Show:
A bar developed from single-origin Haitian beans; the first of its kind made with high-quality organic cacao from Haiti
A bar made with cacao sourced from Venezuela's Sur del Lago region, without soy lecithin or vanilla additives that dilute cacao flavor
A high cacao content bar with healthy inclusions of black rice and quinoa
A dairy-free bar made with olive oil for a velvety texture and aromatic appeal
A limited-release bar whose cacao traces back to ancient trees along the upper reaches of Bolivia's Beni River
Innovative products like these that combine tastiness and wholesomeness are bound to keep dark chocolate thriving as a foodservice trend.
Do you think consumers and millennials in particular will continue to favor healthy chocolate options and tip the scales of the market in favor of dark chocolate? We'd like to know your thoughts.
1 Daniels, Jeff, US chocolatiers looking for new sweet spot, CNBC, Apr. 7, 2016,
http://www.cnbc.com/2016/04/07/us-chocolatiers-looking-for-new-sweet-spot.html
2 Lindell, Crystal, "Mintel: US chocolate market to hit $25B in 2019," Candy Industry, Apr. 1, 2015,
http://www.candyindustry.com/articles/86698-mintel-us-chocolate-market-to-hit-25b-in-2019

3 Juntii, Melaina, "The Very Real Health Benefits of Dark Chocolate," Men's Journal, Sept. 3, 2014, http://www.mensjournal.com/health-fitness/nutrition/the-very-real-health-benefits-of-dark-chocolate-20140903
4 Vreeland, Curtis, "Driven to the 'dark side,'" Candy Industry, Jan. 26, 2016, http://www.candyindustry.com/articles/87121-driven-to-the-dark-side