"Merchandising steers customers to the items they want and your operation to the sales you need."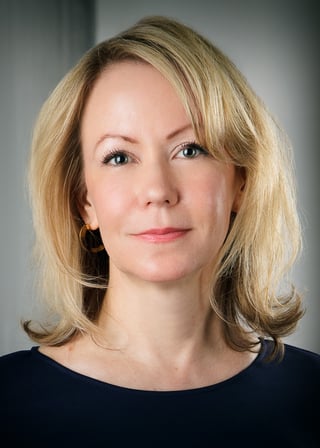 Bio: With over 20 years of experience in the foodservice industry, Rachel possesses a wealth of business and marketing management expertise. She has worked extensively on foodservice and vending for Mondelēz International, where she has managed branded snacks, gum and candy for the last four-and-a-half years. Prior to joining Mondelēz International, she worked in Nestle Professional Marketing Foodservice & Vending, handling confection, microwavable turnovers, and dessert ingredients. In addition, she spent 10 years at Hershey, where she covered both retail and foodservice. Rachel holds an MBA from Penn State University and a bachelor's in marketing from George Washington University.
LCS: Could you share your background and explain your role at Mondelēz International?
RR: I'm involved in various aspects of a $200MM foodservice branded portfolio. I have a hand in everything from P&L responsibility, strategic planning, and product innovation to packaging development, agency relationships, brand communication and North American initiatives. It's a great mix of brands and responsibilities that keep things interesting for me every day.
LCS: Why do you think the retail sector can be a rich source of merchandising ideas for snack brands?
RR: Portability is a big deal for consumers these days. They lead busy lives and don't want to waste time hunting through aisles for their favorite snacks. They want to grab and go. So retailers are a good source of ideas on how to organize and display items for the greatest convenience. It's no coincidence that popular snacks at grocery stores are displayed right at the register. That's a great way to help maximize sales.
LCS: Which product assortment and placement strategies would you recommend for getting the most bang out of snack brands?
RR: The right merchandising helps drive sales, but you need to be strategic about what to offer and where to offer it. Giving people the opportunity to purchase snacks with high brand recognition at the point of sale is a smart approach. I'd go with an assortment of branded items that satisfy the consumer's hunger for sweet and savory snacks, and add better-for-you options into the mix. A balance between great taste and great nutrition is important, and if you offer items that combine both, all the better. Nowadays, with growing demand for well-being snacks, what's good for the consumer is good for business.
LCS: How is Mondelēz International helping foodservice operators maximize the presence of branded snack foods that is also better for you?
RR: As the world's largest snack manufacturer, we're proud to be the purveyor of so many iconic snack brands. And we take our responsibility to the well-being of consumers, their communities and the planet very seriously. That's why we've committed to becoming the leader in well-being snacks. In fact, we plan on making about half our portfolio a well-being choice by 2020. As industry leaders, we also have the expertise to help operators develop smart merchandising and product selection strategies for consumers.
LCS: What are the biggest snack brand trends today, for both the retail and non-commercial sectors?
RR: As part of the better-for-you movement, clean labels have become a big trend. Short lists of simple, recognizable ingredients help build consumer trust. No artificial colors or flavors -- that's a major part of the trend. Minis, thins, small portions are all popular now because consumers associate portion control with wellness.
LCS: Any thoughts on how to leverage brands through signage and other visual merchandising?
RR: I would say try to customize your customer's shopping experience. You know your customers, so buy and display the snacks you think will satisfy their hankerings, from brands they recognize and trust. Organize them in ways that make them easy to spot, with variety in color and packaging to please the eye, while keeping them in common sense groupings (chips grouped with other chips, for example). Display snacks in high-traffic areas and at eye-level to ensure they get the most exposure possible.
LCS: Millennials are obviously a highly desirable audience. Any ideas for driving sales among millennials through branded merchandising?
RR: Millennials yearn for new and fresh flavor experiences. Snacks that are new to market but part of trusted and iconic brand portfolios can capture their interest. Allowing millennials to sample these snacks could be a powerful way to build excitement and trust, resulting in repeat traffic and customer loyalty. A sample section for new launches or snacks you haven't offered yet could whet your millennial customer's appetite for new snacks and keep her coming back for more. Consider setting up a table close to your entrance to draw attention to these offerings and lure traffic into your establishment.
LCS: What do you think is the right mix of branded snacks to engage customers across demographics?
RR: Millennials are the largest demographic, followed by baby boomers. Millennials are wellness-conscious and will be even more so as they age and face health challenges. Baby boomers are already there, so they need to be more careful what they eat. Given these facts, I'd reiterate that a mix of sweet and savory staples and better-for-you options is the way to go.
LCS: Do you foresee any trends that will change how snack brands are merchandised?
RR: Wellness-oriented snacks used to be grouped together, but as they become more mainstream and demand grows, consumers will simply expect snacks to be high in nutrition and low on calories and fat. That means merchandising trusted brands prominently will become even more important. Cheaper, value-priced items may become suspect, as consumers are often willing to pay more for premium brands with ingredients they can trust.
LCS: Any closing advice on snack brand merchandising for foodservice operators?
RR: Keep countertop displays in mind to help maximize sales. Tiered wire racks, "trees" with rotating snacks, bread baskets, plastic or bamboo trays -- these are effective ways to attract attention and get consumers to engage with your snack items. But whatever snacks you merchandise, make sure they're known for their great taste. Without great taste, the most nutritious ingredients and the most effective merchandising strategies can't drive sales.
For further insights into retail and non-commercial snack merchandising strategies and trends, read Show and Sell: A Hunger for Merchandising.
Do you agree with Rachel's thoughts on merchandising? Any other display tips that you've found especially effective? Showcase your merchandising savvy below.