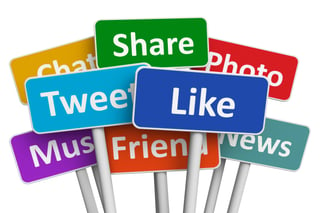 Social media has become an all-you-can-eat buffet of information for consumers hungry to engage with their favorite foodservice establishments and explore new ones.

But it's not just about posting quick bites of content and updates for consumers to snack on. To drive traffic to your social media page, you have to create a two-way street, where consumers have the green light to share their thoughts on what snacks and desserts they prefer.

Want to make the most of social media, keep customers engaged and expand your market reach? Make sure open lines of communications are high on your social marketing menu.

While there's no single recipe for success, here's a simple 3-step approach that can help anyone shine on social media:
Pick a platform: Instagram, Twitter, Snapchat and Facebook are just a few of the better-known social media options available. Before you gorge on them all, settle on a social goal—start a conversation, post well-directed food photos, announce LTOs and promotions, and create buzz with well-timed humor. Once you've nailed that, it'll be easier to choose a social media outlet that fits. It's also critical to identify who you're trying to reach and your target's preferred platform.
Start conversations: Ask the consumer open-ended questions that provide opportunities to express likes, dislikes and loves.1 Prompting dialogue is a great way to get a sense of what morsels of information your consumers enjoy most.
Monitor the action: Make sure your social feed is getting a steady diet of activity and engagement. Be vigilant and gracious with responses. If a customer posts a negative comment, show them you're trying to improve the situation. Respond to positive posts too. Saying "thank you" is not only the right thing to do; it can help raise your social profile by encouraging posters to spread the word—and there's no more powerful word of mouth these days than social media.2
What are your thoughts on the best ways for foodservice operators to use social media? Clue us in below.
1 FoodService Director, "8 winning social media tactics," November 16, 2015, http://www.foodservicedirector.com/managing-your-business/generating-revenue/articles/8-winning-social-media-tactics
2 Penton, Phil, "5 tips to raise your profile via social media," Restaurant Hospitality, August 11, 2014, http://restaurant-hospitality.com/social-media/5-tips-raise-your-profile-social-media