Posted in Snacking on September 21, 2021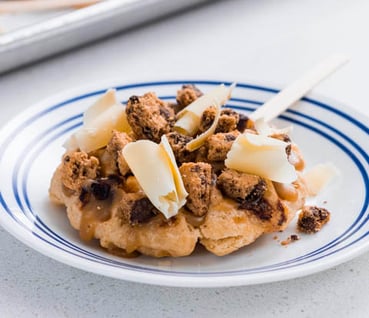 Snacks continue to evolve far beyond the occasional treat—and sales have been sweet. In fact, over the past two years, the snackification of consumers' eating behavior has become so widespread, snacking now accounts for 48% of all eating and drinking occasions, according to the market research firm The Hartman Group.1
Snacking throughout the day had already upended the traditional eating routine of three square meals a day when the pandemic further disrupted food and beverage consumption patterns. During the outbreak, consumers sought comfort in familiar snack brands. The Hartman Group found that 40% of snacking was driven by a need for distraction.1
By focusing on a few brand favorites, consumers find comfort in snacks that provide a sense of familiarity and normalcy. Over a quarter surveyed stressed the importance of snacks being made "by a brand I like."1
Brand familiarity and preference have taken on ever-greater significance as a purchase driver, "especially over the past year when many consumers have returned to some of their favorite comfort snack choices," The Hartman Group reports.1 Eighty-seven percent of consumers surveyed said they usually buy the same snack brands every time, and 58% said they stick with a few favorite brands rather than seek out variety.1
Findings from the Mondelēz International State of Snacking Report align with those from The Hartman Group in terms of the importance of brand familiarity and snacking as a source of comfort. The report states that 45% of consumers have snacked for comfort and 35% for relief during the pandemic.2
What's more, snacking has become so ingrained in consumer's everyday eating patterns, the report projected that it will continue to outpace meals. Sixty-four percent of survey participants said they would continue to snack throughout the day instead of eating a few large meals, and 6 in 10 said snacking will be part of their 'new normal' even post-pandemic.2

Now, foodservice operators continue to unwrap sweet sales, thanks to America's growing appetite for snacks, and the sweeping changes snacking is making to the way consumers eat is bringing it center plate for restaurants.
A new report from The Hartman Group reveals that over a quarter of all snacking occasions now occur at restaurants—up from 13% in spring 2020.3 Early morning snack occasions are rising, and the number of food items consumed is growing, with morning and after-dinner snacks showing the biggest gains.3
Consumers are also increasingly relying on restaurant leftovers as home cooking declines. These leftovers account for 29% of all eating occasions—a six-point increase from last spring3—and feed into the market's persistent hunger for quick, snackable portions.
At Mondelēz International Foodservice, our unique blend of time-honored brand ingredients and culinary ingenuity and help elevate any menu with snackable solutions for the changing times. For innovative concepts like our Waffles on a Stick made with Chunky CHIPS AHOY! Cookie Pieces, be sure to browse our Culinary Center. Or give us a taste of what you're looking for below and we'll be glad to follow up with expert advice you're sure to savor.
1 Hartman Group, Snacking During COVID-19: Finding Comfort in Familiar Brands, Feb. 9, 2021
2 Mondelēz International and The Harris Group, 2020 State of Snacking Report
3 Mahoney, Sarah, Restaurants Play Different Part: More Snacks, Lots of Leftovers, Media Post, Aug. 17, 2021