Posted in Meal Kits on April 28, 2020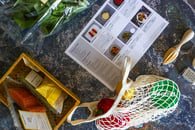 In a foodservice marketplace where the appetite for value, quality and convenience seems to keep growing, meal kits offer time-strapped and homebound consumers welcome options for easy-to-prepare home-cooked meals.
In an economic downturn, with many consumers out of work or working from home (where they have a lot on their plate), the need for budget-friendly meal kits seems likely to grow. Thirty-one percent of operators surveyed plan to pivot toward offering family meals and meal kits, and 33% are focusing on value offers.1
Meal kit providers have been steadily stepping up their game. Having feasted on $10 billion in revenues in 2017, the category is expected to bite increasingly deeper into market share to reach $5 billion this year, Forbes magazine reports.
But while such figures may indicate that the category has found a recipe for success, the meal kit subscription model has also proved to be a Pandora's box of high acquisition costs (up to $80 per person)2 and low retention rates (only 15% of Blue Apron subscribers last a year).3
What's more, the space has become crowded over the years, as 150 new meal kit companies packed the competitive landscape.2 And while the reality of challenging margins and market performance may often seem more roller coaster than revenue engine, consumer demand continues to drive competitors from varied segments, including grocery chains and Amazon, to catch meal kit mania.
Meal Kits Make Inroads Into Grocery Store Aisles
As David Sprinkle, research director for the market research publisher Packaged Facts, pointed out: "The meal kit market is highly dynamic and prone to fluctuations, with the top meal kit providers falling in and out of favor since their introduction in the past few years."3 As a result, major retailers are paving the way to reach wider markets with acquisitions of meal kit delivery services (e.g., Albertsons' purchase of Plated and Kroger's merger with Home Chef).
Now meal kits are finding their way onto grocery store shelves, where they're available as one-offs without the commitment of a subscription. Giving consumers greater flexibility with meal kit purchases may clear a path to better margins and greater profitability. "The idea: Put kits where customers are ... where they can buy something today for today. Here's where impulse triumphs over commitment," as international food and restaurant consultants Baum+Whiteman put it.3
Given the intensifying reach of the meal kit market, it was only a matter of time before restaurant operations started thinking inside the box and made these pre-portioned, do-it-yourself meal solutions a focus for menu innovation. Survey results from the foodservice research firm Technomic show that nearly half of consumers surveyed would purchase meal kits from their favorite restaurant.5 And if those meals are signature dishes available only from the restaurant, all the better.
Will It Fly? Chick-fil-A's Meal Kit Pilot Program

In 2018, Chick-fil-A's "Mealtime Kits" menu featuring five different chicken recipes proved it had wings in a test flight at 140 Atlanta-area restaurants for $15.89 each. Results were encouraging, with an uptick in sales at the participating locations.2 Customers could order kits at the drive-thru or counter through November.
With no ordering ahead, subscription commitment or extra stop at the grocery store needed, Mealtime Kits looks poised for a wider rollout, and similar concepts seem likely to catch on at other quick service chains.
Michael Patrick, Chick-fil-A's Beyond the Restaurant program lead, expressed enthusiasm for the program. "We were really happy with the positive response from our customers," he said.2 "Full analysis will help us decide when and where we may launch the kits in the future."2 The Mealtime Kit site included a form for visitors' suggestions on where the program should test next.
As operators continue to turn to off-premise menu solutions to shore up sales, meal kits are poised to ride a rising wave of demand and deliver the convenience today's consumers need.
To learn how Mondelēz International can help your foodservice operation develop innovative menu concepts for revenue-boosting meal kits or other off-premise programs, reach out below.
1 Technomic, Quarterly LTO Review Q1 2020, p. 7
5 Technomic, Consumer Evolution, Feb.2018, p. 2