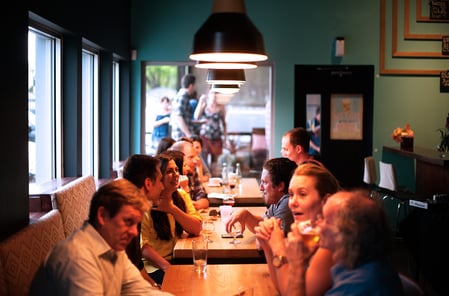 Despite the ups and downs of the U.S. economy, the restaurant business offers a feast of opportunities for growth. With over a million establishments in the United States, the industry is a robust revenue engine that has served up billions in skyrocketing sales.1
2017 is poised to continue the upward arc, with $798.7 billion in sales projected, compared to $586.7 billion in 2010.1 And while the industry expects to employ 14.7 million people (about one in ten working Americans) this year, restaurant operations are projected to add 1.6 million jobs over the next decade, reaching 16.3 million by 2027.1
Driving this meteoric growth is the consumer's insatiable appetite for eating out. With 9 in 10 consumers saying they enjoy going to restaurants, the industry has a lot of mouths to feed, and with its share of food dollars at 48% (a stunning stat when we consider the number was 25% in 1955), the table is big enough for everyone.1
Profitable Restaurant? Size Matters
So is bigger better for restaurant operators who want to compete in such a sprawling industry? With more than 7 in 10 restaurants single-unit and over 9 in 10 employing staffs of under 50 people,1 there is a lot at stake for smaller operations—and some good news, according to Joe Pawlak, managing principal of the foodservice market research firm Technomic.
While major full service chains have had their share of struggles, the industry presents big opportunities for small establishments. "Consumer economic uncertainty, value issues, and undifferentiated positions are putting strains on many full service chains," Pawlak said. "However, independents seem to be holding their own as consumers are gravitating to these establishments due to their unique offerings, local orientation and strong value propositions."2
Menu Innovation: A Must More Than Ever
The key to minimizing challenges and maximizing opportunities seems to be to stay on top of the ever-accelerating pace of change in the industry. Driven by consumer trends and changing demographics, restaurant and foodservice operations need to adapt to the demands of the new foodservice landscape, which calls for bold, eclectic culinary experiences, better-for-you options, local and traceable food sources, and sustainable business practices.
As a result, menu innovation may benefit from a more holistic approach to ensure that offerings are not only great tasting, but also good for the consumer, the community and the environment.
As the market research and data collection agency NPD Group reported, "The importance of Millennials and Gen Z will accelerate the industry's need to be more innovative, as these cohorts are always looking for that 'experience,' something new and different. Without innovation, operators will fall out of the consideration set and risk being overlooked by a large portion of the U.S. population."3
To align with the values, preferences and expectations of these cohorts, keep these key takeaways in mind:1
63% of millennials eat a wider variety of ethnic cuisines now than they did two years ago.
60% of consumers say environmentally friendly food would determine whether or not they choose a restaurant.
56% prefer locally sourced food because it supports farms and producers in their communities.
40% say diet-specific food options would compel them to choose one restaurant over another.
What are your thoughts on the state of restaurant foodservice for 2017 and beyond? Any foodservice trends you think will have a positive or negative effect on the bottom line?