As the grab-and-go phenomenon and self-service micro markets continue to accelerate, it's hard not to wonder where they're leading us. Enter Amazon Go, the world's first checkout-free grocery store. Due to open its doors in early 2017 in Amazon's home base of Seattle, it shifts the foodservice trend of speed and convenience into warp drive.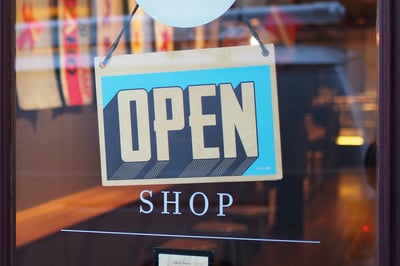 Amazon Go uses high-tech sensors and artificial intelligence to allow shoppers to roam the aisles, grab staples commonly found in any grocery store, and go without having to wait on line, pay a cashier or even swipe a credit card. Consumers simply swipe the Amazon Go app upon entering the store, and it keeps track of their purchases, applies the charges to their Amazon account, and generates a receipt. The e-commerce juggernaut calls its new brainchild, "just walk out technology."
Ready, Set, Amazon Go
Beta-tested on Amazon employees, Amazon Go seems to point the way to a retail revolution, where hyper-convenience propelled by the latest technology makes shopping seamlessly simple. Packed with perishable goods like bread, milk and cheese as well as pre-made snacks and fresh meals, the 1,800-square-foot sanctuary is a marvel of machine learning technology and foodservice customer service.
Not only does it have far-reaching implications for grab-and-go snacking trends; it also accelerates the QSR model with ready-made meals that consumers can pick up without being slowed down by any manual payment process.
Phil Lempert, a Los Angeles-based food marketing expert, called the Amazon Go technology "amazing" and said he was especially intrigued by the "meal kits" shown in the Amazon Go video: "When you look at the store itself in the video (and presumably it is the actual store), they have done a great job of merchandising, and having 'meal kits' available is simply brilliant."1 Lambert points out that while the meal-kit industry has struggled with shipping and logistics challenges, Amazon Go could be a catalyst for their success.1
Roadblocks Ahead?
While checkout-free shopping may seem like a dauntingly complicated proposition, fraught with tricky tracking issues and loss prevention concerns, Amazon's vast technological expertise, operational infrastructure and artificial intelligence capabilities seem to clear the path to success.
What's more, as David Luan, the CEO of artifical intelligence startup Dextro, points out, "Amazon controls what gets stocked in the store. So Amazon can choose things that they are very good at identifying, and it can skip all the hard problems for a long time."2 Amazon controls the entire ecosystem, from who enters the space to what products are on the shelves. And even once its prototype opens to the public, it will still be a controlled testing ground where the kinks can be ironed out.
Micro Markets, Major Impact
As an outgrowth and progression of the micro market and self-checkout movement, Amazon Go is the first in an ambitious lineup of foodservice ventures including "large, multifunction stores with curbside capability" and "drive-through prototype locations."3
Amazon Go could be considered a micro market approaching a macro scale–one big, expansive self-checkout vending kiosk. And it shouldn't be a surprising development. After all, self-service machines are everywhere, from supermarkets to hardware stores. They represent a global trend toward faster, more convenient checkout. There are over 200,000 of the machines worldwide–a number that is expected to reach 335,000 by 2020.4
Self-checkouts are especially appealing to millennials. More than two-thirds of American consumers between 18 and 34 prefer to use self-service at quick-serve restaurants.5 It's become a rule of thumb that young customers tend to prefer to order and pay with mobile applications rather than stand on line. Given this background, Amazon Go seems to have a greenlight to drive checkout-free shopping to new heights of customer satisfaction.
How do you think the growth of checkout-free shopping will impact the foodservice industry? Any pros and cons you think we should chew on?