Posted in Snacking on March 29, 2022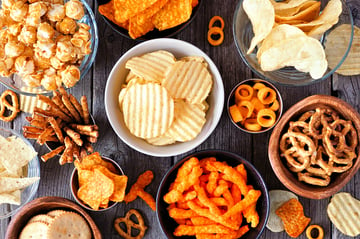 At one time, snacks may have been considered small bites to tide people over between meals. But nowadays, snacks are biting into an ever-bigger chunk of market share.
Take the Super Bowl, for example. The big game has become a feeding frenzy for snack-happy sports fans. Data from market research firm IRI revealed that the snack food category scored a staggering $487 million in sales during Super Bowl week last year—a 12.5% increase over the prior week.
1
The big winners were refrigerated dips (33.3%), tortilla chips (26.5%), potato chips (12.2%), pretzels (9.2%) and pork rinds (7.6%).
1
The IRI study was commissioned by SNAC International, the snack industry trade association, which found that total snack purchases for the Super Bowl have risen from $370 million to $487 million over four years leading up to 2022.1
Overall, Americans munch on 112 million pounds of snacks during the Super Bowl—equal to 270 jumbo jets. And snack sales were poised to score super sales during the Big Game this year too.
As SNAC President and CEO Elizabeth Avery said: "In America, football, snack foods and fun go together." Avery pointed out that while supply chain challenges raised concerns, snack food companies were "working overtime to ensure consumers have access to their favorite snack foods for the 2022 Super Bowl."1
What's more, given that Super Bowl snack food sales have risen from 2020 to 2021, it's clear that snack consumption during the Big Game grew despite COVID-19 precautions, even at the height of the pandemic.1
Snacking with No Slacking: Snack Market Projected to Feast On Profits
While at this writing SNAC has yet to share sales figures for this year's Super Bowl, MarketsandMarkets Research projects that by 2027 the global savory snack market, including potato chips, extruded snacks, popcorn, nuts and seeds, puffed snacks and tortillas, will reach $236 billion at a 5.2% compound annual growth rate.2 And foodservice is expected to be the fastest-growing segment in the savory snack product market.2
"The market is driven by shifting consumer preferences to convenience food or on-the-go food owing to their increasing hectic lifestyle," reports MarketsandMarkets Research.2 "Furthermore, these savory snack products have emerged as a meal alternative for many working-class populations and college grads. Savory snack products help to quench their hunger without taking any extra breaks during their work and also helps them to restrict themselves from overeating during the mealtime. Therefore, the demand for savory snacks has increased significantly across the globe."2
In the latest State of Snacking report, Mondelēz International also presents data underscoring the broadening role of snacking as a form of meal replacement. Sixty-four percent of consumers surveyed prefer to eat many small meals throughout the day rather than a few large ones (a 5% increase over last year).3 Sixty-two percent overall replace a minimum of one meal a day with a snack—a percentage that rises to 75% for Gen Zers and 69% for millennials.3
At Mondelēz International Foodservice, we combine beloved snack brand ingredients with acclaimed culinary ingenuity to optimize menus for today's changing market. Browse our Culinary Center to get a taste of what our chefs cook up for operations across foodservice segments. To learn about custom menu solutions for your operation, contact us or leave us a message below.
1 Business Wire, Snack Sales Spike During Super Bowl Week, February 4, 2022
2 MarketsandMarkets Research, "Savory Snack Products Market worth $263.0 billion by 2027," PR Newswire, February 14, 2022
3 Mondelēz International, The Harris Poll and Next Atlas, The Third Annual State of Snacking 2021 Global Consumer Trends Study