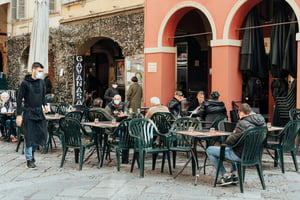 Even as COVID-19 restrictions ease, foodservice operators must always be mindful of the insatiable (and understandable!) consumer hunger for safety and trust.

No surprise, then, that the National Restaurant Association (NRA) and ServSafe, the food and beverage safety training and certificate program it administers, have updated their guidelines to reflect the latest from the U.S. Food and Drug Administration (FDA) and the Centers for Disease Control and Prevention.
The updated "COVID-19 Safe Operating Guidance," released Oct. 21, features best practices for safe layouts and ventilation, as well as updated sections on employee personal hygiene and face mask requirements. The report integrates information from the FDA's Best Practices for Re-Opening Retail Food Establishments During the COVID-19 Pandemic (Food Safety Checklist), the FDA and Occupational Safety and Health Administration (OSHA)'s Employee Health and Food Safety Checklist for Human and Animal Food Operations During the COVID-19 Pandemic, and OSHA's Guidance on Preparing Workplaces for COVID-19.
"The basis of an effective food safety culture is the Food and Drug Administration Food Code, which for decades has served as the foundation for restaurant operating procedures as they relate to safe food handling," the updated guidance states. "... Food Code requirements related to sanitation and personal hygiene in particular are the most reliable protocols available to combat risks related to the spread of COVID-19."1
Safety Heats Up as Coronavirus Remains Hot Button Issue
Updated rules and guidelines include revamping restaurant layouts to limit capacity and incorporating protective barriers between tables. Signage and tape on the floor are recommended as visual guides for social distancing throughout common areas. Signage should also be used to remind guests and employees about sanitation and hygiene protocols.2
Ventilation guidelines reinforce common-sense procedures such as having an HVAC technician test the system every 3–5 years and verifying that outdoor units function optimally, with dampeners, filters, coils, drain pans and fans that are in good working condition. While the guidelines don't explicitly encourage replacing HVAC units, some states and cities recommend upgrading to units with a Minimum Efficiency Reporting Value (MERV) of 13 or higher.3
Among the technological safeguards recommended are advances in contactless payment systems, mobile ordering apps, automated ordering platforms and website updates regarding safety policies.4
Staff safety should encompass everything from pre-work temperature screenings and facial coverings (especially in areas where social distancing can't be maintained) to frequent hand-washing (as opposed to the use of gloves) for front-of-house employees.5
Safety Shift: Dining Rooms Disappear in Favor of Drive-Thrus
Beyond the updated NRA guidelines, brick-and-mortar restaurants are being reinvented. A new generation of quick-service restaurants without indoor seating is on the rise. Burger King, Starbucks and Del Taco are among the major brands cooking up seatless solutions to the pandemic.6
A driving force of the trend has been the growing popularity of fast food drive-thrus. Chick-fil-A and McDonald's have invested heavily in developing high-tech, high-efficiency drive-thrus. Burger King created a drive-thru-driven prototype, which has versions without customer seating.6
"The dining in was something that was interrupted," Rapha Abreu, global head of design for Burger King parent company Restaurant Brands International, said on a Restaurant Business podcast earlier this month. "The car and the takeout was the biggest service mode."6
Del Taco also announced plans to test drive-thru-only restaurants that don't offer seating.6 And Starbucks plans to shutter 400 locations and introduce takeout-oriented stores in urban areas.6
In addition to eliminating dine-in safety concerns, drive-thru-only concepts enable restaurants to operate more cost-effectively, with less reliance on large spaces and more real estate flexibility.
At Mondelēz International Foodservice, we offer culinary creativity and menu enhancements to help boost sales on-premises and off. Looking for drive-thru- and delivery-friendly recipe ideas? Reach out below to learn about the culinary solutions our expert chefs can cook up for your foodservice operation.
Photo

https://pixabay.com/photos/starbucks-coffee-green-white-logo-463689/
1 COVID-19 Safe Operating Guidance (National Restaurant Association and ServSafe, October 2020), p. 4
2 National Restaurant Association and ServSafe, p. 9
3 ASHRAE Epidemic Task Force Filtration & Disinfection (Updated Oct. 20, 2020)
4 National Restaurant Association and ServSafe, p. 2
5 National Restaurant Association and ServSafe, p. 8
6 Maze, Jonathan, Why the Fast-Food Dining Room Could Be a Thing of the Past, Restaurant Business, Oct. 19, 2020