Posted in Desserts on July 20, 2023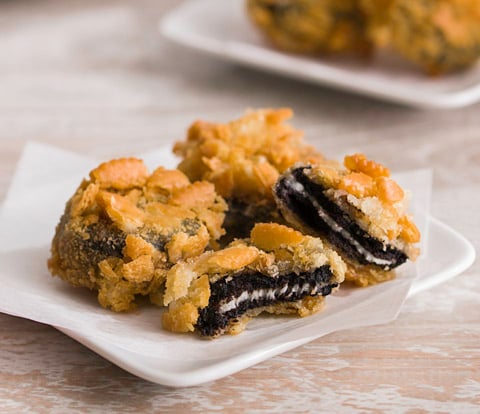 Cookies provide portable, profitable snack and dessert solutions that drive customer excitement
Restaurant cookies are ideal snacks or desserts for today's consumers—they are immensely satisfying, easy to eat on the go, and they can serve as versatile platforms for culinary creativity.
Operators are incorporating cookie restaurant menu innovations, using a range of ingredients and flavors, and they are making these treats in an increasing variety of forms. These restaurant cookie menu innovations include large, shareable skillet-sized creations, as well as "stuffed" cookies that combine crunchy and chewy textures.

For example, this recipe for Stuffed Sugar Cookies made with OREO® Cookie Pieces features a traditional sugar cookie stuffed with OREO Cookie Pieces and topped with ganache, also made from OREO Cookie Pieces.

Innovative cookie restaurant dessert recipes are also the perfect limited-time offer, generating excitement among consumers and helping drive traffic and incremental sales as affordable, high-margin add-ons.

Portability is Key
The surge in demand for off-premises dining, especially delivery, during the last few years has led many operators to rethink their dessert options and focus on more portable desserts that travel well, including cookies for restaurants.

According to the National Restaurant Association's 2023 State of the Restaurant Industry Report, two-thirds of adults say they are more likely to order takeout food from a restaurant than they were before the pandemic.

It helps that hand-held treats overall are the most profitable desserts that restaurants offer, according to research firm Datassential, and restaurant cookies in particular provide high margins and revenues.
Cookie Innovation in QSR
For quick-service and fast-casual restaurants in particular, cookie dessert recipes have long been a go-to-dessert option for consumers. In fact, sandwich chain Subway bills itself as the top seller of cookies in the industry, and other chains, such as Chick-fil-A, have earned accolades for their signature cookies.

In a twist on its popular foot-long sandwiches, Subway last year debuted a special National Cookie Day promotion, offering four varieties of foot-long cookies with both sweet and savory toppings and inclusions. The colorful creations were available only at a pop-up called "Cookieway" in Miami.

"We wanted to give Subway fans even more cookies to love, with flavors and ingredients that are just as good as the sandwiches they're inspired by," says Paul Fabre, senior vice president, culinary and innovation, at Subway, in a company statement.

Among the offerings was the Subway Cookie Club, which included a double chocolate cookie base with vanilla frosting, topped with chocolate chip, white chocolate macadamia and raspberry cheesecake cookie chunks, rainbow sprinkles, and chocolate and raspberry sauce.

For another shareable, outside-the-box restaurant cookie menu innovation, consider this recipe for Cracker Coated Cookies made with OREO and RITZ Crushed Crackers. These nostalgic treats bring the popularity of deep-fried OREO Cookies onto your menu, with a twist: The warm, chocolaty goodness of OREO Cookies is coated with the salty, buttery crunch of RITZ Crushed Crackers for a unique combination of taste and texture.

Or, consider these Chocolate Macarons made with OREO Cookies. Delicate and crisp on the outside, these classic French sandwich cookies contain a creamy, chocolate filling made with OREO Cookie Pieces.
Favorite Flavors
Operators are increasingly coming up with innovative cookie trends for restaurants that tap into consumers' interest in new and on-trend flavors.

Potbelly Sandwich Works recently brought its Lemon Cheesecake Cookie back to its menu as a seasonal offering, adding to its signature cookie lineup that includes the Oatmeal Chocolate Chip Cookie, Sugar Cookie, and Chocolate Brownie Cookie.

"It is the ultimate combination of tart and sweet," says David Daniels, chief marketing officer at Potbelly of the Lemon Cheesecake Cookie.

The cookie, described as "creamy and bright," is studded with real cheesecake bites. Like all Potbelly cookies, it is baked in-house daily.

Daniels says the sandwich chain is planning "more distinct flavors" for additional cookie offerings later this year.

According to Datassential, several cookie varieties have been seeing double-digit percentage growth in penetration, and have been among the fastest-growing desserts on restaurant menus. They include:
cookie skillet (+51 percent)

sugar cookie (+39 percent)

chocolate chunk cookie (+29 percent)

chocolate chip cookie (+26 percent)

assorted cookies (+25 percent)

peanut butter cookie (+22 percent)
Attesting to the enduring popularity of chocolate chips and chunks, the Chocolate Chunk Cookie at Chick-fil-A was recently voted the best quick-service dessert among major chains by culinary website Taste of Home.

"The cookie was soft and tasted like it came fresh from the oven in grandma's kitchen, not from a fast-food restaurant," the website states. "The cookie was perfectly balanced with a combination of both semi-sweet dark and milk chocolate chunks. There are also oats in the dough, giving the cookie a great texture."
Fast-growing cookie specialist Crumbl Cookies, meanwhile, is known for its innovative flavor and ingredient combinations. Some recent examples include the Birthday Cake featuring OREO, a colorful creation that features a warm OREO cookie rolled in OREO crumbs, topped with birthday cake frosting and OREO cake balls and rainbow sprinkles, and the Chocolate Peanut Butter featuring OREO, which is made with OREO Cookie Pieces and peanut butter chips, topped with a peanut butter mousse and a Mini OREO Cookie.

Whether as inclusions or on their own in classic or innovative forms or flavors, restaurant cookie recipes are an enduring favorite among customers.

For more ideas for restaurant cookies, trend insights, and inspiration to drive excitement and profitable sales in your dessert menu, visit the Mondelēz Foodservice Culinary Center.