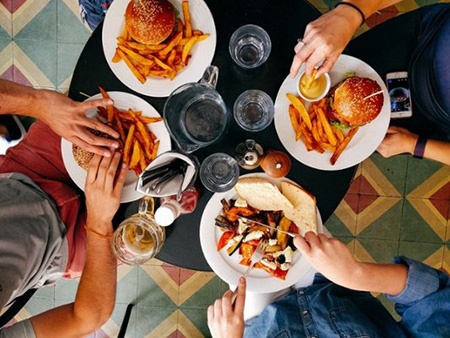 It wasn't that long ago when the word "super" applied to especially big servings of fast food. The idea seemed to be to power sales with mammoth portions, until an increasingly wellness-conscious consumer base sent demand for better-for-you options soaring and the industry took the high ground, trimming caloric content and boosting nutritional value to beef up sales.
As millennials shaped up into a super-sized demographic, flexing their buying power as the nation's largest consumer group, they shifted demand from quantity to quality. Fast casual seemed to be their hero, rescuing weary restaurant traffic and punching up sales by 11.5% in 2015,, according to Technomic.1 Fast casuals have surged, muscling their way to top rankings in the market research firm's 2016 Top 500 Chain Report, where Panera Bread edged out Applebee's for the number 10 spot.1
Interestingly, Technomic's Top 10 consisted entirely of limited-service restaurants.1 Big full-service restaurant brands lag behind in sales growth as fast casual zips along at lightning speed.1
My Hero: A Fast Casual Upstart Takes Sales Up, Up and Away
Panera became a powerhouse with the help of a series of shrewd tech initiatives (a.k.a. "Panera 2.0"), including to-go and in-store ordering on any device, fast-lane kiosks and app-enabled purchases. In the first quarter of 2016, same-store sales spiked 4.7% across all units, and the first two test markets for delivery drove approximately $5,000 per week in incremental revenue.1 After topping Wall Street estimates for the third quarter,2 net income for the fourth quarter ended Dec. 27 rose 2% to $44 million from $43.2 million for the previous year.3
What's more, the chain has held fast to its commitment to high-quality, flavorful food, catering to the clean label foodservice trend with an official No No List that prohibits artificial colors, flavors and sweeteners.1 With more than 2,000 locations and its popular MyPanera loyalty program (over 25 million members strong3), the company seems poised for continued growth.
From Golden Arches to Golden Opportunity: McDonald's Goes Fast Casual
So what's a hulking fast-food Titan to do to combat competition from fast casual dynamos? Enter the "Panera-ization" of down-market chains and a pivot toward innovative flavor combinations and premium products primed for the millennial market. As Jack Russo, a senior analyst who covers McDonald's at the investment firm Edward Jones, explained: "Fast-casual has stolen market share from the fast food segment. When you see that's a competitor, you think, 'Well, we can't completely transform who we are, but we can steal some pages from their playbook.'"4
Sure enough, McDonald's has been making a dash into the millennial market with a line of "Signature Crafted Recipes," including Pico Guacamole and Sweet BBQ Bacon, which come with buttermilk crispy chicken, a 100% beef quarter-pound patty or artisan grilled chicken.4 The most recent addition to their premium sandwich selection is the new Sriracha burger, with a specialty Sriracha sauce infused with mustard, relish and chili peppers.
McDonald's has also marketed flavor combinations geared to the millennial snack enthusiast, including OREO and CHIPS AHOY! McFlurries, thick, luscious ice cream treats with cookie pieces mixed in.
Fast Casual Foodservice Trends Put More Innovation on the Menu
Chris Kempczinski, president of McDonald's USA, has stressed the importance of premium-driven menu innovation. "Signature establishes a premium range on our menu showcasing high-quality burger and chicken products with more food-forward ingredients," said Kempczinski. "We need to bring more food news like this, in order to appeal to millennial customers, who are seeking new taste experiences. You should expect us to step up our level of menu innovation in the U.S. in the years ahead."4
The fast-food giant's heavily promoted "$1 for any size soft drink" offer and other value-driven deals have also contributed to higher sales.5 At McDonald's restaurants open at least a year in the U.S., sales jumped 3.9%, exceeding the 3.8% estimate by S&P Global Market Intelligence. Buoyed by higher foot traffic and a strong performance in China, same-store sales rose 6.6% worldwide.4
Pulling another page from the fast casual playbook, McDonald's plans to continue to stimulate growth with digital ordering platforms, including the expansion of in-store touch-screen kiosks and UberEATS delivery into more markets.5
What do you think of fast food brands tapping fast casual foodservice trends to power up business? Want to learn how our trusted brands can help make your sales super? Be a hero and chime in below.