Posted in Delivery on April 19, 2022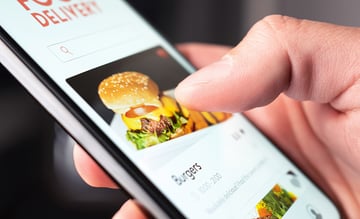 Delivery can sometimes seem like a mixed bag, with challenges presenting bumps in the road to growth and opportunities opening up new paths to profits.
Consumers want third-party delivery services to put the brakes on delivery fees, with over 50% surveyed saying they would switch providers if fees rise, according to CouponFollow,
a web platform that tracks and aggregates coupon codes from online merchants.1
On the other hand, survey results from online lending marketplace LendingTree show that 70% of consumers will spend extra money on delivery as a way to save time and effort.1 What's more, 45% say they intend to order delivery as often as they have throughout the pandemic.1
Despite all the twists and turns that factors like rising gas prices and delivery driver shortages have caused, third-party providers continue to be revenue engines fueled by innovative solutions. Since drivers are the backbone of the business and bear the cost of gas for making deliveries, providers have been developing ingenious ways to mitigate the high cost of fueling up.
DoorDash, the largest service in the category, has announced plans to launch a gas rewards program. When they use the brand's DasherDirect prepaid Visa debit card, DoorDash drivers will receive up to 10% cash back on gas—even if they're not making a DoorDash delivery at the time.2 In addition, drivers are eligible for an extra $5 bonus for every 100 miles' worth of deliveries.2
Grubhub is also easing pain at the pump for its drivers. The brand now pays its drivers more with an adjustment that matches the average per-mile gas increase in their area.2 Grubhub also helps its drivers offset the rising cost of filling the tank with discounts and extra earnings for completing a certain number of deliveries within a set time period.2
Gaining Ground: Delivery Providers Pave New Ways to Prosper
DoorDash and Grubhub are also implementing other innovative strategies to burnish their brands and expand their market presence.

At the height of the COVID-19 outbreak, DoorDash partnered with Accion Opportunity Fund, a small business financial support system and social advocacy group, to introduce its Main Street Strong Accelerator program, which provides grants and education to ensure restaurants overcome the challenges of the pandemic.
This month, the company announced the DoorDash Accelerator for Local Goods, which will provide educational resources, financial and operational assistance to 50 consumer packaged goods businesses from New York City, Chicago and the greater Washington DC area. Developed in partnership with small business solutions firm Next Street, the program will enable budding entrepreneurs to sell their products through DashMart, the grocery and convenience store platform owned and operated by DoorDash.
Meanwhile, Grubhub is making inroads into convenience store delivery with Grubhub Goods, a partnership with 7-Eleven. A successful pilot test in New York City led the brand to roll out the program across the country to 3,000 locations, where Grubhub will deliver from area 7-Eleven stores.3 To kick off the program, Grubhub ran a 50% off promo for orders of $15 or more.3
"Diners have come to expect more choices when they land on Grubhub, including convenience options, which we see as a natural extension of our marketplace and a way to bring more value to the entire Grubhub ecosystem," explained Kyle Goings, Grubhub's director of growth and new verticals. "We've been working with 7-Eleven for years to offer their locations on the Grubhub marketplace, and it was a no-brainer to team up with the convenience leader again and bring their operational expertise and scale to Grubhub Goods."3
As the foodservice landscape continues to shift toward digital and delivery channels, menu optimization to meet the demands of a changing market becomes more critical. Whether you need travel-friendly dishes, limited-time concepts that jump-start sales or beverage menu-boosting drink ideas, the acclaimed chefs at Mondelēz International Foodservice are here to help. Sample our unique combination of on-trend creativity and time-honored brand ingredients in our Culinary Center. To learn about menu solutions customized for your operation's unique needs, use this form or leave us a not below.
1 Kelso, Alicia, "Over 50% of diners would switch delivery providers if fees rose, study shows," Restaurant Dive, March 4, 2022
2 Guszkowski, Joe, "As Gas Prices Surge, Delivery Companies Try to Help Drivers Absorb The Costs," March 15, 2022
3 Fantozzi, Joanna, "Grubhub now offers convenience store delivery in partnership with 7-Eleven," Nation's Restaurant News, February 15, 2022