Posted in Menu on October 18, 2022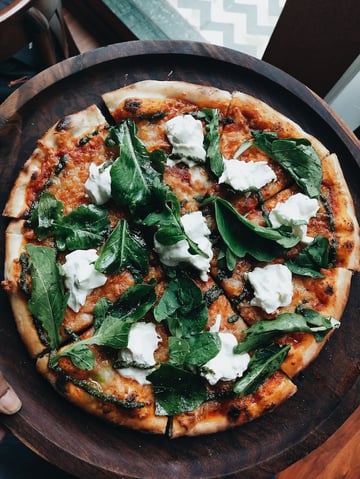 Never underestimate the power of pizza to drive sales. Even at the height of the pandemic, while other categories struggled, pizza prevailed. Digital pizza sales surged with the growth of takeout and delivery.

Forty-five percent of consumers surveyed enrolled in a pizza loyalty program and 88% of consumers were eating more or the same amount of pizza as the prior year, according to the 2021 Pizza! SNAP Keynote Report from the market research firm Datassential.1 Operator optimism ran high, with 95% surveyed confident of increased sales in the coming year.1
In our post, "
Power to the Pizza! A Foodservice Staple Continues to Drive Profit with Delivery
," we explored how big pizza chains like Papa John's and Marcos carved out a bigger slice of the pizza market pie through off-premises sales channels during the pandemic.
The lifting of restrictions and easing of the pandemic have paved the way for innovation across restaurant segments, and a few interesting players in the pizza category are taking fresh approaches to standout growth in a crowded competitive field.
No Pie in the Sky: Pizza Concepts Give Staple a Revenue-Generating Refresh
Fast-casual pizza chain Pie Five is flipping the conventional pizza menu model on its head, with smaller pizza varieties made for the individual customer replacing large pizzas that serve a group.
"After six months of testing, we are currently launching the most significant menu transformation in the brand's history, focusing on differentiated pizzas made for the individual and eliminating large pizzas," explained Brandon Solano, CEO of RAVE Restaurant Group, Inc., which owns Pie Five and pizza buffet concept Pizza Inn. "We are also making operational and hospitality improvements to personalize consumers' dine-in experience while reducing third party delivery friction."2
Similarly, Pizza Inn has undergone a rebranding and doubled down on its buffet-style model, bucking the delivery trend and steering business back to dine-in. "While the restaurant industry abandons dine-in, we continue to lean into our differentiated strategy, focusing on the value and variety of Pizza Inn's buffet while opportunistically capturing delivery and carryout," Solano said. "We know our customers are hungry for a connection and an 'experience' with their family, not just COVID-esque functional feeding, and we are well positioned to deliver that need."3
The growth initiatives come after nine consecutive quarters of profitability.1 Sales were up 17.1% at Pie Five for the year ending July 2022 and up 24.7% at Pizza Inn for the year.1
Meanwhile, David Davoudpour, owner of the family restaurant chain Shoney's, is taking pizza in another direction with the introduction of a fast-casual drive-thru concept in Houston. Designed for to-go convenience and affordability, his 7Pie chain consists of two units so far, with plans for about 30 and franchising opportunities.4 The restaurant offers 12-inch, seven-slice pizzas and a signature "every-priced" $7 pie loaded with cheese.4
While wings, tenders, an oven-baked Italian sub sandwich, Caesar salad, fries and desserts like the Hot Fudge Cake of Shoney's renown are also on the menu, pizza is expected to the powerhouse of sales at 7Pie.
As Davoudpour pointed out: "Pizza in America is the undisputed favorite family good. It seems to be averaging about 2 billion-plus searches every month."4
The acclaimed chefs at Mondelēz Foodservice understand the importance of taking staples to new levels of popularity and profitability. Get a taste of our culinary ingenuity with our recipes for innovative pizza concepts in our Culinary Center. Contact us below to learn how we can help create custom solutions to your menu challenges.
1 Datassential, 2021 Pizza! SNAP Keynote Report
2 RAVE Restaurant Group, Inc., "RAVE Restaurant Group, Inc. Reports Fourth Quarter and Year-End Financial Results," CISIONPR Newswire, September 23
3 Littman, Julie, "Pie Five rolls out biggest menu transformation in its history," Restaurant Dive, September 23, 2022
4 Jenning, Lisa, "Shoney's Owner Launches a New Fast-Casual, Drive-Thru Pizza Concept in Houston," Restaurant Business, September 23, 2022