Posted in Technology on January 11, 2022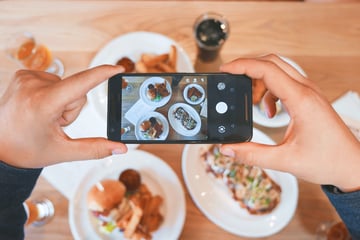 As disruptions from the pandemic persist, the industry's appetite for digital solutions has become ravenous, and the taste consumers developed for tech at the height of the outbreak has grown into a feeding frenzy.
In fact, according to the consulting firm Deloitte, consumers are hungry for as many tech integrations as restaurant operators can muster.
1
From now-familiar services like takeout and mobile apps to newer advances including ghost kitchens, voice ordering and robotics, consumers crave the convenience that technology brings to the table.
Given the need for speed, it may come as no surprise that quick-service restaurants are the takeout destinations most favored by consumers surveyed (62%), followed by fast casuals (52%) and casual dining concepts (40%).1 And while it's not surprising that 57% use a mobile app when ordering takeout, now nearly 64% would order digitally when dining in, compared with 53% last year.1
Let's Get Social: Exploring Dining's Digital Frontier
In such a digitally driven competitive landscape, it makes sense to develop marketing strategies that integrate technology seamlessly. Leveraging social media as a springboard into the marketplace and a way to amplify your marketing message has become essential.
The food research and development firm Mattson uses social media impact as a determining factor in its ProtoThinkLTO analysis and scoring of limited-time offers.2
As Steve Gundrum, the firm's chairman and chief creative officer, put it: "Social media is a catalyst—it's where marketing should start."2 Gundrum pointed out that social platforms have grown in importance during the pandemic as food influencers pivoted from traveling the globe for food reviews to publicizing LTOs offered through off-premises channels.2
Casual fast food chain Culver's hit the sweet spot with a one-day-only LTO event prompted by an April Fools' Day tweet touting a fantasy burger topped with a fried cheese curd. The tweet was so popular, it inspired the chain to turn the fantasy item into a reality. Consumers purchased 136,000 CurderBurgers. Demand was so high, the LTO sold out within two hours at some locations.2
Casual dining chain Applebee's feasted on loves and shares over the summer when it turned a country song with a chorus about eating at Applebee's into a TikTok sensation. The song, "Fancy Like" by country singer Walker Hayes, captures the chain's brand proposition with lyrics that praise the unpretentiousness of the Applebee's experience: "Yeah, we fancy like Applebee's on a date night. Got that Bourbon Street steak with the OREO shake. Get some whipped cream on the top too. Two straws, one check, girl, I got you."
The video, which features Hayes and his daughter dancing to the ditty, got more than 1 million views the day it was posted and inspired social media users to post a proliferation of re-enactments.3 "Fancy Like" became the top country song in America, and the video and a series of TV ads based on it helped Applebee's achieve a strong third quarter, with monthly same-store sales rising from July to September a record 12.5% higher than 2019 figures.3
The song also became the rallying cry that prompted the return of the OREO shake, which had been discontinued at the height of the pandemic.4
Believe The Hype: The Secret Sauce of Social Media Success
The launch of Popeyes chicken sandwich has become an iconic example of the power of social media to make a menu item go viral.
Bruno Cardinali, the brand's chief marketing officer, recently talked about his team's recipe for social media success. Working with the right influencers for your target market, having a playful social media personality and customizing your content for each social media platform are key.5
But while marketing may generate buzz, eating is believing. The product has to live up to the hype. "We put together a marketing plan on how to launch product and the brief was one line: 'Believe the hype,'" Cardinali said. "There's a lot of hype out there but our sandwich was outperforming every other product on the market. Pay attention to product development and make sure you have a very good product."5
While digital technology, off-premises channels, and viral appeal can help lift sales, your product must fulfill your promise. At Mondelēz International Foodservice, we specialize in culinary creativity that helps foodservice operations thrive across all segments and channels.
Reach out below to learn how our acclaimed chefs and trusted brands can help you reach more consumers and realize more revenue.
1 Guszkowski, Joe, "Diners Will Take All The Technology They Can Get," Restaurant Business, December 10, 2021
2 Cobe, Patricia, "How To Win With LTOs In Today's Tough Market," Restaurant Business, November 2, 2021
3 Guszkowski, Joe, "How The Viral Song 'Fancy Like' Rocked Applebee's Summer," Restaurant Business, November 5, 2021
4 Harris, Molly, "The Real Reason Applebee's Is Bringing Back Its Oreo Shake," August 25, 2021
5 Fantozzi, Jennifer, "How to make your product go viral, according to the marketing team behind Popeyes chicken sandwich," Nation's Restaurant News, December 3, 2021