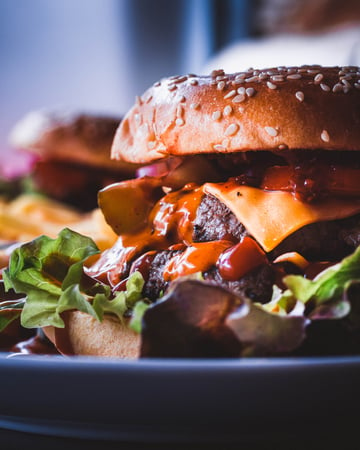 The sky's the limit for chicken sandwich sales as restaurant chains peck and claw to meet market demand. But even as chicken sandwiches reach new heights of popularity and profitability, burgers remain the meat that can't be beat.

Burgers easily surpass every other menu item, bringing chicken mania down to earth and inspiring endless variations between the buns as restaurant chains remain grounded in beef burger innovation. "In the year ending in June 2021, 2.9 billion breaded chicken sandwiches were ordered in the United States, but that was dwarfed by the 7.6 billion burgers ordered, according to The NPD Group/CREST," reported Nation's Restaurant News.1


As America's favorite choice for lunch and dinner,1 this mightiest of menu staples is hard to top for its mouthwatering versatility. From Burger King's Sourdough King (a quarter-pound beef patty crowned with thick-cut bacon, melted American cheese, ketchup and mayonnaise between two toasted sourdough bread slices), to Hurricane Grill & Wings' Cheesy Quesadilla Burger (a half-pound patty with Monterey pepper Jack cheese packed into two quesadillas, with tortilla chips and dipping queso on the side), restaurant chains have been serving up an array of limited-time burger offers this year.
The Power of Premium: Burgers Go Bigger and Better
BurgerFi's SWAG Burger—a premium beef blend that includes American wagyu brisket with a mix of hot and spicy toppings—appeared in mid-March as an LTO and its popularity earned it a permanent place on the menu.2
Wendy's recently introduced its new Big Bacon Cheddar Cheeseburger as part of its "Made to Crave" lineup. Slathered with custom bacon sauce and topped with Applewood smoked bacon, crispy onions and American cheese, the burger is served on a toasted cheddar bun coated with a tangy cheddar cheese spread for an extra kick of flavor.
"The sandwich is inspired by elevated Southern food, things like pimento cheese that we're seeing everywhere—from fine dining to food trucks," said Jay Drumm, senior specialist, culinary and product development for Wendy's.3
Feeding off the success of last year's Garlic Butter Burger, Sonic Drive-In introduced this year's Mesquite Butter Bacon Cheeseburger. The new LTO brings together a quarter-pound of beef with American cheese, lettuce, grilled onions, pickles and barbecue sauce on a toasted brioche bun. But the secret to its success is the half ounce of mesquite butter applied to the patty, according to Scott Uehlein, Sonic's vice president of product innovation and development. "There's something magical about putting butter on a burger," Uehlein said.1
Premium LTO burgers with higher-quality proteins are on the rise, with spicy toppings to add heat. What's more, Technomic research indicates that beef "will hold its place as the go-to patty protein even as alternatives proliferate." The vast majority of consumers surveyed (83%) would consider ordering beef patties, followed by chicken patties (36%), buffalo/bison and turkey varieties (27%) and veggie/garden/plant-based options (24%).4
At Mondelēz International Foodservice, we combine acclaimed culinary expertise with trusted brand ingredients to bring you burger innovations like our Fried Cheese Patties made with RITZ Crackers.

From burger entrees to breakfast dishes, signature desserts to savory snacks, we have menu solutions for your foodservice operation. Reach out below to learn how we can help optimize your menu for success.
1 Thorn, Bret, "Forget the 'Chicken war': Burgers are where the real action is," Nation's Restaurant News, Sept. 16, 2021
2Thorn, Bret, "Burgers across America: Chain restaurants innovate around the nation's favorite item," Nation's Restaurant News, Sept. 16, 2021
3 Tyko, Kelly, "Wendy's upgrading its fries to make them hot and crispy, adding Big Bacon Cheddar Cheeseburger," USA Today, Aug. 26, 2021
4 Technomic, Consumer Trend Reports: Burger, 2021