Posted in Technology on May 17, 2022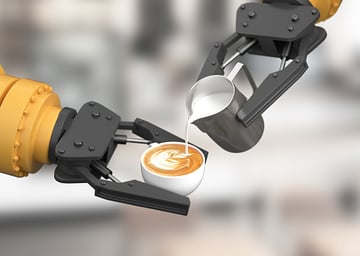 There's been a lot of anticipation and speculation about the role robotics will play in the future of foodservice. But the fact is, robotics has already arrived, and their presence is expanding across the competitive landscape.
The acceleration of tech advances and digital integrations continues full throttle as restaurant chains increasingly turn to robotics to boost operational efficiencies and alleviate the labor crunch. As reported in a
previous post
, human-free technologies have reached a stage in development where they can now be deployed as reliable labor solutions. The latest integrations by leading restaurant brands are testaments to the momentum that has driven robotic technology into the mainstream.
Restaurant critics Baum+Whiteman cited robotics as the top trend of the year. "Accelerated adoption of robots and other forms of automation in the restaurant industry will be the #1 trend for 2022 ... and for years beyond," they projected.1 The growing prevalence of robotic labor solutions from Miso Robotics, creator of White Castle's Flippy the fry cook and Chipotle's Chippy the tortilla chip robot, is validating their projection.1
Now Panera Bread is testing Miso Robotics' new coffee-brewing robot. Powered by an advanced AI-driven monitoring system, CookRight Coffee brews java at just the right time and temperature with a robust blend of data and predictive analytics.1 Panera is the first chain to test the innovative brewing solution, which eliminates manual tasks such as checking the coffee urn for volume and temperature to ensure coffee stays hot and fresh.2
"When we announced the CookRight platform in 2021, we knew we could apply it to various stations at a restaurant as the product developed, and we saw an immediate need for it at the coffee station," said Mike Bell, CEO of MisoRobotics.2 "We are thrilled that Panera shares in our vision to revamp the coffee monitoring process, and can't wait for CookRight Coffee to be installed at their restaurants to help customers and team members alike."2
George Hanson, SVP and chief digital officer of Panera, echoed the enthusiasm: "CookRight Coffee is a gamechanger when it comes to convenience and operational efficiency, and we are extremely excited to take our coffee station into the future with Miso Robotics."2
Host with the Most: Chili's Rita the Robot Puts Multitasking on the Menu
Robotics has also advanced beyond single tasks to perform a variety of functions. Created by Bear Robotics for Chili's Grill & Bar, the multifunctional assistant Rita the Robot takes on the roles of host (she leads customers to tables and pitches the brand's rewards program), runner (she transports dishes to and from the kitchen) and singer (she sings happy birthday).3 Rita is so well engineered, she performs her tasks with a 99% success rate.3
Feedback from staff and guests has been overwhelmingly positive, according to Wade Allen, senior vice president of innovation for Brinker, Chili's parent company. "We've been measuring every aspect of her performance, and all of it has been overwhelmingly positive," Allen explained. She makes the job less strenuous for team members by cutting down on their steps and the amount they're required to physically carry, and she's been a hit among guests of all ages. In recent polling in some of our 'Rita-fied' restaurants, 82% of guests felt their experience was better overall because of Rita, and 77% said their server spent more time with them due to Rita."3
No wonder Chili's is expanding the multitasking robot's test run from 10 locations to 51 more restaurants.3
Now more than ever, innovation is essential for success in today's hyper-competitive business environment with ever-tightening margins. The acclaimed chefs at Mondelēz International Foodservice specialize in menu innovation to help ensure you have the optimal balance of culinary concepts to maximize sales for each daypart, on-premises and off. Get a taste of what we offer with the ideas and inspiration in our Culinary Center. Care to share your thoughts or tap our expertise for solutions to your menu challenges? Leave us a note below.
1 Baum,+Whiteman, 2022 Food and Beverage Forecast
2 Wright, Anthony, Panera Bread testing robotic coffee monitoring system, 23ABC, April 15, 2022
3 Ruggless, Ron, "Chili's expands Rita the Robot test to 51 units," Nation's Restaurant News, April 15, 2022