Posted in Sales & Profitability on January 18, 2022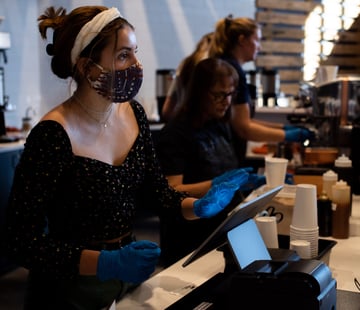 Challenges may have cast a few dark clouds over the foodservice industry, but there have been bursts of sunshine too. Just ask restaurant industry analytics firm Black Box Intelligence.
While coronavirus variants, labor shortages and supply chain setbacks have been feeding a sense of uncertainty, Black Box Intelligence shared a plateful of positive sales numbers for November 2021.
In fact, November marked the strongest restaurant sales performance in over a decade and served up 8.3% more sales than the same month in 2019—before the pandemic sent shockwaves throughout the industry.1
Restaurant traffic remained in reverse with a 4.7% drop for November, but the rapid rise of larger check averages helped drive sales forward. And "a moderate improvement in their staffing levels" may have contributed to a month-over-month rise in positive guest sentiment in online reviews.1
Robust sales growth during the week of Thanksgiving gave operators a lot to be thankful for, rising 6.2% from the same week in 2020 on the strength of higher check averages.1 "The data showed that the regular spending patterns across segments have returned, as consumers strive to enjoy the holiday season after the disruption caused by the pandemic last year," Black Box Intelligence reported.1
Sales figures for the week of Thanksgiving reflected a return to pre-pandemic levels, with family dining and fine dining posting a double-digit percentage jump, comparable with the same period in 2019.1 Conversely, casual dining and quick service sales dropped by double digits that week—similar to 2019, though the decline in 2021 wasn't as steep.1
Chipotle Moves Forward with Next-Gen Drive-Thru Prototype
In a sign of the ongoing shift to off-premises channels to help drive higher check averages, Chipotle Mexican Grill debuted Chipotle Digital Kitchen, its first all-digital restaurant, in Cuyahoga Falls, Ohio, last December.2 The prototype is built around a drive-thru and walk-up pickup window, with no dining area aside from a small outdoor patio.
Higher check averages, which Black Box Intelligence underscored as a mitigating factor for spotty onsite traffic, have been a strong suit of the drive-thru Chipotlane locations. With 15% higher sales than traditional units,2 Chiptolanes have paved the way for Chipotle Digital Kitchen, which takes the brand's drive-thru-focused strategy to the next level.
As Tabassum Zalotrawala, Chipotle's chief development officer, explained: "Chipotlanes are a key growth strategy for the brand. Our portfolio of approximately 300 Chipotlanes perform with the highest margins across the board, so we continue to evolve our restaurant design with formats such as the Chipotlane Digital Kitchen to best suit our growing digital business."2
Smaller than a traditional drive-thru operation, the Chipotlane Digital Kitchen has no dining or front production line and features a kitchen designed to fulfill digital orders received through the brand's app or website or third-party delivery partners.
Whether your operation is a franchise of a major chain or a small independent establishment, today's foodservice landscape requires menus with a balanced mix of dishes and desserts that can help drive sales on premises and off. Mondelēz International Foodservice offers a unique combination of culinary innovation and beloved brand ingredients to help optimize your menu with signature items that travel well and bring in repeat traffic.
What culinary or operational challenges do you foresee for 2022? Share your thoughts below and request to learn more about how our chefs can custom-develop culinary concepts to meet your operation's needs.
1 Black Box Intelligence, "Black Box Intelligence: November brings strongest sales performance in over a decade," Nation's Restaurant News, December 16, 2021
2 Jennings, Lisa, "Chipotle Mexican Grill to open first all-digital unit with drive-thru and pickup window," Nation's Restaurant News, December 16, 2021