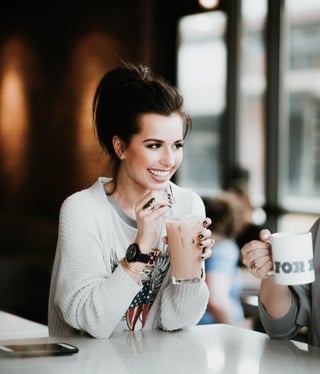 Known for their ravenous hunger for bold new flavor experiences, millennials serve up a feast of opportunities for foodservice operators. But it helps to tantalize their taste buds if you want to savor sweet success.
According to a report by the Hartman Group, a food and beverage market research and analytics firm, the pleasure of snacking is the main driver of snack consumption among America's largest demographic cohort. 52% of millennials snack for comfort, 49% consider snacking a way to treat or reward themselves, and 42% view it as an opportunity to dabble in new flavors from around the globe.1
Taste good, feel good seems to be the millennial mantra for snacking, and if the snack contains high nutritional content and low sugar and fat, all the better.
Flavor Behavior
Satisfying and stimulating flavor profiles provide a potent form of emotional fulfillment for millennials. 42% of them view snacking as a way to try global flavors.1 Snacking excitement is an escape hatch that allows these young and restless consumers to explore new taste adventures and exotic cuisines from distant lands. For price-sensitive millennials, snacks offer an easy, inexpensive gateway to global cuisine. With 62% of millennials and 56% of U.S. adults identifying as adventurous eaters,2 tapping into the consumer's taste for international fare can help build a more robust bottom line.
As Collen McDonald, a marketing manager for seasoning blends manufacturer Wixon, explains: "The popularity of ethnic foods among consumers has been climbing sharply over the past several years. … They are taking their dining cues from spicy and authentic flavors from Latin, Asian, African and Indian cuisines and seeking variety from these sources. The trend of adventurous eating, paired with heightened consumer awareness, indicates that consumers are going to be looking for flavors that deliver new and unique palate experiences."3
Trendsetters and Taste-Tempters
Véa, a Mondelēz International brand of crackers and mini crunch bars with no artificial colors or flavors, combines better-for-you appeal with bold taste-tempting varieties, including Thai coconut and Peruvian sweet potato flavors. Scheduled to debut in the U.S. and Canada this summer, Véa is poised to feed the millennial need for savory, adventurous and diverse flavor profiles.
WHEAT THINS Crackers, one of Mondelēz International's longstanding iconic brands, also appeals to the millennial fancy for flavor with sun-dried tomato and basil, multigrain, and Parmesan basil flavor varieties. The company's new RITZ Crisps & Thins, available in four flavors--sea salt, cream cheese and onion, salt and vinegar, and bacon--are oven baked instead of fried, with only 130 calories.
Made with 100% whole grain, Triscuit crackers, another brand in the company's portfolio, are also low in saturated fat but high on flavor, as well as a good source of dietary fiber. Varieties include cheddar, cracker pepper & olive oil, garden herb, deli-style rye, roasted garlic, and rosemary and olive oil.
So what's next on the flavor front? Food Business News reported on five emerging flavor trends in snacks to keep a close eye on:4
Cuban cuisine: Pastelitos, medianoche, empanadas and other staples of Cuban cuisine will exert increasing influence as travel opens up between the U.S. and Cuba.
Taste of India: Such spicy and complex flavors as cardamom, garam masala, ghee, pistachio, rosewater, saffron, tamarind, and tikka masala are giving traditional American snacks an intriguing twist.
Seasonal inspiration: Shopping by the calendar and buying in-season produce are becoming more popular, helping drive sales of mushrooms, dairy and herbs for spring; cheese, honey and pepper for summer; squash, apple and bread for fall; and root vegetables, citrus and charcuterie for winter.
Global street food: Popular street eats, including Vietnamese iced coffee, Moroccan shawarma, Canadian poutine and German currywurst, are a rich source of inspiration that product developers are sure to tap into more and more.
Americana with a twist: Ripe for reinvention, American classic comfort foods and regional recipes are being revisited with more callout ingredients, including brown butter, huckleberry, maple, molasses, rhubarb, watermelon and cape gooseberry.
What are your thoughts on how millennial snack preferences are changing the foodservice landscape? Any plans to reconfigure your product assortment to more closely reflect millennial snack trends?