Posted in Promotions on August 23, 2016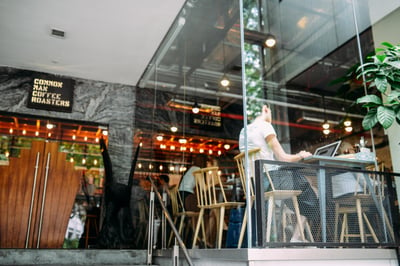 Before you can whet people's appetite for your menu, you need to grab their attention—and that involves marketing. But with so many promotions circulating through today's amazing array of marketing channels, from social (a huge smorgasbord in itself) and mobile to print and broadcast—it's hard to keep pace with trends and zero in on what works best.
Marketing success is typically measured in profitability, but to get there you need to map out key marketing concepts that will resonate with your customer base, encourage engagement and build loyalty. One-and-done promotions aren't enough in a marketing landscape where consumers have come to expect nurturing and personalization in the form of offers and content tailored to their preferences. The old adage of how you can't eat just one potato chip applies to promotions, which consumers crave in quick, consistent abundance, as explained in our post about the popularity of restaurant rewards programs.
A Taste for Tech
Sales reached more than $700 billion in 2015 for the restaurant industry's sixth consecutive year of growth, 1 driven in part by technological advances. With 70% of smartphone users viewing menus on their phone and a quarter of consumers citing technology options as important factors in their decision to choose a restaurant,1 it's critical to make sure your operation is tech-savvy and your marketing tech-driven.
Digital marketing tools and platforms make it easy to interact with customers and coordinate marketing promotions, the most successful of which (especially for national chains) tend to be hybrid campaigns that integrate traditional, digital, in-house and guerilla marketing. Think fast-food chains with big, splashy campaigns that soak into the public's consciousness to help create a rising tide of sales, brand awareness and market share. But for smaller-scale operators and brand behemoths alike, digital is the bedrock on which to build successful promotions, allowing for the widest reach, most-precise targeting and greatest cost-efficiency.
Here are a few tips to help you add promotional flavor to your marketing and help cook up more sales:
Build a mobile-optimized website: Desktop alone won't get it done when it comes to optimizing sales. With nearly 50% of restaurant website traffic coming from mobile devices and up to 64% of searchers being converted on mobile websites,2 you need to make sure your site is mobile-friendly. DIY website services like Wix and Squarespace will guide you through the process of building a site that renders well on all devices.
Review your reviews: Your operation's success hinges on its reputation, which is amplified through social media and review sites like Yelp, UrbanSpoon and Zagat. Survey results showed that negative experiences were 50% more likely to be shared on social media than positive experiences3—all the more reason to solicit customer feedback and make sure you're meeting their needs. Respond to all reviews and encourage your best customers to share their favorable impressions on social media and review sites.
Set up a social media calendar: Occasional, scattered social posts don't build social media followings. Social media requires a consistent and strategic approach to build customer loyalty, attract new customers and grow your brand presence. By setting up a social media calendar, you can establish a steady, ongoing stream of daily posts to keep customers engaged and expand your reach through likes and shares. Social media management tools like Sprout Social and HubSpot automate your social media calendar, so posts you create (e.g.,special offers, updates, events) for Facebook, Twitter and other social networking sites are timed to appear whenever you want them to.
Dig in to data: The digital world has taken us from famine to feast when it comes to information about customers. The days of encouraging them to drop a business card in a fishbowl have been replaced by likes, shares and comments. By interacting with customers on social media, you can gather valuable data to serve them better. Loyalty program apps are another key to unlock a treasure trove of actionable data on your customers. Getting to know them, what snacks hit their sweet spot and which miss the mark, helps you build a customer profile to boost loyalty and retention.
Prevail with email: Send customers email alerts of special promotions, discounts and updates to let them know that they're a valued part of your community of patrons. Email can be a potent part of your marketing arsenal to trigger repeat visits, and using it to keep your operation top of mind can help boost your bottom line. Companies like Salesforce provide email automation services that make it easy to create and manage personalized email campaigns.
Any snackable insights or savory tidbits of knowledge you'd care to share about food promotions and marketing? Serve 'em up in the comments below.
1 QSRonline.com Insights, "10 Startling Restaurant Statistics in 2015," Nov. 23, 2015, http://blog.qsronline.com/10-startling-restaurant-statistics-in-2015/
2 Sonnenshein, Matthew, "6 Ways to Convert on Restaurant Websites," gourmet marketing, July 31, 2014, http://www.gourmetmarketing.net/6-ways-convert-restaurant-websites/
3 MarketingCharts staff, "Bad Customer Service Interactions More Likely to be Shared Than Good Ones," MarketingCharts, Apr. 15, 2013, http://www.marketingcharts.com/online/bad-customer-service-interactions-more-likely-to-be-shared-than-good-ones-28628/