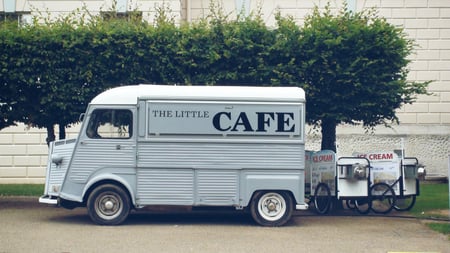 Food trucks make big bucks. Once stalled in negative perceptions and considered a dubious source of quick eats, these mobile foodservice operations are serving up sales at a rapid pace. The food truck industry has become turbocharged, with a growth rate projected to accelerate fourfold, from $615 million in 2012 to $2.7 billion in 2017.1
While that number may seem ambitious, the industry has been on a fast track of year-over-year sales increases, reaching $1.2 billion in 2015.2 Composed primarily of independent operators, the food truck business is experiencing a hearty 15% annual growth rate—significantly higher than the casual dining segment, whose growth hovers around 5%.3
Food trucks may have left many boomers cold, but they've become a hot foodservice trend driven by millennials. Eighty-eight percent of millennials surveyed are interested in trying new foods.1 Now offering an eclectic mix of local, fresh, fusion and specialty fare, food trucks have become a magnet for millennials and a high-growth market segment to rival quick serve, fast food and takeout vendors.
Forty-seven percent of millennials surveyed have eaten from food trucks, which have grown in stature as mobile one-stop shops for innovative cuisines and go-to foodservice fixtures at major events and festivals where millennials congregate.1
All Roads Lead to the Millennial Market
According to Rebecca LeHeup, executive director of the Ontario Culinary Tourism Alliance, "Destinations creating new experiences, whether it be a festival, food trail or tour, need to think about the millennial consumer and what's important to them. It's very different from previous generations, and I think programming has to evolve to take them into consideration."1 The prevalence of food trucks in cities around the world seems to be spurred by millennial demand for quick, affordable and authentic cuisine.
Domestically, food trucks have become popular foodie hubs that align with millennial values. Renowned for helping to spread foodie culture across the urban landscape and encourage an environment of sustainable local sourcing, the food truck scene in Portland boasts more than 500 trucks.1 In Austin, the phenomenon is so popular, there are organized tours of food trucks.1
High concentrations of millennials from diverse backgrounds and culinary cultures are fertile ground for food trucks to tread, making cities an advantageous market for the segment. Designed for nimble and flexible culinary expressions, food trucks seem ideally suited to cater to price-sensitive millennials who seek authenticity and diversity in their food experiences.
Fast, Fresh, Cost-Effective: How Food Trucks Drive a Higher Check Average
Compared to brick-and-mortar restaurants, food trucks are economical to start and operate, with the ability to easily explore new concepts and adapt menus to changing markets and consumer preferences. Opening a new stand-alone restaurant can cost nearly $1 million.3 A new food truck, however, ranges from $150,000 to $200,000 and can amass $400,000 or more in sales a year by running on volume.3
The mobile business model lends itself to satisfying the millennial appetite for fresh, on-the-go options that reflect their culinary wanderlust and yearning for tasty better-for-you fare. Food truck specialties are far-ranging, including freshly caught seafood, gourmet burgers and gluten-free and vegan sandwiches, sides and desserts. Many establish a niche by focusing on menu innovation within a specific specialty category (e.g., mac and cheese or lobster rolls), while others are more broad.
Though mobile eateries may not have the footprint of brick-and-mortar restaurant chains, technology can extend their reach and tempt consumers to keep coming back for more. Through the savvy use of social media and geolocation tools, food truck operators can promote new menu concepts and advise consumers of their often-changing location.
What are your impressions of the food truck phenomenon? Interested in how our popular brands and product innovations can keep your sales moving in the right direction? Steer a few thoughts our way.
1 Ontario Culinary Tourism Alliance and Skift, The Rise of Food Tourism, 2015, p.21, downloadable here.