Posted in Millennials on April 10, 2018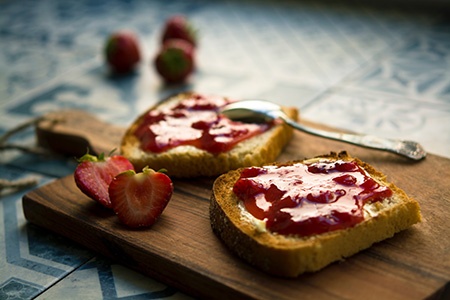 In a jam when it comes to boosting sales? Chances are jelly can spread them thick and sweet. Expected to reach $8.7 billion by 2021, the global jam, jelly and preserves market is projected to grow at a 3.2% compound annual growth during a six-year forecast period.1
Jam products consume upwards of 40% of the global market share, with jelly next in line.1 While consumers may mistake jelly and jam as the same, they are distinct. Jam is made by cooking the whole fruit, pieces of fruit, fruit pulp or fruit puree. Jelly is made from fruit juice, usually with added sweeteners.
But even that distinction doesn't do the vast universe of fruit preserves and spreads justice. With so many product types, flavors, ingredients, distribution channels and geographic regions, the jam, jelly and preserves juggernaut seems unstoppable.
According to data from Technavio, increasing demand for gourmet varieties of jams and jellies and for natural and organic products will help drive growth in the coming years.2 In addition, the global market research firm postulates that the perception of gourmet jams and preserves as an appealing extravagance will help spur gift sales.2 And because of its enormous versatility, jam lends itself to flavor experiments and pairings that can contribute to its positive outlook.
That said, an already competitive market may become even more intense thanks in part to the sweet success of the category. According to Technavio, "The competition in the market is expected to intensify because of an increase in the number of retailers, introducing private-label organic food products, the acceptance of organic food products by consumers in the U.S., and price wars among vendors."2
Menu Innovation Gels with a World of Consumers
While Europe represents the world's largest regional market for jams, jellies, purees and marmalades, with around 50% of total world imports,3 it's worth noting that 44.9 million Americans consumed strawberry jams, jellies and preserves in one year alone.4 Strawberry is the flavor U.S. households stick with most of all, followed by grape.4
Competitive pressure is likely to make innovation and international flavor influences all the more important to stand out in a crowded U.S, market. No wonder, then, that Whole Foods lists tomato jam among the Middle Eastern flavors it predicts will be one of the biggest food trends of 2018.5
Savory jams made with peppers, flowers, extracts of tea, parsley and other unconventional ingredients have been gaining popularity. Bacon jam led the charge as it surpassed Sriracha as the fastest-growing condiment for sandwiches and burgers.6
The California-based company Drunk Jelly is generating a lot of buzz with its nonalcoholic lineup of sweet wine-flavored jelly. Flavors include Rosé, pink Champagne, Pinot Grigio, Pinot Noir and Merlot.
Our wide range of crackers, biscuits and other brand-name snacks provide endless possibilities for functional and flavorful pairings with jams, jellies and preserves. Made with whole grain and real honey, Honey Maid Grahams can be mixed as crumbles with strawberry or other fruit jams to create delicious ice cream toppings or blend-ins for baked goods. For a flavor-packed fusion of savory and sweet, Non-GMO Project Verified Triscuit varieties also pair perfectly with traditional fruit jams.
Reach out below for more information on how our brands can help your foodservice operation leverage jelly, jam and preserve trends for a higher check average.