Posted in Trends on June 21, 2022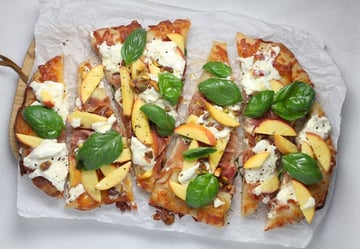 We can't help but feel it—a surging wave of summer vibes after two years of pent-up passion for all the flavors and fun of a season associated with good times and great tastes. The rollback of restrictions is sure to release the foodservice floodgates as menu innovation makes the most of a season of opportunity for sizzling sales.
As the market research firm Datassential reports, fruit, salad and watermelon are go-to items for summer refreshments, but a rising tide of fresh flavor profiles is expected to lift sales this summer, from hearts of palm and non-dairy ice cream to dragon fruit, pickled everything and papaya .
1
Topping the list of growing summer menu items are fresh mozzarella (up 200%), BLT (up 175%), flour tortilla (up 150%) and white sauce (up 100%).1 Menus will be especially peachy keen this summer, since peaches are the top indexing flavor in a bushel of categories, including beverage flavors (white peach), seasonal tea, seasonal pie flavors, seasonal salad ingredients and sweet flavors.1
After the prolonged period of sheltering at home and restrictive dining, there is a feast of opportunities for entertainment-oriented culinary concepts. Half of consumers surveyed express avid interest in "revisiting an entertainment experience," reports Datassential, which cites Cauliflower Nachos from the Punch Bowl Social entertainment chain as an example of shareable dishes that encourage social interaction.1
With 32% of consumers surveyed in agreement that new and better food options would inspire them to visit entertainment venues more often,1 expect stadiums and eatertainment concepts to step up to the plate with novel and noteworthy twists on summer favorites. The Chicken Caesar Salad with hickory-smoked bacon from the Farmer Boys Restaurant fast-food chain ranked high as an example of an innovative summer LTO—"a classic with a twist"—according to Datassential's SCORES database.1
In Store, On Trend: Better-for-You Foods Feed Summer Need
Even as in-store traffic returns, it makes sense that the better-for-you trend that took hold pre-pandemic and intensified during the outbreak has led to heightened interest in seasonal functional foods. Healthy eating magazine EatingWell has compiled a hot list of food and nutrition trends to watch this summer.
"Trending flavor profiles will draw inspiration from the garden—from fresh fruits and vegetables to herbs and edible flowers," reports Penelope Wall, senior editorial director for EatingWell.2 "When it comes to popular beverage trends, easy day-drinking is the name of the game. Think: low-ABV drinks, nonalcoholic spirits and a bumper crop of new canned cocktails that are easy to throw in the cooler for a day at the beach or a summer barbecue."2
Passion fruit tops the list of the magazine's can't-miss flavor trends, as underscored by the popularity of White Claw's Passion Fruit hard seltzer and a 1,050% increase in Google searches for "passion fruit honey puree" over the last 12 months.2
Cucumbers are also enormously popular. Compared with last year, views of articles and recipes related to them have grown by 180% on EatingWell.com.2 In March, the magazine's cucumber sandwich recipe went viral as soon as the magazine posted it.2
Among the herbal and floral flavors EatingWell foresees finding favor this summer are lavender ("lends a comforting nostalgia to some dishes"), hibiscus ("lends a tart, floral flavor and gorgeous crimson color to beverages and dishes like tacos") and matcha ("in April, interest in matcha grew 376% on EatingWell.com compared to the previous year").2
For summertime favorites and inventive twists on hot weather classics, trust the acclaimed chefs at Mondelēz Foodservice. With a distinctive combination of best-in-class culinary expertise and beloved brand ingredients, they create concepts that take trending taste experiences to the next level and refresh seasonal flavor profiles while retaining their nostalgic appeal.
Check out our recipe for Vegan Matcha Tea Shake with OREO Cookie Pieces and browse our Culinary Center for concepts to help grow sales for every season. For custom solutions to help meet your operation's unique needs, contact us below.
1 Foodbytes, Summer Trends, Datassential, 2022
2 Wall, Penelope, "10 Food Trends That Will Be Everywhere This Summer," EatingWell, May 18, 2022