Posted in Millennials on December 5, 2016
The temperature may be dropping outside, but consumers are in the midst of a heat crave, and there's no end in sight. According to Technomic's 2015 Flavor Consumer Trend Report, 78% of consumers enjoy foods with some kick to them, and 55% typically crave spicy flavors.1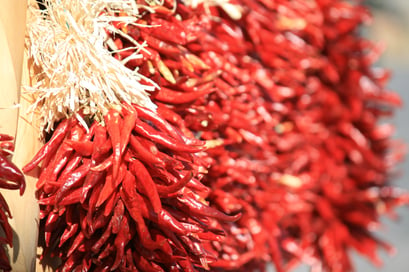 While the majority of Americans now embrace hot and spicy flavors, driving a shift in foodservice trends toward heat, demand for a greater range of peppery flavor combinations and milder varieties is growing.
Fifty-six percent of U.S. households have hot sauce on hand, so the heat is on foodservice and restaurant operations to develop more complex and less outright fiery profiles.2 Since its introduction, Sriracha has been the raging fire of spicy flavor profiles and menu innovation, but a mix of mild and spicy peppers and sweet heat mashups can help drive traffic and sales with flavor twists that aren't easily replicated at home.
From jalapeño dips to chipotle sauces to mashups of habanero, serrano and poblano in the same dish, quick-service operators have been taking spicy snacking trends to the next level while tapping into the millennial snack preference for quick bites with adventurous and novel flavor combinations.
The ghost pepper (a.k.a. bhut jolokia), one of the world's hottest chile peppers, is spicing up menus at national fast food chains, where it's been paired with jalapeños for a spicy chicken sandwich and fries, and has been adding heat to a chicken pizza with three peppers.
A Flair for Fiery Flavor
A breakout flavor with the potential to be the next Sriracha if marketed successfully, according to Techonomic, is harissa, a spicy paste finding its way onto independent menus and expected to make inroads into national chains.1
While its recipe varies, harissa typically contains red chiles, coriander, cumin and garlic. Depending on the level of its chile content, harissa can combine the heat of sriracha with a more appealingly complex flavor mix. With a 48% increase in callouts on independent menus since 2013,1 harissa is proving versatile, appearing in a wide range of food items, including hummus, dips, stews, condiments like mayonnaise and aioli, and sandwiches. It's also used as a meat rub and braising ingredient.
Sweet Heat Can't Be Beat
Spice is nice, but sweet flavors have shown staying power as a consumer favorite (in fact, 68% of female consumers ranked them highest in the Technomic report1). As a result, the country's 500 top-selling restaurants are adding the sweetness of fruit, brown sugar and honey to enhance spicy flavors–a trend seen in popular barbecue and wing sauces.3 While Louisiana-style hot sauce is the most popular sauce among foodservice outlets, habanero is hot on its heels–especially those varieties, like habanero mango, that have fruit flavors.2
Sweet heat is especially appealing to millennials, 45% of whom want more restaurants to broaden their selection of flavor combinations, while half would like more sauces with flavor combinations.1
Packing Heat in the Snack Aisles
Meanwhile, major packaged goods brands are marketing more sweet and spicy options that not only offer bolder flavors but fit a better-for-you, millennial-friendly profile with more vegetable servings and less fat, sugar and processed ingredients.4 Here are a few healthy but satisfying snacks created to fire up millennials:
Chili-flavored tortilla chips with a spicy-sweet mix that includes natural cheese and barbecue flavors.
A limited-edition dip that mixes rich, luscious sour cream with hot sauce to create a bold, peppery new flavor
Grass-fed, free-range and gluten/nitrite-free jerky that combines sweet chipotle with raspberries, ginger orange and sriracha honey.
Sweet chili gourmet rice chips that are free of preservatives, trans fat and gluten, yet crunchy and flavorful.
Gluten-free barbecue sauce that blends jalapeños with molasses and tomatoes to take ribs, chicken, shrimp and more to fiery new heights of flavor.
Do spicy snacks drive a higher check average for your business? Are sweet and spicy combos hot items for your customers? Add some spice to our comments section below.
1 Technomic, Flavor Consumer Trend Report, 2015
2 Thorn, Bret, "Spicy food sizzles on restaurant menus," Nation's Restaurant News, March 12, 2015,
http://nrn.com/food-trends/spicy-food-sizzles-restaurant-menus
3 Tristano, Darren, Spice, Flavor Trends in Foodservice, Prepared Foods, Feb. 11, 2016,
http://www.preparedfoods.com/articles/117694-spice-flavor-trends-in-foodservice
4 Hartman, Lauren R., "Flavor Trends Favor Spicy and Sweet at the Same Time," Food Processing, Jan. 28, 2016,
http://www.foodprocessing.com/articles/2016/flavor-trends-favor-spicy-and-sweet/