Posted in Menu Strategy on August 31, 2021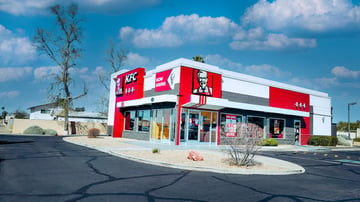 As debates about vaccination rates and the impact of the Delta variant of COVID-19 continue, major restaurant brands are feasting on profits. In particular, the fast food and fast casual segments are picking up speed in the race to regain revenue lost during the pandemic. In some cases, sales are soaring past pre-pandemic levels.
The return of in-store traffic combined with an increase in pandemic-propelled digital capabilities has been the common denominator in this widespread success. Brands are no longer merely digging out from the plunge in profits during the pandemic—they're digging into the sales potential unleashed by technology investments and other factors on the road to recovery. The rising wave of sales buoying up the industry's top brands underscores these chains' adaptability in a marketplace that continues to morph.
Yum! Brands is savoring 4% same-store sales increase on a two-year basis across its portfolio of restaurant chains, including KFC, Pizza Hut, Taco Bell and Habit Burger Grill. Taco Bell was top enchilada with a 12% increase for the second quarter. While 1% of Yum! Brands' stores (approximately 700 units) remained temporarily closed at the end of the second quarter, digital sales soared.1
Yum! Brands posted a record $5 billion in digital business for the quarter ending June 30—a 35% increase over 2020.1 "For the first time on a trailing 12-month basis, Yum! Brands delivered more than $20 billion in digital sales," CEO David Gibbs said.1
Menu innovation worked in tandem with digital integration to propel profits.1 Taco Bell's Build Your Own Cravings Box and relaunch of Naked Chicken helped feed the bottom line, while app sales skyrocketed by 90%.1 At Pizza Hut, Stuffed Crust Pizza and the reintroduction of The Edge pizza served up a big slice of sales, and customer satisfaction metrics improved significantly thanks to the HutBot, "an in-house intelligence coaching app to ease daily store management that is now in about 4,000 stores in 40 markets," reported Nation's Restaurant News.1
Restaurant Brands International, which owns Burger King, Popeyes Louisiana Kitchen and Tim Hortons, reported double digit systemwide sales increases across all three chains for April through June—an overall gain of 31.9%.2 RBI is driving sales growth with ambitious digital initiatives including robust loyalty programs and drive-thru digital menu boards.
"Digital is a key focus area as we enhance the omnichannel guest experience with loyalty and other initiatives to form deeper, long-term relationships with our guests," said José Cil, RBI's CEO. "In our home markets, digital sales are up 60% year-on-year, and we think this is just the beginning."2 On the menu front, Cil sees Popeyes sky-high sales potential for Popeyes' new Chicken Nuggets,2 a snackable and shareable offshoot of the brand's chicken sandwich.
RBI's net income for the second quarter is strong—$358 million, compared with $154 million for the second quarter of 2020—and revenues rose 37.2% to reach close to $1.44 billion.2
Bloomin' Brands, parent company of Outback Steakhouse and Carrabba's Italian Grill, has posted same-store sales that surpass pre-pandemic levels. A multichannel mix of on- and off-premises growth drove sales up 84.6% for the second quarter compared with last year.3 Digital sales accounted for 28% of total revenue in the second quarter.3
"You have to be a multichannel restaurant company these days," explained David Deno, Bloomin' Brands CEO. "You have to have great dine-in service, a really terrific carryout offering and you have to be able to do delivery. I think we're well-positioned as a company to do all three of those. … You have to have the technology and equipment to make it happen, so we're investing a lot of time and effort on supporting those lines of business."3
Mondelēz International Foodservice combines trusted brand ingredients with deep culinary expertise to help foodservice operations like yours maximize sales. Reach out below for details on how we can help you overcome challenges and leverage opportunities in today's fast-changing competitive landscape.
1 Jennings, Lisa, "Yum Brands reports two-year same store sales growth across all brands," Nation's Restaurant News, July 29, 2021
2 Hamstra, Mark, "RBI's digital investments, menu innovation drive sales growth," Nation's Restaurant News, July 30, 2021
3 Fantozzi, Jennifer, "Bloomin' Brands growth momentum surpasses pre-pandemic levels," Restaurant News, July 30, 2021