Posted in Technology on May 3, 2022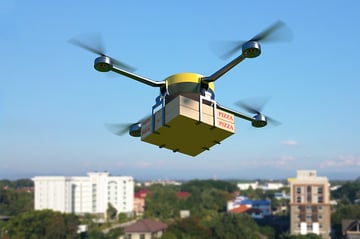 Fast food chains have been accelerating their rate of digital transformation ever since the pandemic hit—and Wendy's is one of the brands leading the charge. The burger giant has been beefing up its digital capabilities as one of three core pillars in its growth strategy (the others are boosting the breakfast daypart and expanding the chain's footprint).1
A classic Wendy's ad campaign famously asked: "Where's the beef?" Now the chain shows in no uncertain terms that the industry trend toward a digital pivot can rustle up some serious ROI. While digital orders only accounted for about 10% of Wendy's $11 billion in sales last year, they trend toward a significantly higher check average.
As Wendy's CEO Todd Penegor explained: "Delivery checks are 40-50% higher on an average basis, apples to apples, without the delivery fees."1 Penegor cites the larger size of digital orders as the reason for the bigger checks and predicts the pattern will continue.1 " You think about mobile grab and go and curbside delivery; people are getting into our app, they are mobile ordering, [and it] speeds up the experience at the drive thru, makes it easier for the consumer as well as the employee. And those things will continue to drive our business."1
As we reported in our post, Urgent Delivery: Restaurant Operators Hungry for Innovative Solutions, digital is also helping to drive the brand's market expansion. Wendy's is moving forward with plans to open 700 ghost kitchens across the U.S., Canada and the United Kingdom by 2025.1 Developed in partnership with global ghost kitchen operator and provider Reef Kitchens, the plan will exponentially extend Wendy's delivery reach and enable the chain to build its presence in key urban markets.
It

'

s Just Wings Drones Take Flight and Chipotle Lands Food Safety Innovation
Meanwhile, Brinker International Inc., which owns the Chili's Grill & Bar chain and the virtual brand It's Just Wings brand, is flying high with a new pilot program in partnership with Israeli drone-delivery company Flytrex.2 The program takes the partnership which launched last October, to a new level, expanding drone delivery for It's Just Wings from North Carolina to Granbury, Texas.2
As Brinker and Flytrex explained in a joint statement: "The service will operate in cooperation with longtime partner Causey Aviation Unmanned under a newly granted Federal Aviation Administration (FAA) waiver allowing a delivery radius of one nautical mile – reaching thousands of potential homes. Eligible households that have opted into the service can order food via the Flytrex app."2
Chipotle Mexican Grill will be testing a pilot program of its own to deliver something of vital importance: food safety. The fast-casual chain has announced plans to test radio frequency identification tags to track ingredients at 200 of its Chicago locations and its Chicago distribution center.3 Meat, dairy and avocados from five of Chipotle's suppliers will have RFID-enabled labels that will allow the brand to quickly and easily identify, trace and resolve any food safety issue that may arise.
The pilot program is developed in partnership with an array of leading RFID authorities, including Auburn University's RIFDLab, RFID software provider Mojix, RFID innovator Avery Dennison, and RFID reader and encoder solutions provider Zebra Technologies.3
"RFID labels transform inventory management into an automatic, digital function that optimizes restaurant operations and gives our restaurant support centers access to inventory data in real-time," explained Scott Boatwright, Chipotle's chief restaurant officer.3 "This integrated technology is improving our employee experience in participating restaurants while also benefiting our supply partners."3
At Mondelēz International Foodservice, our acclaimed chefs use our trusted, beloved brand-name ingredients to create innovative dishes, desserts and drinks that help drive sales on premises and off. From travel-friendly concepts to limited-time offers that jumpstart digital sales while bringing traffic back onsite, we offer the culinary expertise your operation needs to find the right menu mix for today's ever-changing market. Sample a smorgasbord of ideas and inspiration in our Culinary Center. To learn how we can help develop custom menu solution for your operation, leave us a message below or use this form.
1 Oches, Sam, "Wendy's is proof that digital innovation is transforming major fast food chains," Nation's Restaurant News, March 31, 2022
2 Ruggless, Ron, "Brinker, drone delivery company to expand 5-minute service to Texas," Nation's Restaurant News, March 31, 2022
3 Fantozzi, Joanna, "Chipotle is testing RFID tags to track ingredients for food safety," Nation's Restaurant News, March 31,2022