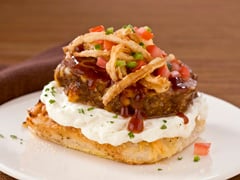 Comfort foods stand the test of time because they feed a perennial need for gratifying flavor experiences that offer respite from everyday cares and concerns. Survey data shows that 78% of consumers surveyed (84% of millennials) snack for a sense of comfort.1 What's more, a majority say snacks are just as important to their mental (71%) and emotional (70%) well-being as their physical well-being.
Now more than ever, certain foods are savored as a source of comfort by consumers and a reliable source of revenue for operators. The pandemic has given comfort food a particularly urgent appeal as consumers turn to tried-and-true favorites for a sense of relief during a time of crisis.2
While better-for-you options that promote wellbeing are also vital, a majority of adult consumers surveyed (80%) recognize the importance of balance and "appreciate having the option of both healthy and indulgent snacks depending on the moment of need."2 Seventy-seven percent agree: "There is a time and a place for healthy snacks, and a time and a place for indulgent ones."1
Google Reveals Consumer Appetite for Balance During Pandemic
A year-over-year Google Trends comparison of key food search terms for the period of March 11, 2020, through August 20, 2020, shows Google users went gaga for staples such as cookies, ice cream and burgers.3
Food sales during the pandemic bear out the Google Trends data as sales of pizza, hot dogs, and other processed snacks skyrocketed.2 Comfort food-focused chains also saw sales rise. Last year, same-store sales at Bruster's Real Ice Cream chain increased more than 20% in each month of Q2 2020; chicken wings chain Wingstop, meanwhile, posted a 32% increase in quarterly same-store sales.2
The sweet spot for operators today may be comfort foods that fuse flavor and nutritional value. Seventy-two percent of consumers cite taking care of their bodies and meeting nutritional needs as a snacking motivation.1
Comfort Food a Top Restaurant Trend for 2021
According to the National Restaurant Association, the comfort food feeding frenzy is expected to carry over into 2021. The association includes comfort food in its list of top 10 restaurant trends for 2021, based on surveys of 6,000 restaurant operators and 1,000 consumers.3 "Consumers say menus that offer a good selection of comfort foods influence their restaurant choice," NRA reports. "From haute to homey, a third of fine dining operators surveyed are adding more comfort items—think burgers, pot pies, lasagna, soups, curries, sandwiches, pizza and noodle dishes."4
Food & Wine magazine compiled feedback from prominent chefs who also identify comfort food as one of the biggest trends for 2021.4 "I think people will run to comfort food. Anything that reminds them of what it used to be like," said Erik Niel, chef of Easy Bistro & Bar and Main Street Meats in Chattanooga, Tennessee.4 "Classic pizzas (no pineapple), burgers without a bunch of crazy toppings, real tacos (not fancy wraps), old-fashioned barbecue, mac and cheese, country fried steak, fried catfish, biscuits and gravy … you name it, as long as it tastes good, someone else makes it, and it's not at your house!"4
Matt Greene, executive chef of Common House Richmond in Virginia, expects fresh takes and interesting twists on comfort food. "I think restaurants and home cooks will continue to move into interesting but comfortable foods," he said.5 "There will likely be a greater focus on stew and curry. Curry can offer so much to the diner. It's interesting, exciting, and comfortable and accessible."5
Fast casuals, meanwhile, are savoring robust sales from pot roast—a perennial favorite that combines the cost-efficiency of secondary cuts of beef with ease of preparation. The marketing and promotional possibilities are gravy.6 Country-themed chain Cracker Barrel Old Country Store, for example, harkens back to old-fashioned Sunday dinners with its pot roast supper offered only on Sundays. The oven-braised roast is served with biscuits or corn muffins.
The Houlihan's Restaurant + Bar chain also makes a nostalgic connection with its Down Home Pot Roast, which comes with honey gold mashed potatoes and homestyle vegetables.
Want comfort food concepts that can help bring your business relief from tight margins and low sales? The chefs at Mondelēz International Foodservice are ready to create palate-pleasing dishes for your operation, such as this BBQ Stuffed Meatloaf Sandwich with PREMIUM Cracker Meal. Browse the Culinary Center for other inspired ideas. For culinary recommendations customized to your business needs, reach out below.
1 State of Snacking™: 2019 Global Consumer Snacking Trends Study, (Mondelēz International and The Harris Poll, 2019), p. 14
2 State of Snacking, p. 5
3 Moreno, Johan, "Google Trends Show Comfort Food Has Dominated COVID-19 Diets," Forbes, Aug. 31, 2020
4 2021 Restaurant Trends (National Restaurant Association, January 2021), https://www.restaurant.org/research/reports/foodtrends
5 Stephens, Regan, "These Will Be the 21 Biggest Food Trends of 2021, According to Chefs," Food & Wine, Dec. 14, 2020
6 Kruse, Nancy, "Not your mother's Sunday roast: restaurants are revisiting the comfort food classic," Nation's Restaurant News, Feb. 3, 2021
Photo Options
https://unsplash.com/photos/g2yjXF1fdn4
https://unsplash.com/photos/0VtUhz87-DQ