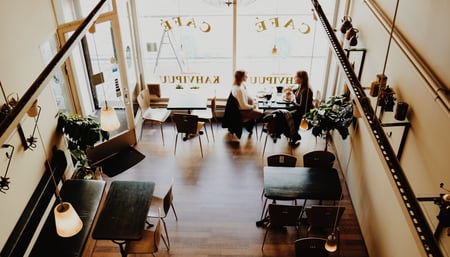 Millennials can't get enough of snacking; and foodservice operators can never seem to get enough information and insight about millennial snack preferences to feed their bottom line. With millennials often snacking four or more times per day,1 it makes sense to want to get inside their heads and figure out the best ways to serve their insatiable snacking appetites.
In part 1 of this post, we explored the cultural trends influencing millennial snack consumption; in part 2, we dig deeper into the psychological factors shaping the millennial snacker mindset.
Foodservice Millennial Mayhem
As the largest consumer demographic and most influential group in the market today,2 millennial preferences extend across generations to popularize such key foodservice trends as better-for-you, clean label and grab-and-go snacking. And now that 70% of millennials have an open-ended definition of snacking and consume a wide range of foods as snacks,1 it has become especially important to zero in on the mindset behind their preferences.
Even in packaging, millennial influence proved strong in 2016, according to Lynn Dyer, president of Foodservice Packaging Institute. "This year more than ever, it's hard to deny the influence of the millennial generation on the foodservice packaging industry," Dyer said. "As such a large, influential piece of the population, the opinions and ideals of millennials are a defining factor, leaving an impression on the industry."3 Thanks to millennial influence, "environmentally friendly," "sustainable," "recyclable" and "compostable" packaging, once considered trendy, are now standard.3
According to the Hartman Group, millennial food shopping behavior changes in important ways as they mature, most notably in their reliance on technology to hunt down a good deal and their price sensitivity as a driver of brand loyalty. 89% use a smartphone to gather information on products, and 82% use it to make purchases.4
Mindset Matters: Understanding Millennial Snack Trends
As Futurecast explains in The Snack Hack: What You Need to Know About Modern Consumer Snacking Culture, understanding this mindset will enable brands to position themselves for optimal sales growth. The report distills millennial tendencies down to six overarching themes that influence consumer purchases:2
Social Circle: Consumers rely on a group of informal advisors, from social networks to personal relationships, for product insight and guidance. Build a foodservice social circle among your customers and you can help build your bottom line.
Self: Millennials favor brands that reflect their lifestyles and values. They are the brands they buy. Building a personal connection with the consumer is the key to unlocking brand performance and loyalty.
Innovative: They look for brands that satisfy their yearning for greater efficiency and quality and blaze a trail of product advances. By providing novelty and making life easier and better, such brands are especially appealing.
Trusted: The internet gives unprecedented access to information, whether positive or negative, resulting in high demand for authenticity and transparency. As a result, it's trust or bust when it comes to establishing brand equity.
Purposeful: Millennial influence has helped make social responsibility popular. Brands that protect the environment, support communities and make the world a better place are in a better position to thrive.
Accessible: Millennials gravitate to brands that are easy to find and fit into their lives. Modern consumers expect access to extend across both physical and digital channels. Easy access can help clear the way to easy sales.
Have you noticed any snack purchasing patterns that you associate with millennial influence? How do you think the millennial snacker mindset will evolve and impact foodservice trends in the future?