Posted in Sales & Profitability on November 2, 2021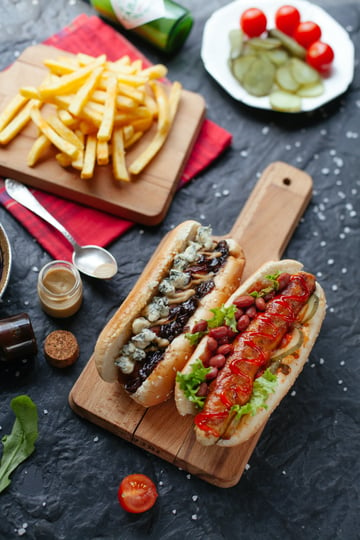 More market share is high on the menu of must-haves for restaurant operations these days. Growth strategies are shifting into high gear as major chains vie for returning on-site traffic while expanding off-premises channels that have proven to be powerful revenue engines. As a result, the long stretch of belt-tightening has given way to a feeding frenzy of capital investment and global growth.
Thanks in part to steady drive-thru sales throughout the pandemic, the 67-unit fast casual chain Portillo's considers itself favorably positioned for expansion. Renowned for its signature Italian beef sandwiches slathered with gravy and Chicago-style hot dogs with lavish toppings, Portillo's has filed for an IPO and plans to increase to 600 units by 2046.
1
The chain's drive-thrus have been revving up revenue in a big way, rising from $3.4 million per unit in 2019 to $4.9 million.1 The drive-thrus now account for a large share of the chain's $7.9 million average unit volume and reflect a growing industry trend of off-premises revenue growth which accelerated during the pandemic.
Portillo's shift to off-premises is especially pointed because the brand was known for large restaurants averaging 8,000 square feet. Now every Portillo's unit has a drive-thru, and a triple drive-thru location with no dining room is scheduled to debut this winter.
"In a world where customers increasingly value convenience and optionality, our longstanding multichannel expertise positions Portillo's to continue to succeed and grow market share," the chain said in its filing.1 Developed during the pandemic, the multichannel mix essential to the chain's growth strategy includes curbside pickup, catering and direct shipping of orders placed on the brand's website.
While ambitious, Portillo's plans to expand gradually with a total of seven new units open by end of year and work its way up to 10% annual growth.1
Fat Brands Gets Bigger as Restaurant Business Gets Better
Powerhouse restaurant franchising company Fat Brands, whose lineup includes the 50s-style diner Johnny Rockets, Ponderosa Steakhouse and Buffalo's World Famous Wings, has added to its portfolio with a $300 million acquisition of the Twin Peaks sports bar and restaurant chain.2
In July, Fat Brands acquired Global Franchise Group, a franchising company for snack and dessert brands including Great American Cookies, Hot Dog on a Stick, Marble Slab Creamery and others.2
The Fat Brands portfolio now has 2,100 franchised and corporate restaurants for $1.8 billion in total sales, with plans to grow at 10% and open 60-70 new units per year.2
What makes the Twin Peaks acquisition important to Fat Brands' growth strategy? As Fat Brands CEO Andy Wiederhorn explained: "Fat Brands is committed to an aggressive growth strategy, which underlies our strong M&A activity over the last year. When assessing potential acquisitions, we look to identify brands that not only complement our existing portfolio but also deliver high average unit volumes and a strong growth pipeline. Twin Peaks checks all of these boxes."2
When it comes to high brand recognition, trusted ingredients and acclaimed culinary expertise, Mondelēz International Foodservice checks all the boxes too. Grow your business with signature dishes and dessert concepts custom-created by our chefs for your operation. Reach out below to learn what we can do to help drive traffic back onsite and boost your off-premises sales.
1 Lalley, Heather, "Portillo's details ambitious growth goals," Restaurant Business, Sept. 28, 2021
2 Fantozzi, Joanna, "Fat Brands completes $300 million acquisition of Twin Peaks—its second major purchase this year," Nation's Restaurant News, Oct. 1, 2021