Posted in Quick Service Restaurant on July 7, 2020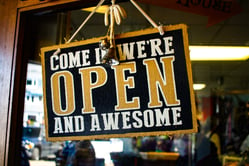 As restaurants reopen to an uncertain future in the shadow of coronavirus—with limited capacity and stringent restrictions—bright spots continue to surface. While some operators see light at the end of the tunnel, others have prospered at the height of the pandemic.
Take the limited service Italian restaurant chain Fazoli's, which just reported its highest-grossing May in company history. In mid-March, as many operators struggled to mitigate plummeting revenue from dining rooms closing and customers retreating into quarantine, Fazoli's fate looked no different than that of countless other chains. Up 3% in March, the chain's sales went into a precipitous decline in a matter of weeks.1
But as others scrambled to serve up alternate sources of revenue that could help their units at least tread water rather than go under, Fazoli's found its secret sauce for generating sales and quickly rebounded.
Bundling meals, speeding up cook times and streamlining drive-thru service turned out to be a robust recipe for success. The chain's Super Family Meal—a large pepperoni or cheese pizza, two buckets of pasta, 16 breadsticks and a gallon of iced tea or lemonade—hit the spot for quarantined families hungry for budget-friendly meal options.
By the third week of April, business was up 6%. Profit was four times greater than forecast for the month, and sales rose 7.3% in May.1 The chain sells thousands of Super Family Meals daily, according to Carl Howard, the chain's CEO, who says sales have spiked 13.1% over two years.1
"I think our focus on family meal values and bundles at a really great price, and our ability to move people through the drive-thru, and the fact that we have this different, unique product really paid off for us," Howard said.1
Dunkin', Delivery, and Dine-In: What's Brewing?
Fazoli's stands out as an operation that not only survived but thrived during the pandemic. Others may have been less fortunate, but the restaurant industry can be cautiously optimistic as America reopens. To accommodate pent-up demand and reset the table for a surge of customers, restaurants added 1.2 million jobs in May, to reach a total of 8.7 million—a 16.5% increase.2
Job openings perked up to such an extent at Dunkin', the coffee chain launched an ambitious national marketing campaign to help fill 25,000 new positions at its stores across America. The brand's first-ever recruitment advertising blitz underscores Dunkin's confidence and commitment as the economy reemerges from the outbreak.
As Stephanie Lilak, the chain's senior vice president and chief human resources officer, said in a news release: "Dunkin' is committed to keeping America running and working. We are proud to support our franchisees who offer much-needed job opportunities, in a welcoming environment where people can feel appreciated and rewarded for serving both customers and their communities during this critical time."2
More job openings aren't the only noteworthy positive for the industry. Even during the lockdown, demand for delivery was high and resulted in increased sales through third-party delivery services. In April, those sales were more than double what they had been for the same time last year.3
In-house delivery options also helped drive sales. According to the National Restaurant Association, 3% of its restaurant members in the quick serve and fast casual segments reworked their menus and leveraged digital technology to enable direct sales to consumers, which boosted sales in April.3
A mix of off-premises momentum gained during the outbreak and the gradual reintroduction of on-premises dining could help spur recovery.
Mondelēz International Foodservice can help smooth the transition from pandemic pain to profitability with innovative culinary expertise and world-renowned brands. Contact us below to explore menu solutions for your foodservice operation.
1 Thorn, Bret, "In the kitchen with Bret Thorn: Carl Howard, CEO of Fazioli's, discusses how the chain has thrived during the coronavirus pandemic," Nation's Restaurant News, June 11, 2020
2 Tyko, Kelly, "Looking for a job? Dunkin' announces it is hiring 25,000 new employees as America reopens," USA Today, June 8, 2020
3 Forgrieve, Janet, What's next for third-party delivery services? SmartBrief, June 8, 2020