Posted in Vending on May 5, 2022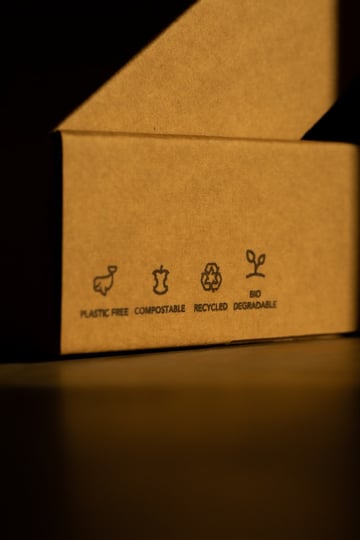 Product packaging matters to many of today's vending and micro market customers—more than half of U.S. consumers, in fact, say they're highly concerned about its environmental impacts.1
To address the issue, foodservice providers are increasingly offering items that come covered, wrapped and otherwise encased in a more eco-friendly format.
Take Five Star Food Service as an example – which supplies micro market and vending machine amenities to commercial, institutional and educational sectors. In an interview with The Food Group, a food and beverage marketing agency, C.J. Recher, vice president of marketing at Five Star Food Service, stated that customer requests have prompted some of Five Star's clients to ask about sustainable packaging.
He said that in other instances, internal initiatives have propelled the demand; and the HR, plant or facilities manager will ask about offering more sustainably packaged items as part of the company's corporate social responsibility or sustainability program.
"Some of it is the end consumer—the one who's shopping in the micro market or vending machine," Recher said. "But a lot of it is driven by companies wanting that sustainable image to run all the way through their operations, from what they're making and selling to their break rooms at work."
Green Areas of Interest
With a collective 66% of consumers extremely concerned about either waste production or deforestation,1 recycling efforts and opportunities can potentially resonate with micro market and vending customers.
Consumers and foodservice providers have honed in on several product categories in recent years, Recher said—including single-cup coffee pods.
Coffee is a popular micro market offering; 82% of convenience services operators sell it at least some locations; and more than half (52%) of the coffee machines used in micro markets are single-cup brewing devices.2
As single-serving pod use became more frequent, concern about the associated waste also increased, according to Recher.
"Our private label coffee has gone to a fully compostable pod," he said in our interview. "Coffee brands like Keurig, Lavazza and Nespresso have a program built around how they source their beans, the energy efficiency of their equipment and that single-cup pods can be used in another way, whether it's recyclable or the grounds can be put into a compost bin to help break down other food items."
Micro market customers have also contacted Five Star to inquire about ways to make beverage containers—the type of material consumers recycle most often3—more sustainable.
"[They've asked,] 'Can you recycle them? Do you have a recycling program? Can you help us set that up?'" Recher said. "Some were asking us to go to all aluminum cans for water and carbonated beverages, versus plastic bottles."
In addition to smaller companies such as Alter Eco, which sells chocolate truffles tucked in compostable wrappers,4 major manufacturers have also begun to offer an expanded amount of sustainable food and beverage packaging.
Honest Tea, for example, comes in glass bottles made from reused materials;5 Chobani announced last year it would begin offering its oat yogurt in paper, instead of plastic cups;6 and Coca-Cola recently created a soda bottle made from 100% plant-based plastic.7
Mondelēz International is also committed to offering sustainable packaging. The company has pledged to make all of its packaging recyclable by 2025, and 94% was as of 2020. Mondelēz is also working to reduce its overall virgin plastic use and encourage consumers to recycle through package labeling and other efforts.8
A number of foodservice vending and micro market service providers have also changed the packaging they use for fresh food items. Approximately 95% of the beverage stirrers that Aramark, which serves education, healthcare and other industries, now offers are wooden, instead of plastic.9
Five Star has been able to source packaging for the sandwiches, burgers, desserts and other fresh items it offers clients from a supplier that uses an organic pulp made from roots to create cutlery, cups and plates.
"It's tree-free," Recher said. "It's still made out of a fibrous material that's sturdy enough to use, but you're not throwing a whole bunch of paper or plastic into the landfill."
Maximizing Eco-Endeavors' Effect
Expense can be a deterrent to adopting sustainable packaging; however, more than 60 percent of consumers say they'll pay extra for products that feature sustainable options.1
"The cost gap is definitely closing," Recher said. "They still definitely are at a premium price; so you have to have that consumer that is willing to pay maybe a little bit more."
Simplicity is another key consideration. More than a fifth of consumers fail to recycle because they aren't sure which items can be recycled, and 16% feel it's inconvenient.3
The root pulp-based cutlery, cups and plates Five Star uses to package its fresh products are all fully compostable, according to Recher, and can just be thrown away.
"That's the big challenge—making it not too many extra steps for that person to recycle it," Recher said. "A lot of people would, if it were easy or readily available, participate rather than throw it away."
Consumer interest in environmentally sound packaging is likely to remain high—making it a strong selling point for food and beverage products. With a number of people willing to pay more for upgraded materials, increasing packaging-related sustainability is now a more achievable effort than ever—whether foodservice providers opt for containers that help reduce the purchaser's carbon footprint, snack packages that involve a minimalist design or another ecological packaging option.
Craving more vending and micro market-focused insight? Visit the Mondelēz International Vending website for more thought leadership content, case studies and more.
1 "Sustainability in packaging: Inside the minds of US consumers," McKinsey & Company, Oct. 21, 2020
2 "Micro markets lead convenience services rebound after pandemic-driven setback," Kiosk Marketplace, Sept. 6, 2021
3 "Beverage Containers are #1 Recycled Packaging and Reverse Vending Machines are Leading Choice for Recycling, TOMRA Recycling Survey Reveals," TOMRA, April 20, 2018
4 Alter Eco Regeneration Report 2020, Alter Eco
5 Honest 2018 Mission Highlights, the Honest Company
6 "Chobani Innovates Away from Plastic with Paper Cup," Chobani, Aug. 26, 2021
7 "Coca-Cola Collaborates with Tech Partners to Create Bottle Prototype Made from 100% Plant-Based Sources," the Coca-Cola Company, Oct. 21, 2021
8 Snacking Made Right 2020 ESG Report, Mondelēz International
9 2021 Impact Report, Aramark