Posted in Technology on December 13, 2022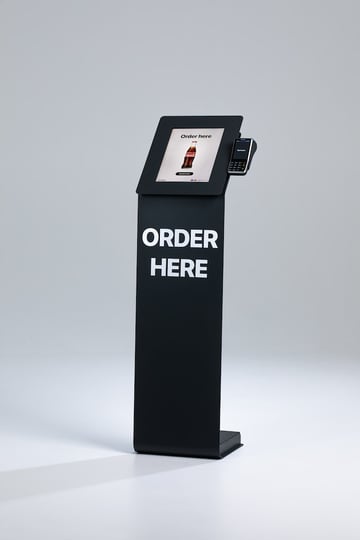 Foodservice operators may be feasting on opportunities as the pandemic retreats, but economic challenges persist. One of the toughest to swallow is the labor shortage.

September was ripe with a robust harvest of hiring for restaurant jobs, signaling a light at the end of the tunnel. But while job seekers filled more than 60,000 positions then, October stood in stark contrast. Just 6,000 were filled in October—less than a tenth of the hires for September, according to the U.S. Bureau of Labor Statistics.1
Restaurants and bars ended October with 11.8 million employees—about 500,000 shy of pre-pandemic levels.
1
The precipitous drop in hirings reflects a broader economic trend where employment across most industry sectors has been lagging.
1
As explored in a previous post, "Robots, Plants, Profits: A Fresh Recipe for Success in the New Age of Foodservice," the industry is increasingly integrating technological solutions to streamline operations and mitigate labor shortages.
Self-service kiosks are among the foremost tech solutions that major chains have tapped. In fact, kiosk technology is global trend, with a projected compound annual growth rate of 6.5% through 2028.2
Self-Service Surge: Kiosks Kick In, Help Propel Off-Premises Sales
McDonald's piloted kiosks in 2003, but it wasn't until 2020, the height of the pandemic, that the burger juggernaut integrated them systemwide.2 Taco Bell also accelerated kiosk integration in 2020 and went so far as to test a kiosk-oriented Cantina in New York City's Times Square for digital-only orders.2 Kiosk technology is now a lynchpin of the fast-casual Mexican chain's goal of 50% digital sales mix.2
Early this summer, Panera debuted the first of three Panera To Go digital-only, kiosk-focused restaurants for off-premises dining in Chicago.3 As George Hanson, chief digital officer, Panera Bread, explained: "Panera To Go is another way we can make our guests' lives easier through digital convenience, which is always at the heart of what we do. We are already leaders in providing our guest with an exceptional digital experience and adapted our digital channels to provide our guest even more options in the Panera To Go format."3
For Shake Shack, kiosks are more than just a part of their blend of business channels—it's the chain's most profitable, with higher check sizes and margins, as well as increased efficiency with less reliance on labor.2
"Kiosks are a really great lever for us to lean on to help streamline labor and it's really addressing that front-of-house opportunity," said Shake Shack CEO Katie Fogerty.2 "In the Shacks where we have kiosks, a good portion of the guests do prefer the channel. It's a great opportunity for guests to sit with the menu … and that translates through their order when they're adding more premium things. So, from both a labor perspective and a check perspective, it's definitely accretive."2 Shake Shack plans to make kiosks available in all its locations by end of year.2
Burger King has also flipped for kiosk technology—and with good reason. The brand's digital sales topped 50% globally, thanks in large part to kiosks.2 And quick-service chain Steak 'n Shake has gone whole hog and replaced table service with self-service kiosks.2
Whether orders come from the kiosk or the counter, one constant remains: the need for culinary concepts and fresh menu mixes that hit the sweet spot in a highly competitive market. The acclaimed chefs at Mondelēz Foodservice combine culinary innovation with trusted brand ingredients to create dishes, desserts and drinks that help feed the bottom line. Get a taste for what we offer in our Culinary Center. For custom menu solutions to help meet your operation's unique needs, reach out below.

1 Romeo, Peter, "Restaurant Hiring Slowed Significantly in October," Restaurant Business, November 4, 2022
2 Kelso, Alicia, "Restaurant kiosks are having a moment amid ongoing labor shortage," Nation's Restaurant News, November 4, 2022
3 BusinessWire, Panera Opens First "Panera To Go" Digital-Only Restaurant for Off-Premise Dining, June 10, 2022