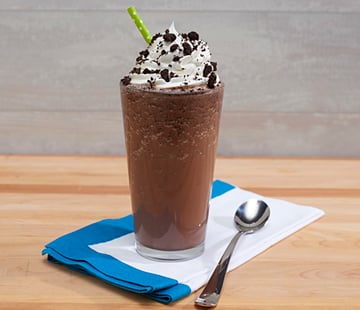 Nonalcohol beverages are generating a lot of buzz these days. Ingenious infusions and eclectic flavor profiles are raising the category's profile as foodservice operators strive to satisfy the market's thirst for bold, refreshing taste adventures.
In fact, menus are brimming with nonalcohol beverages to meet demand. Dessert-inspired concepts are spilling over into pie-flavored drinks—a phenomenon which the market research firm Technomic ranks among the top 500 menu trends. "Operators are taking the seasonal comfort food that is pumpkin pie—and now even sweet potato pie—and incorporating it as a flavor in shakes and coffee beverages," reports Technomic.1
Technomic cites the limited-time Brown Butter Pumpkin Pie Shake at the fast-casual gourmet burger chain BurgerFi and the Sweet Potato Pie Latte at the coffeehouse chain Biggby Coffee as examples of dessert-flavored drinks with a seasonal spin. Year over year, pie-flavored lattes have grown 33%, with a 28.4% price uptick, while other specialty pie coffees have grown 100% and risen 52% in price.2
Available at Auntie Anne's pretzel shop chain and the Dairy Queen fast-food ice cream chain, frozen hot chocolate is another top 500 menu trend that transforms a tried-and-true favorite into a fresh beverage format. Seventeen percent of consumers surveyed said they would like to try Auntie Anne's Hot Chocolate Frost, while 32% across age groups (40% of millennials) expressed interest in ordering new and unique beverages at restaurants.1
Operators Savor Success of Vegan and Limited-Time Offers
Vegan varieties of nonalcoholic beverages are also growing increasingly popular. Twenty-one percent of consumers surveyed intend to consume more vegan options over the next year, and vegan callouts in nonalcohol beverages grew 7.7% in 2020.1 Better-for-you beverage concepts, another top 500 menu trend, like Veggie Grill's Just Right White and canned vegan wines and Smoothie King's Vegan Mixed Berry Smoothie are being developed in response to that high demand.
The market was showered with nonalcohol beverage LTOs in the spring, with energy drinks (56) leading the way, followed by specialty blended/smoothies (32) and iced lattes (27).2 Latte flavors inspired by desserts and latte mashups with ice cream sundaes, cakes and pies reflect the staying power of indulgent staples and the consumer appetite for rich, gratifying desserts in a more portable format.

Technomic cites Caramel Cold Brew with Cold Foam at fast-food chain Tim Hortons as an example of a beverage LTO with broad appeal. Served over ice and topped with a sweet creamy foam and caramel syrup, the creative cold brew scored a 123 index (well above average) for purchase intent.2 Thirteen percent of survey participants said they were likely to purchase the LTO and 29% of potential purchasers were much more likely to visit Tim Hortons for it.2
And major chains are getting in on the game, menuing deliciously refreshing summer beverages, including Del Taco's OREO Cookie Horchata Shake, Chick-fil-A's Peach Milkshake and Dunkin's Smoked Vanilla Latte.
For inspired beverage ideas, including our Frozen Hot Chocolate made with OREO Cookie Pieces be sure to visit our Culinary Center. Want custom beverage and signature dishes developed especially for your operation? Reach out below and learn what our unique combination of trusted brand ingredients and acclaimed culinary expertise can do for you.
1 Technomic, On The Menu, February 2021
2 Technomic, LTO Seasonal Review, Spring 2021