Posted in Trends on December 21, 2021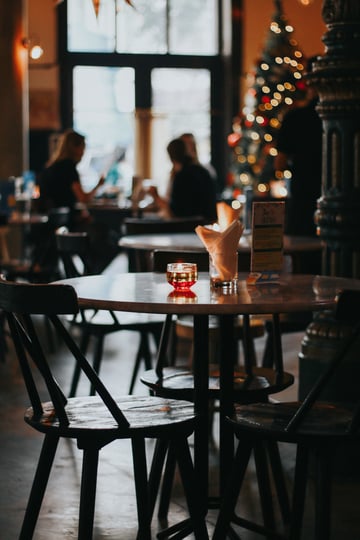 Every year foodservice operators hope consumers deliver an eagerly anticipated holiday gift: a surge in sales. This year, the market research firm Datassential is the bearer of glad tidings in its Foodbytes Holiday Issue, and there are positive signs that the industry will continue to ring up strong sales long after ringing in the new year.

While many operators are understandably wrapped up in supply chain and labor shortage challenges, the industry can still take comfort and joy in the nationwide rollout of vaccines and the rollback of restrictions. Virus variants may add to an air of uncertainty, but as Renee Lee Wege, senior publications manager at Datassential, put it: "As always, though, the industry has proven time and time again throughout the pandemic just how innovative and resilient it is, and there's no doubt that'll continue."1
To be sure, the hunger for holiday fare remains robust. Forty-four percent of consumers surveyed look forward to ordering Christmas, Hanukkah and Kwanzaa limited-time offers, and 47% fondly associate the season with holiday flavors and special items.
1
But how creative should operators and chefs should get with their menu mix this holiday season? Sixty-two percent of consumers surveyed reported a preference for sticking to comfort foods and classics.1 The top flavors of the season include toasted coconut, chocolate almond, red velvet, candy cane, lobster cream and lox.1
As for what holiday LTOs consumers are hankering for this year, Datassential highlighted Arby's Deep-Fried Turkey Club and On The Border's Holiday Swirl Margarita as two examples from its SCORES database of menu item ratings.1
A Few of Their Favorite Things: Fast-Casual Brands Bring Ideas to The Table
Menus may hold steady for the holidays with tried-and-true favorites, but what about long term? Fast-casual breakfast and brunch chain First Watch, which reported 40.1% growth in restaurant traffic compared with the same quarter last year, plans to maintain its menu and pricing. In doing so, the brand will be bucking an industry trend toward higher prices and fewer items for better margins.
"We're focused on traffic, and we just felt like coming out of the pandemic our focus should be on getting people in the restaurants and getting our in-restaurant-dining numbers back up," said Chris Tomasso, First Watch CEO. Tomasso stressed the chain's reluctance to "take anything off the menu that somebody came to us for even if it was a low-seller. Our focus was on getting everybody back and not disappointing any of our customers."2
Conversely, fast-casual powerhouse Shake Shack is adding premium menu items to help offset the impact of rising labor and food costs. Black truffles, avocado, cherry peppers and fried shallots are among the premium foods that the chain is offering to elevate the menu while protecting core items from price inflation.3
"It's all of these different upsell items, which the guest walks away, hopefully, with feeling like they had a great experience," said Katherine Fogertey, Shake Shack's CFO. "They got exactly what they wanted, just a little bit of a premium touch for us to help offset some of the higher cost pressures here."3
Whatever your menu challenges, Mondelēz International Foodservice can help you optimize it for success in today's ever-changing business environment. With a signature combination of culinary ingenuity and trusted brand ingredients, our acclaimed chefs can create custom dishes and desserts to help drive sales on-premises and off. Thoughts? Questions? Leave comments below. We're here to serve up the solutions that can help make a difference for your bottom line.
1 Datassential, Foodbytes: The Holiday Issue, 2022
2 Ruggless, Ron, "First Watch swings to Q3 profit, staves off price hikes in favor of traffic," Nation's Restaurant News, November 9, 2021
3 Lalley, Heather, "Shake Shack Tries a New Strategy: Premium Menu Add-Ons," Restaurant Business, December 2, 2021