Posted in Trends on August 15, 2023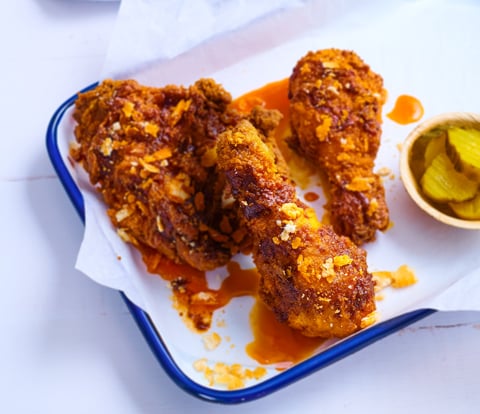 When it comes to taking taste experiences to new levels of enjoyment and experimentation, sauces are a go-to source for more flavor to savor. Given the popularity of personalization among Gen Z and millennial consumers, sauce options are trending strong as the signature ingredient chefs can count on to turn culinary concepts from good to great.
"Sauces offer Millennials and Gen Z something they love: the power to personalize dishes," said Dianna Fricke, director of culinary and corporate executive chef at the agribusiness company Simplot.1 As epicurean adventurers on the lookout for bold and new flavor fusions, Gen Zers and millennials are sweet on sauces for their sheer versatility and variety.
As Chef Frick points out: "Imaginative, over-the-top sauces and condiments are one of the fastest, least-expensive ways to add a trendy edge to classic items."1 Market research firm Datassential reports 47% of operators consider trend-forward sauces, condiments, and dressings key differentiators in a competitive market.1
The popularity of sauce innovations extends to social media, where they trend on the strength of visual appeal that triggers curiosity. A key example: The Pink Sauce phenomenon on TikTok. Invented by a TikTokker and private chef with the handle Chef Pii, the ranch-like magenta sauce hashtagged #pinksauce went viral, accumulating more than 670 million views.1 A $20 bottled version of the sauce is now available at Walmart.1
Sauce Bosses: Big Brands Showcase Sauce Selections
Research underscores the importance of viral appeal and social engagement for the Gen Z and millennial market. Fifty-three percent of millennial consumers surveyed report visiting a restaurant after seeing it on TikTok, and 71% of millennials and 57% Gen Zers have posted a photo or video on their social media.1
The sauce craze is nowhere more evident than in the quick-service segment, where major players are vying for sauce supremacy. In the spring, McDonald's made its Big Mac sauce dip cups available on the brand's app for a limited time, while supplies lasted. And the addition of more of its signature special sauce on its Big Mac became big news.
On the same day McDonald's announced the extra helping of special sauce, Chick-fil-A spilled that it was rolling out its barbecue and sweet sriracha sauces to retail locations across America. What's more, the chicken chain introduced a complete line of merchandise with sauce themes.
Taco Bell spiced things up with partnerships that added other brands' sauces to the menu, including Yellowbird and Truff's, while boosting the brand equity of its own sauces with a sauce packet collection as part of its merchandise line.
KFC also has its own line of signature sauces, including ranch, buffalo launch, BBQ and honey mustard. And Shake Shack recently introduced its Hot Ones Menu, which offers a Hot Ones Spicy ShackSauce.
We can expect the sauce wars to continue to spread, given that nearly 40% of consumers surveyed express interest in experimenting with sauces, seasonings and toppings to enhance flavor profiles.2
At Mondelēz Foodservice, our elite team of acclaimed chefs are the secret sauce of success for chefs and foodservice operators all over the world. Browse our Culinary Center for inspiration and ideas like Nashville Butter-Crust Chicken made with RITZ Crackers. Reach out below to learn about custom menu solutions for your foodservice operation.
1 Simplot, Why Sauces Are Taking Over Social Media and Restaurants, March 3, 2023
2 Kelso, Alicia, "Sauces become the new QSR battleground," Nation's Restaurant News, April 19, 2023